Description
AudioControl LC2i
2 channel line out converter with accubass™ and subwoofer control
Users can enjoy maximum sound quality while maintaining the use of factory volume and steering wheel controls.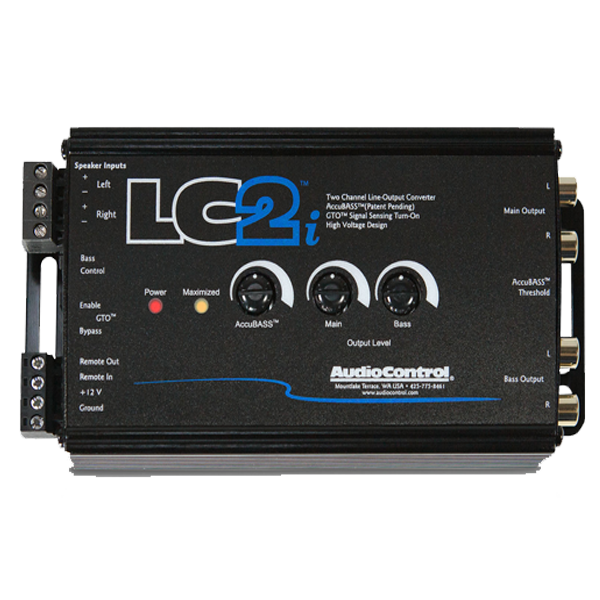 The AudioControl LC2i, is a compact, two-channel processor with active input circuitry, which allows it to accept speaker-level signals of up to 400 watts per channel from factory-installed source units or amplifiers.
It converts them to high-quality pre-amp signals that can then be directed to after-market processors and/or amplifiers.
AudioControl LC2i – Features
Two channels of Active speaker level inputs – Accept 400 watt signals per channel
Fixed and variable outputs with discrete level controls
AccuBASS™ processing for correction of bass roll-off
Input For Optional Remote Level Control
Compact design
AudioControl LC2i – Specifications
inputs
Speaker Level Input: 1 (2 channels)
Maximum Speaker Level Input: 400W per channel at 4ohm
Input Impedance: 20k
outputs
Preamp Outputs: 2 (2 channels main, 2 channels bass)
Maximum Output Level: 9.5Vrms/13V peak
Output Impedance: 150?
performance
Total Harmonic Distortion: 0.01%
Signal to Noise: >110dB
Frequency Response: 10Hz-100kHz ±1 dB
control
Remote In
12VDC Remote Out (always active when unit is on)
general
Current Draw: 150mA
Recommended Fuse Rating: 1A
weights & dimensions
Dimensions: 5.4″L x 3.25″D x 1.5″H (6.5″L including mounting brackets)
Weight: 1.0lbs (0.5kg)
In the box:
LC2i, Speaker
Power connectors
Manual
Warranty
Signature Car Sound, your local Authorised AudioControl Dealers, Stockists and Installation Centres on the Sunshine Coast.