Description
AudioControl LCQ-1
6 Channel line out converter with EQ and AccuBass™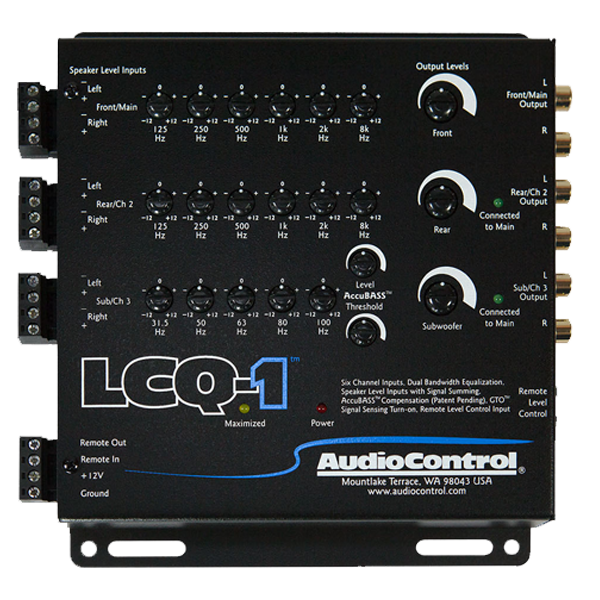 Audio enthusiasts can now rejoice with the introduction of AudioControl's LCQ-1, a powerful six-channel signal processor that provides a gateway between factory installed source units and after-market amplifiers.
The AudioControl LCQ-1 allows Mobile Electronics enthusiasts to easily "tune" their audio systems and receive truly amazing sound quality. An ideal combination of discrete equalization controls combined with AudioControl's unique OEM integration circuitry, the AudioControl LCQ-1 maximizes the performance of factory installed audio systems.
Enthusiasts, who want amazing audio performance that only comes from custom-tuned audio systems, will truly enjoy the AudioControl LCQ-1.
Basic, inexpensive, passive line output converters generally deliver poor sound quality and diminishing bass response. The active circuitry used in the AudioControl LCQ-1 provides dramatically better sound quality and enhances the bass response. No longer will audio enthusiasts have to compromise when performing basic amplifier additions to factory installed audio systems. Enthusiasts looking for great sound will really love this product.
Designed for maximum sound quality and enhanced audio performance, the AudioControl LCQ-1 is the latest AudioControl processor to incorporate AccuBASS™. This patent pending process automatically corrects for the bass roll-off that is common with many factory-installed audio systems. AudioControl engineers designed the AudioControl LCQ-1 to be a very high-value processor, so subsequently it is equipped with a number of installer friendly features that simplify the OEM connection and calibration process.
Audiocontrol LCQ-1 – FEATURES
Six channels of active speaker level inputs – accepts up to 400 watts per channel
Patent Pending AccuBASS™ circuitry
Optional ACR-2 Remote allows for user control of the subwoofer level
Internal Channel Summing – For interfacing with factory installed amplifiers with built-in crossovers
GTO™ (Great Turn-On) Circuit – Powers up the LC7i when it detects signal on the speaker level input
Individual equalization controls for the front, rear and subwoofer channels for simple yet precise system tuning
Output level control
Compact chassis allowing for ease of installation
Audiocontrol LCQ-1 SPECIFICATIONS
INPUTS
Speaker Level Inputs: 3 (6 channels)
Maximum Input (speaker level): 400W per channel at 4?
Input Impedance: 20k?
OUTPUTS
Preamp Outputs: 3 (6 channels)
Maximum Output Level: 7.5Vrms
Output Gain: ±12dB
Output Impedance: 150?
PERFORMANCE
Total Harmonic Distortion: 0.01%
Frequency Response: 10Hz-22kHz
Equalizer Frequencies (front/rear): 125Hz, 250Hz, 500Hz, 1kHz, 2kHz, 8kHz
Equalizer Frequencies (sub): 31.5Hz, 50Hz, 63Hz, 80Hz, 100Hz
CONTROL
Remote In
12VDC Remote Out (always active when unit is on)
GENERAL
Power Supply: High Headroom PWM Switching
Current Draw: 350mA
Recommended Fuse Rating: 2A
WEIGHTS & DIMENSIONS
Dimensions: 6.0"W x 5.9"D x 1.2"H
Weight: 3.0lbs (1.4kg)
IN THE BOX: 
LCQ-1
Speaker and Power connectors
Manual
Warranty
Signature Car Sound your local Authorised AudioControl Dealers, Stockist and Installation Centres on the Sunshine Coast.