Description
Ezy2c EZ 243 GPS Satellite Tracking
Any organisation running metropolitan delivery services, plumbers, electricians, maintenance companies, air-conditioning contractors, excavation companies, landscape companies, metropolitan based distribution and manufacturing companies.
The EZ 243 is also an excellent solution for transport companies requiring basic location and arrival/departure information.
Description:
The EZ 243 is a highly functional and affordable solution which meets the needs of many businesses looking for an entry level GPS tracking solution.
Features:
The EZ 243 is designed for metropolitan based fleets requiring a standard set of reporting tools to keep track of mobile drivers / assets for productivity, accountability, speeding and timesheet based reporting.
Reports included are:
Vehicle Work Summary / History Reporting
All Positions Report
Trips Report
Speeding Report
Route Replay Screens
Typical Applications
Used by organisations looking to know the location and vehicle history of their mobile staff and vehicles. Companies can run basic diagnostic reports on vehicle and driver locations and attributes to improve productivity, efficiency, customer service and reduce costs.
Tech Specs:
GPRS device
2 x digital inputs
2 x digital outputs
Power input from 10V to 30V DC
Motion sensor
External GPS antenna
Memory holds 15,000 positions
Australia's Most Advanced GPS Tracking and Reporting Solution at an Affordable Price.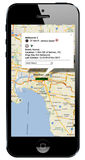 By combining the very best in GPS tracking hardware and service with the industry's most competitive pricing we can create a robust GPS fleet tracking solution to fit any need and budget.
* Our customers range from 1 vehicle (tracking your pride and joy) to Business fleets of 1 – 700 trucks.
Proven Return on Investment
In fact, most of our customers start to experience significant improvements in current operations within the first month of implementation. Explore the benefits of our GPS fleet tracking system, and delve into the industry leading features and functionality that come straight out of the box without the need for expensive customisation.
Complete Visibility
Ezy2c DCU navImagine having complete insight into all aspects of your fleet operations. A GPS tracking system that can provide location, unlimited history, engine diagnostics, reports, alerts, routing, and messaging all immediately available at your finger tips using a simple and intuitive interface. Are your needs unique? Worried about expensive customisation?
Ezy2c provides a highly flexible GPS fleet tracking system, which include a wide range of reports, alerts, and other features that can be tailored to meet YOUR specific requirements and ensure a quick implementation so you can start measuring return on investment this year, not sometime far in the future.
Solutions include GSM, Next G, Satellite and Hybrid.
Business Benefits
GPS Tracking from Ezy2c creates real business benefits including:
Reduced fuel costs
Improved productivity
Reduced labor costs
Improved driver safety
Extension of the life of your fleet
Improved invoicing accuracy
Custom reporting
Improved response times
Mobile access
Compliance to legislation
Makes your fleet greener
Standard and Customised Reports
Real-Time GPS Fleet Tracking Reports provide:
GPS Fleet Activity Detail
Trip Playbacks
Speed Tracking Violations
Vehicle Performance
Landmark Activity
Odd Hours
Geofence Violation
Fatigue Management