Description
GME AE4018BK3
UHF Heavy Duty Elevated Feed Antenna, BLACK SPRING 6.6dBi Gain
Rugged, high performance Antennas to suit Australia's harsh conditions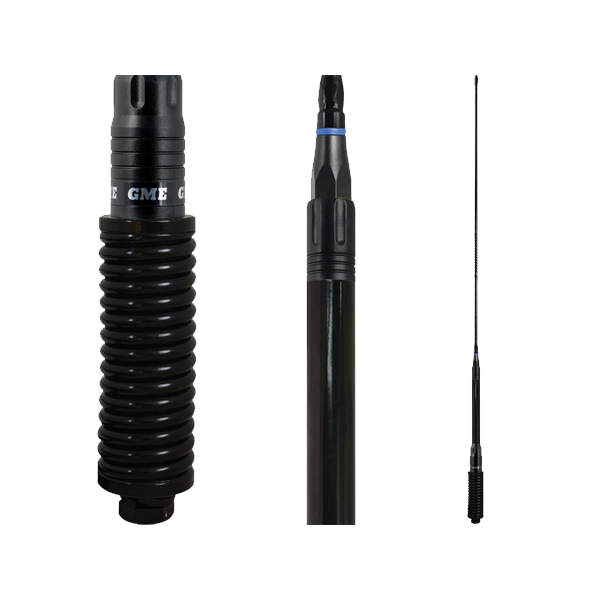 GME's New AE4018BK3 is a heavy duty elevated feed style antenna in BLACK!
This antenna assembly is a fantastic all round antenna for use where extreme heavy use is expected – alternatively, the styling is simply preferred!
When extreme conditions are a constant, the AE4018BK3 is the best option. Ideal mounting point in on your Bullbar but other options are available.
The all black finish helps relieve driver fatigue as it blends into the background and with so many vehicles using LED light bars it can limit the reflection back to the driver.
It introduces GME's latest elevated feed the ABL017, made with delrin plastics and the extra heavy duty AS003 parallel style electro polished SS (Stainless Steel) spring.
The whip is made from durable fibreglass with software controlled precision winding around a braided copper element, black heat shrink and chrome plated ferrule.
Providing 6.6dBi gain
GME AE4018BK3 – Features
Ground independent
Heavy duty elevated feed base
640mm fibreglass colinear 6.6dBi gain – removable whip
Electro polished stainless steel parallel spring (BSW thread)
4.5mtrs of low loss coaxial cable with PL259 adaptor
Overall height 1000mm
Suitable for all types of mounting locations
In the Box:
ABL017 heavy duty elevated feed assembly
AS003 parallel spring
AE4018 fibreglass collinear 6.6 dBi gain whip
4.5 m of low loss coaxial cable
PL259 connector
Signature Car Sound, your local Authorised GME Dealer Stockist and Installation Centres on the Sunshine Coast