Description
GME TX3100PNP
Plug'n Play UHF Radio Kit
Australia's first DSP powered super compact radio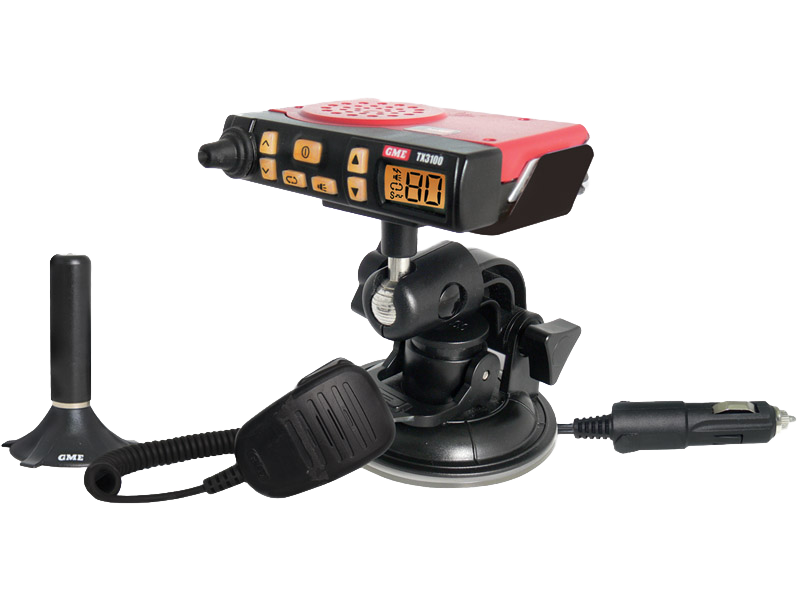 The new GME TX3100PNP (Plug'n Play). A great solution from the design team at Australia's only UHF radio manufacturer, is a starter kit aimed at attracting the more urban UHF customer segment, but is equally attractive for the seasoned 4WD, heavy vehicle or recreational vehicle owner.
The GME TX3100PNP comes packed with a high performance 2.5 inch rare-earth magnet antenna connected with a no solder GME plug, a stylish adjustable suction bracket, an in-car cigarette power lead and the super compact flip feature 5 watt UHFradio.
The rare-earth magnet antenna can withstand extreme wind resistance, is pre-tuned to 477MHz and is unity gain for optimal communication reception. Inside the vehicle, the GME design team developed a unique 360° degree adjustable mounting bracket to provide vertical or horizontal location flexibility.
The radio itself is fully engineered and manufactured in Australia with a host of evolutionary features developed by GME's highly experienced two-way radio R & D team including the unique 'flip' menu feature, it's super compact size and incorporating the latest Digital Signal Processing technology.
Plug'n Play epitomises GME's long standing reputation for innovation, quality and value for money.
GME TX3100PNP – Details
Digital Signal Processing: Measures, filters and compresses standard analogue audio signals and converts them into digital format. Allows advanced RF and audio processing techniques to be applied to maximise the radios performance.
CTCSS and DCS
Advanced Signal Management: Suppresses unwanted signals on adjacent channels and matches the receiver frequency to the incoming signal. This unique GME feature is critical to optimise performance of 80 channel radios.
Selectable duplex channels
Dynamic Volume Control: Automatically compensates for variations in received audio level, this feature provides a constant audio output level greatly enhancing the quality of the reception and simplicity of use.
External speaker socket
Unique Display Flip Function: Unit can be mounted with the speaker facing upwards or downwards and the display 'flipped over' using a simple key-press sequence to allow viewing of the display from either mounting orientation.
Programmable scan function
Adjustable squelch
Five year warranty
Australian design and manufacture
GME TX3100PNP – Specifications
GENERAL:
Compliant Specification

Meets AS/NZS 4365 for radio communications equipment in the UHF citizen and personal radio service.
Operation Mode

Simplex channels 1-80, Semi Duplex channels 1?8, 41-48
Overvoltage Protection

25 volts DC max.
At 18 volts DC the RF power is reduced, and the words 'Hi DC' flash.
TRANSMITTER:
Maximum Deviation

< ± 2.5 kHz at + 20 dB limiting
Transmit Frequency Response

+6 dB per octave 300 Hz to 3 kHz +1-3 dB
Current Consumption

1.5 amps with 50 Ohms termination
RECEIVER:
Intermediate Frequencies

1st -38.85 MHz 2nd -450 kHz
Sensitivity
– 123 dBm for 12 dB SINAD unweighted
Selectivity

-6 dB at + 3.5 kHz -60 dB at ± 12.5 kHz
Spurious Response Immunity
Current consumption

< 180 mA muted 600 mA @ max. A.F output
Conducted Spurious Emission
MECHANICAL SPECIFICATIONS:
Dimensions

102 (W) x 97 (D) x 23 (H) mm
In the Box:
TX3100 Super compact UHF CB radio
High performance magnetic antenna
360 degree adjustable mounting bracket
Cigarette lighter DC lead
2.4 mtrs RG174A/U coaxial cable terminated with FME plug
Spare GME model label
Instruction manual
5 Year Warranty as per GME's Terms and Conditions
Signature Car Sound your local Authorised GME Dealers, Stockists and Installation Centres on the Sunshine Coast QLD