Description
GME TX3500SVP
UHF Value Pack
UHF radio powered by digital signal processing for Pure Sound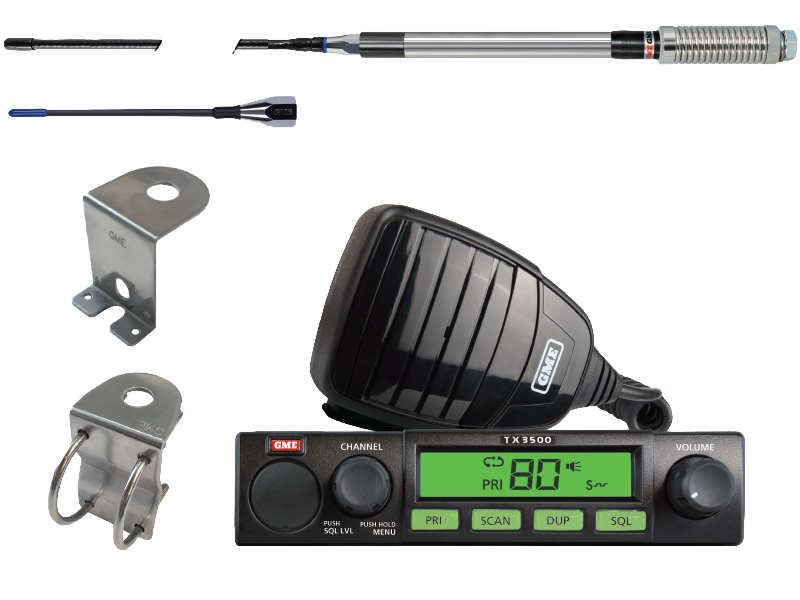 Synonymous with quality and reliability, the GME TX3500S is one of the most advanced 5 Watt UHF CB radios of its kind. Equipped with GME's newest digital scanning technology – ScanSuite™ and an impressive feature list that includes Digital Signal Processing, Advanced Signal Management, Dynamic Volume Control and 19 extra receive channels. With CTCSS and DCS this radio ensures more privacy and less interruption.
The compact size and unique slide-in mounting cradle makes installation simple and our intuitive user interface and controls ensure all of our technology is easy to use and optimises performance across the 80 channels.
Genuine GME 5 year warranty.
In the Box:
GME TX3500S radio unit
Rugged Microphone
GME AE4018K2 antenna kit
GME AE4002 low gain replacement antenna whip
GME MB407SS universal "Z" bonnet/boot antenna mount
GME MB024SS universal bull bar antenna mount
Microphone Clip
Screw Pack
DC Lead
Mounting Cradle
Instruction Manual

GME TX3500SVP – Product Details
ScanSuite
Advanced signal management
Digital signal processing
Dynamic Volume Control
Wide/narrowband receive filters
CTCSS & DCS
Full spectrum backlighting
Open and group scan mode
Selectable priority channel
Active channel transmit in scan
Graphic signal strength meter
Adjustable squelch control
External speaker socket
Die-cast chassis
5 year warranty
GME TX3500SVP – Specifications
GENERAL
Compliant Specification

Meets AS/NZS 4365 for radio communications equipment in the UHF citizen and personal radio service.
Operation Mode

Simplex or half Duplex with repeater talk around.
Scanning Speed

50 ms per channel (20 channels per second).
Overvoltage Protection

30 volts DC maximum.
At 18 volts DC the channel display flashes 'Hi DC' for 5 seconds on receive.
The RF power is reduced and TX flashes on transmit.
Reverse Voltage Protection
TRANSMITTER
Maximum Deviation

< ± 2.5 kHz at + 20 dB limiting
Transmit Frequency Response

+6 dB per octave 300 Hz to 3 kHz +1-3 dB
Demodulated Audio Signal to Noise
Current Consumption

1.7 Amps with 50 Ohm termination
RECEIVER
Sensitivity

– 123 dBm for 12 dB SINAD unweighted
Selectivity

– 6 dB at + 3.5 kHz, – 60 dB at ± 12.5 kHz
Spurious Response Immunity
Audio Output Power

3 watts average into 4 Ohms
Current consumption

< 175 mA muted 750 mA Full volume.
Conducted Spurious Emission
MECHANICAL SPECIFICATIONS
Dimensions

29 (H) x 128 (L) x 117 (D) mm
Signature Car Sound your local Authorised GME Dealers, Stockists and Installation Centres on the Sunshine Coast