Description
Alpine MRV-V500
4 Channel + Mono Digital V Power Amplifier
Born Tough, Raised Strong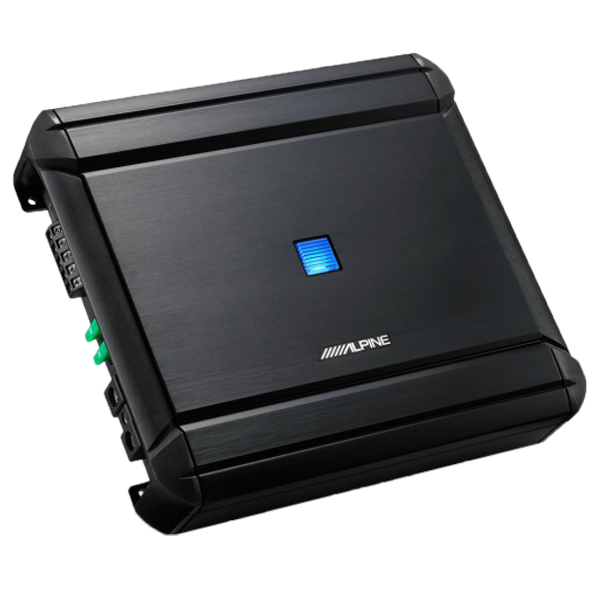 The Alpine MRV-V500 is the latest V Power amplifier to join the range, offering a very affordable solution with out compromising on quality.
Alpine MRV-V500 Overview
60W x 4 + 250W x1 RMS (2?, 14V, ?1% THD+N)
40W x 4 + 150W x1 RMS (4?, 14.4V, ?1% THD+N)
Same power in a 40% smaller chassis
Evolution to Class D digital platform
New snap-on terminal covers for easy installation
Raising the Bar
The new V-Power products are now Class D digital amplifiers, resulting in a huge efficiency gain versus their predecessors without draining your battery or your pockets. Class-D provides continuous clean power to your speakers, operating at 80% efficiency far greater than conventional Class A or B amplifiers. Translation: Enjoy cleaner bass, even during extreme power demands.
Big Power, Small Package
V-Power amplifiers are known for their compact size, but don't underestimate their power capacity. Although they have a 40% smaller footprint than their predecessors, they produce the same amount of power as before. Get the power you need, even if you have limited installation space.
Keep the Music Playing
The V-Power amplifiers provide reliable, stable thermal performance. They use a new, higher efficiency design to achieve non-stop music playback. A new circuit and heat sink design allows gradual thermal absorption and provides a gentle, almost undetectable power control.
Dual Feedback Modulation
Dual internal error correction technology – which had previously only been available in the PDX and X-Power amplifiers, is now integrated in V-Power mono amplifiers. The audio input signal is analyzed, compared, and corrected twice dynamically as the signal is processed through the amplifier. The result is amplifiers with the widest frequency response, higher damping factor, and lowest noise in its class.
Exceptionally Simple Sound Upgrade
The V-Power's 4-channel speaker level inputs connect directly to any head unit, without the need for external converters. This makes the V-Power amplifiers ideal for upgrading factory and aftermarket systems. The flush mount controls make for easy installation. The terminal covers conveniently snap-on without the need for additional tools, to protect the wiring connections while creating a clean, finished appearance.
Proven Power
Each V-Power amplifier comes with its very own birth-sheet. V-Power amplifiers are tested and documented to show their true actual output.
Alpine MRV-V500 Specifications 
CEA-2006 Power Ratings
CEA-2006 Power Rating: 40W x 4 + 150 x 1 RMS (4-ohm, 14.4V at <1% THD+N)
RMS Power Ratings
Per channel into 4 Ohms: 40W x 4 + 150 x 1 RMS(14.4V at <1% THD+N)
Per channel into 2 Ohms: 60W x 4 + 1 x 250 RMS (14.4V at <1% THD+N)
Sound Tuning
Crossover Frequency (CH1/2/3/4, LPF): 50 – 400 Hz, -24dB/oct.
Crossover Frequency (CH1/2/3/4, HPF): 50 – 400 Hz, -24dB/oct.
Crossover Frequency (Subwoofer, LPF): 50 – 400 Hz, -24dB/oct.
EQ (Equalizer): 0 to +12dB, fc=50Hz
Dimensions
Foot Print (WxHxD) mm: 200 x 55 x 200 mm
Foot Print (WxHxD) in: 9-3/4" x 2-1/4" x 8-5/8"
Heat Sink (WxHxD) mm: 244.5 x 55 x 219 mm
General
Power Requirements: 14.4 V.DC (11-16V allowable)
Input Sensitivity (RCA Input): 0.2 – 4.0 V
Input Sensitivity (Speaker Level Input): 0.5 – 10 V
Input Impedance: >10k ohms
THD+N (Rated Power into 4 Ohms) for Subwoofer:
THD+N (10W into 4 Ohms): ?0.02 %
THD+N (10W into 2 Ohms): ?0.03 %
THD+N (Rated Power into 4 Ohms): ?0.07 %
THD+N (Rated Power into 2 Ohms): ?0.09 %
Damping Factor (10W into 4 Ohms at 100Hz): >90 (Ch 1-4), >500 (Subwoofer)
Signal to Noise (1W into 4 Ohms): >81 dB
Signal to Noise (Rated Power into 4 Ohms): >98 dB
Remote Level: -20 to 0 dB
Alpine MRV-V500 Features
Install
Terminal Layout: Two-Sided
Screw Mount / Wire Cover: Integrated Wire and Mounting Screw Terminals
General
Amplifier Type: Class-D (Digital)
Channel Design: 5 Channel
Power Supply Design: DC-DC PWM Power Supply
Pre-Amp Stage: Discrete
Final Outputs: Power MOSFET
Crossover: Variable Lowpass & Highpass Filter
Gain Control: Continuously Adjustable Gain Control
Bass EQ: Bass EQ Function
Remote Turn On: Remote Sensing Function (for RCA Input & Speaker Input)
Current Protection: Over-Current, Over-Voltage, Under-Voltage and Thermal Protection
Board Circuitry: S.T.A.R. Circuit
Speaker-Level Inputs: 4-channel Speaker Level Inputs
Power Indicator: Top Mounted Blue LED Power Indicator
Thermal Control: Multi-stage Power Limits
Power Supply: MOSFET