"Parking Sensors could save you a whole lot more than they cost"
Parking Sensor Solutions
Parking sensors are installed into the bumper bars of your vehicle. They can be colour matched to blend in with with exterior. Parking sensors typically work from a range of 3 meters to 0.3 which provides ample warning of vehicles and smaller obstacles hidden in the blind spot behind or in front of you vehicle.
Parking sensors work in conjunction with an internal siren (Hidden from view) that increases in frequency as you approach the obstacle.
Typical parking sensors have four sensors (Front or Rear kits) a control interface and an internal siren for audible
warning. More advanced systems combine visual displays, integrate into factory screens and are also available for front of your vehicle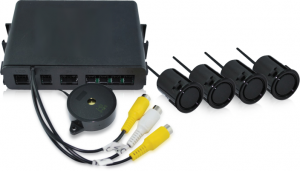 Universal Reverse Parking Sensors
4 head reverse parking sensor kits are designed to offer rear sector coverage of small medium and large vehicles including 4WD's.
Features include:
4 universal parking sensors
Hide away control module
Piezo Siren
Vehicle Specific Parking Sensors
Available in Chrome, Rubber or vehicle specific mounts to suit a wide range of vehicles.
Options include:
Ute Bars for flat trays
Rubber mounts for metal bumper bars
Under bumper brackets
Complete Vehicle Parking Sensor Kits
The total parking solution offers complete vehicle coverage with Front and Rear mounted sensors.
Features:
Audible warning
Visual indicators from and rear
Integration into aftermarket and Factory fitted monitors