Description
Alpine SPC-100ML
Mercedes ML Speaker upgrade kit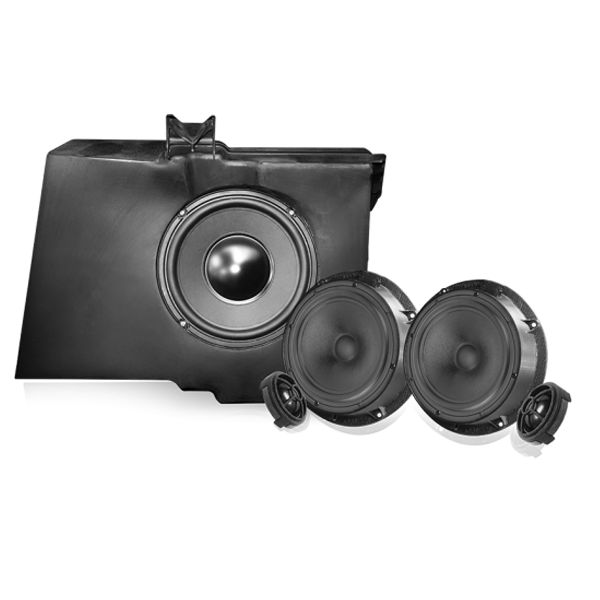 This premium speaker package includes a front system with soft dome tweeters and large midrange speakers, plus a 20cm high performance subwoofer featuring a vehicle specific housing. All speakers are perfectly matched to the digital amplifier Alpine PDP-E310ML for superb audio quality with optimum sound staging. They are also specifically designed to fit in the ML's original speaker and subwoofer locations.
For upgrading the ML (W164) original entry sound system.
Requires Alpine PDP-E310ML
Alpine SPC-100ML – Features
2 Way component Front System with car specific subwoofer.
Car specific speakers with optimized rings for best performance
Snap in silk dome tweeters
Using Factory harness and connectors to allow plug and play for door speakers
Car specific subwoofer enclosure with 8" (20cm) subwoofer.
Allows powerful playback and precise stage image while using PDP-E310ML
Alpine SPC-100ML – Specifications
Plug and play installation
No sound tuning needed. Just look up car and driver parameters in the manual and select the appropriate setting.
High-end speakers resulting in better sound performance than any Mercedes Option for ML.
Accurate stage impression for drivers of any body size.
Increased sound pressure level without distortions.
Added subwoofer.
Premium Speaker and Subwoofer System upgrade (SPC-100ML).
* 1 Year Warranty as per Alpine Electronics Australia Terms & Conditions
Signature Car Sound Your Alpine Car Stereo and In-Car navigation Specialist on the Sunshine Coast.