Description
Alpine X-A70F
4/3/2 Channel Power Density Hi-Res Audio Amplifier
Hear and feel the music like you never have before with X-Series Amplifiers.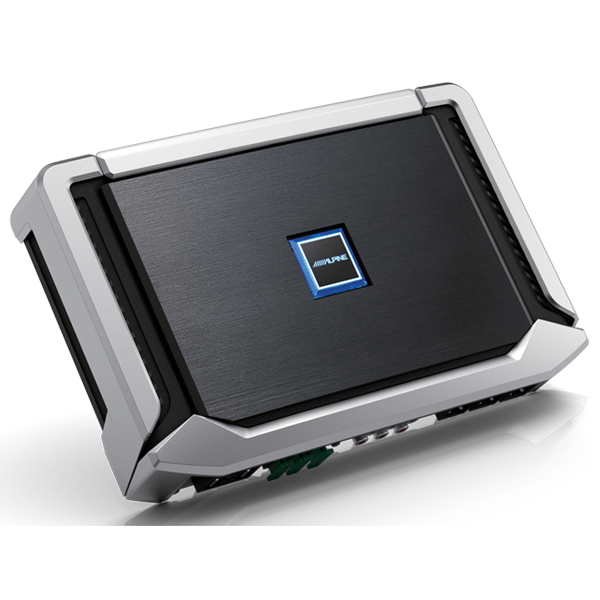 The Alpine X-A70F X-Series amplifier has set the industry benchmark with an all-new and advanced digital architecture to achieve high-resolution sound with unprecedented purity, accuracy and power efficiency. Their sleek and stylish compact design incorporates an innovative aluminium heat sink with a bespoke air-flow system which keeps the amplifier cool and maintains performance at its peak for incredibly high level power output and no-shut down operation. The Alpine X-A70F X-Series amplifier is designed for true Hi-Res Audio playback by featuring a extended frequency range from 10Hz ~ 60kHz in the full range amplifiers. 
Furthermore, Alpine X-A70F X-Series has unmatched staying power with a high damping factor for unparalleled control coupled with virtually zero distortion. This ensures extremely accurate low frequency output for bass at its best and the highest sound quality.
The Alpine X-A70F X-Series amplifier allows your music to stay faithful to the original recording with realism that puts you in the centre of the performance.
Overview
Alpine ID Sound Quality
Class-D Performance
Rotatable Illuminated Alpine Badge
Top-Side Control Panel
Built-in Crossover & Bass EQ
REVOLUTIONIZING HOW YOUR MUSIC FEELS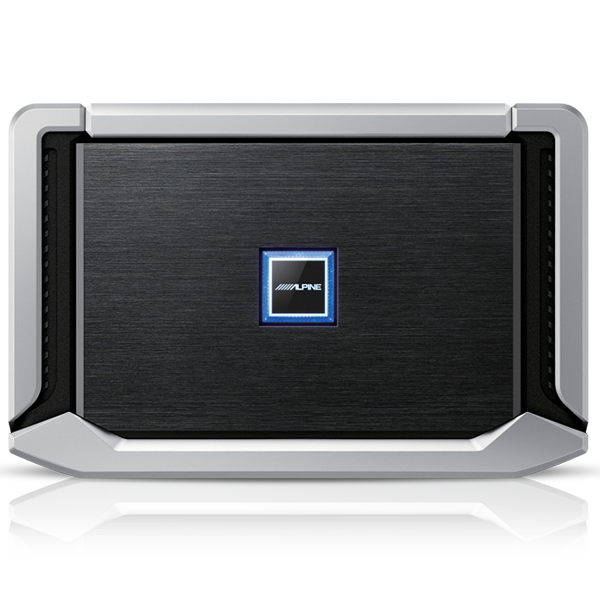 Cast Aluminium Heat Sink

Smart Installation

The Alpine X-A70F X-Series Amplifier can perform at it's peak power levels for a large period of time due to the chassis being a solid cast aluminium heat sink.

The newly designed heat sink allows for hot air to rise out from the top, which causes a vacuum that draws in cool air from below.

This provides thermal control for an uninterrupted listening experience.

Alpine has completely redesigned the speaker terminal connectors on the X-A70F X-Series amplifier.

This ensures a very compact design that allows clean and simple installation with lossless connectivity.

With the intention of delivering high performance these connectors play a vital role in the stability and failsafe operation of the amplifier.
CRITICAL EVALUATION OF IN-CAR SOUND
Alpine's top engineers from all over the world gathered in Alpine headquarters to deeply research and evaluate sound systems from both the aftermarket and high-end OE manufacturers. Many systems today have incredible dynamic range and reach sufficient volume levels, but lacked the reality of instruments and spatial imaging. As a result, Alpine ID was born, a sound philosophy that continues to inspire us to create a new level of sonic performance.
ALPINE: IMAGE DEFINED
Or Alpine ID for short, is the new Alpine global sound culture with an evolutionary approach for solving what's missing in most car audio systems these days: great spatial imaging and depth of sound stage. It centers on developing matched sound systems with core components that work together to achieve greater realism in the sound stage while maintaining great dynamic range and accuracy.
HIGH PERFORMANCE WHILE RETAINING CLASS-LEADING POWER DENSITY
X-Series amplifiers are built on a new Alpine-proprietary circuit design that achieves class-leading power density and reliability while performing at the top of its class. By simplifying the circuit topology, Alpine is able to ensure the cleanest possible signal path. While the simplicity of the circuit contributes to a great sounding signal, we added an exclusive dual feedback loop that corrects signal distortion. This clever design results in a frequency response that not only meets the Hi-Rez audio standard of 40kHz but even extends up to 60kHz. The amp maintains a very low phase shift throughout the music spectrum which allows your music stay faithful to the original recording with realism that puts you in the center of the performance.
KEEPING THE HEAT DOWN WHILE FAITHFULLY REPRODUCING MUSIC
At the core of the X-Series Amplifier's chassis is a solid cast aluminum heat sink which keeps the amplifier cool when performing at its peak power levels. Excess heat is removed from the amplifier through the newly designed heat sink profile which both improves airflow and increases surface cooling area. The fan-less channels located on both sides of the amp allow for convection flow of air; hot air naturally rises out from the top of the amplifier, which causes a vacuum that sucks in cool air from below. This smart design allows for continuous thermal control for an uninterrupted listening experience.
PROVEN POWER
X-Series Amplifiers come with their very own birth sheet which reveals each amplifier's true power rating.
Alpine X-A70F – Features
Install
Connectors: Redesigned Speaker Terminals for Easy Installation
Terminal Layout: One-Sided
Mounting Design: Easy Stacking and Clean-look installation
General
Built-in Variable High/Low Pass Filter
Bass EQ
Aluminium Heat Sink
All-new SIERRA Digital Design
Remote Sensing
Remote Level Control with Optional RUX-KNOB.2
RCA Speaker Connection (Optional KCE-SP2R)
Alpine X-A70F – Specifications
RMS Continuous Power (at 14.4 V)
175W RMS x 4 [2?@14.4V]
120W RMS x 4 [4?@14.4V]
THD+N (Reference: 10W / rated power into 4 ohms): 0.02%
S/N Ratio: (IHF A Weighted, Reference: rated power into 4 ohms): >106 dBA
S/N Ratio: (IHF A Weighted, Reference: 1 W into 4 ohms): >87 dBA
Input Impedance: 10k ohms
Frequency Response (Reference: 1 W into 4 ohms):  10Hz – 60 kHz
Damping Factor (Reference: 10 W into 4 ohms at 100Hz): >500
Dimensions
Width: 297.0 mm
Height: 50.8 mm
Depth: 192.0 mm
Weight: 3.2 kg
Signature Car Sound, your local Authorised Alpine Car Stereo Specialists, Stockists and Installation Centres on the Sunshine Coast.