Description
Auto BlackBox V300
Commercial Dash Cam
Leading Truck Camera with HD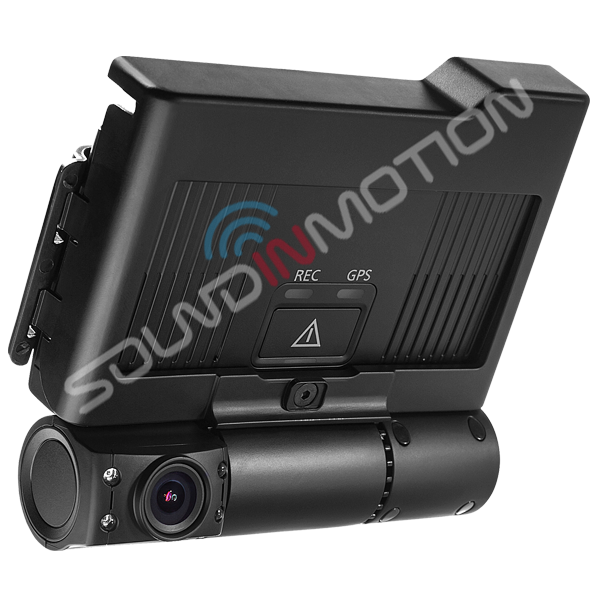 The Auto BlackBox V300 is a commercial grade system, as a leading dash cam for trucks, it has been designed to meet the requirements of truck and fleet companies in Australia. As a semi-truck dash cam based product, our company has serviced many fleets with this system that outperforms many competitor models for quality and reliability.
Our PC Software will clearly display all of the relevant information for your viewing, including front & rear video, GPS location, G-sensor data and more. The sample video below demonstrates viewing recorded files on the PC viewer. With up to three cameras (3 channel), the V300 dvr has a bracket mounting system which will withstand a large crash due to it's quality and design, ensuring the full story is always captured.
Network Camera – Live View
The BlackBox V300 is a 3G & 4G network compatible dash camera, with remote live view and live streaming capabilities.

Dual SD Card Security

The BlackBox V300 system can house 2X SD cards for increased storage time and stability. The two SD cards work by storing important Event Data with normal footage on one card.
The extra footage and latest footage is stored on the secondary SD card.
Capture the Full Story
Capture the full story with the BlackBox Truck V300 Commercial Camera. Dual cameras provide a picture of the outside view and interior cabin view simultaneously. Using the player you can view both feeds together to compare events and data.

Industry Leading Design
Tamper Proof Design that leads in the industry for security. A patended tamper-proof design, prevents unwanted tampering of the SD card as well as locking the angle of the forward and inward facing cameras. Preventing drivers from changing the lens angle to avoid detection.
Optional Hard-Drive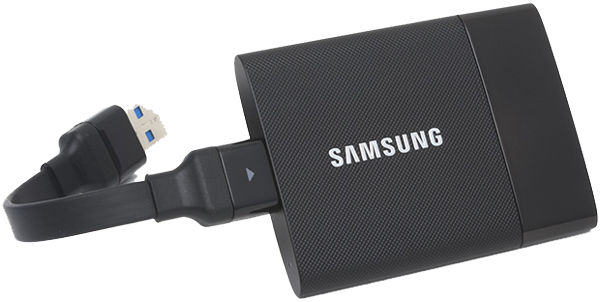 The BlackBox V300 system, is compatible with a hard-drive for increase storage time in the vehicle. We recommend SSD (solid state) portable hard-drives for advanced reliability of storage.


BlackBox V300 -Features
Front & In-Cab Recording
720P + 720P + Optional Rear (3CH)
Tamper Proof Solution
Remote View + Data 3G
128GB SD Card Storage (Included)
Up to 1TB Hard Drive (Optional Extra)
2 Year Limited Warranty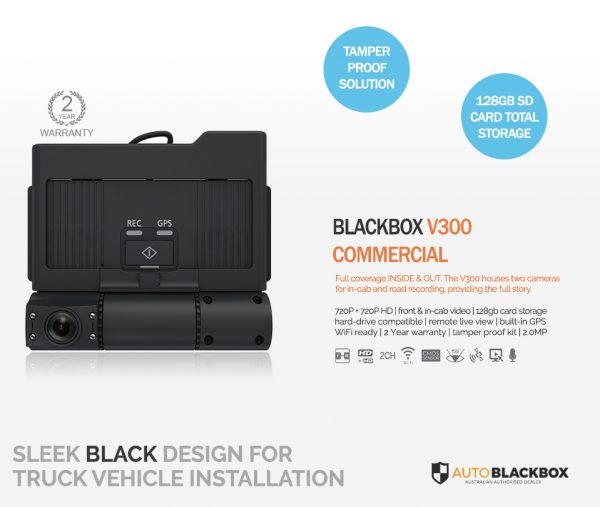 RECORDING TIMES:
128GB (64GB+64GB) -Up to 80 Hours
500GB – Up to 300 Hours
1TB –  Up to 600 Hours (1 month of driving)
*We recommend using Solid State Hard Drives (SSD) as they are of the most stable and reliable design. You will notice they are more expensive than traditional optical mechanical portable hard drives.
Auto BLACKBOX V300 – SPECIFICATIONS:
*Please note: 64GB SD Cards must be purchased through Auto BlackBox for guaranteed compatibility.
| | |
| --- | --- |
|  Quality Video & Audio |   Camera: 1/4″ 1.3MP CMOS (Digital HD) Sensor |
|  Standard SD Memory Card |   Dual SD Card Support – 64GB + 64GB SD Cards |
|  Event File Locking |   Yes – Will not overwrite |
|  Loop Recording |   Yes – Old data is removed to record new footage |
|  Wide Angle View |   Front: 130′ Degrees | In-Cab 150′ Degrees (wide-angle) |
|  Video Format |   KDS Secure Encrypted (can be converted to AVI using PC Player) |
|  2CH In 1 Design |   Single camera captures the road and in-cab view |
|  Recording Speed |   Select Options 30FPS | 15FPS | 10FPS |
|  Image Resolution |   Real HD 1280x720px (Front) | Real HD 1280x720px (Rear) |
|  Motion Detection |   Yes – System has built-in Parking Mode (Power Magic) feature |
|  Data Compression |   Highly Efficient H.264 |
|  Built-in Format Function |   Yes |
|  WiFi Modem |   Optional (WiFi Dongle) |
|  Built-in G-Sensor |   Yes |
|  Built-in Power Magic |   Voltage Cut-off is built-in for battery protection |
|  GPS Receiver |   Built-in Highly Sensitive SIRF III Antennae + GLONASS |
|  Recording Options |   Normal, Parking, Event Lock (Activated by shock) |
|  Camera Size & Weight |   Front – 121.9mm x 104.2mm x 46.1mm / 138g / GPS Cradle 42g |
|  Operational Temp |   -20'C ~ 85'C |
|  Power Supply |   8V~32V DC |
|  Power Consumption |   12V / 505mAh ± 5% |
|  Factory Warranty |   2 Year (Australian Genuine Warranty) |
|  Compliance Marks |   C-TICK (N28189) KC, FCC, CE, RoHS, Telec |
| | |
Signature Car Sound, your local Dash Cam Specialists, Stockists and Installation Centres on the Sunshine Coast