Description
TWO-WAY COMPONENT KIT 6½"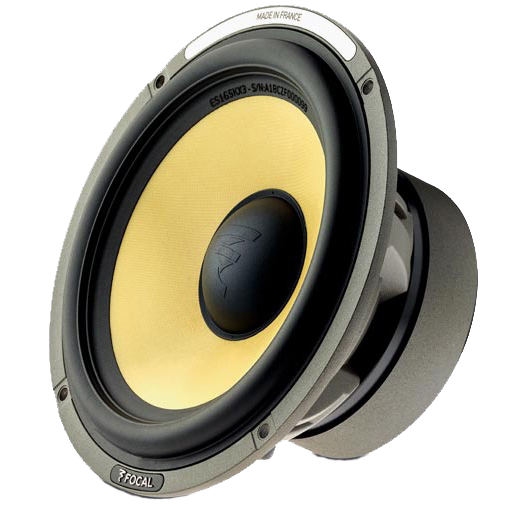 The ES 165 K is composed of two 165 mm (6½") woofers and two 20 mm TKM tweeters. This is a compact solution that's easy to install.
The K2 Power Kevlar® cones used for the speaker drivers of the ES 165 K component kit deliver extremely dynamic sound and perfect definition. These cones endowed with all the ideal qualities, lightness, rigidity and excellent damping, have also been given the new TMD suspension. Initially developed for Sopra high-fidelity loudspeakers, the exclusive design of the suspension removes unwanted resonances and reduces the effects of distortion.
The two TKM inverted dome tweeters are composed of aramid fibres. Their exclusive "M"-shaped profile is designed to control deformation of the dome, and to perfectly reproduce high frequencies up to 22 kHz smoothly and with precision. Their compact crossovers are quick to install and easy to set up. Various accessories are supplied for assembling the tweeters, which can be installed in the factory locations, on tilting frames or flush-mounted.
The kit is supplied with aluminium and mesh grilles.
EXCEPTIONAL SOUND FOR YOUR VEHICLE
The speaker drivers used for the K2 Power have been completely redesigned.
Each component is the result of extensive research in acoustics to push back the limits of performance, of power and of precision!
KEVLAR® CONE Precision and dynamics
The K2 Power Kevlar® cone, a product of unique expertise Made In Focal, is to this day second to none. Composed of an ultra-light foam structure sandwiched between a thin layer of Kevlar® aramid fibres, and a layer of glass fibres, the K2 Power cone combines three key factors of quality acoustics: Rigidity / Lightness / Damping, for precise and dynamic sound.
NEW "M"-SHAPED TWEETER For a precise and smooth high end
The new K2 Power TKM tweeter features an exclusive "M"-shaped structure. This new-generation aramid-fibre inverted dome tweeter provides great precision in the very high end, and its combination with a "push-pull" motor with IAL2 technology extends the low end of the frequency response and provides extraordinary harmonic balance.