Description
HEMA HX-1 NAVIGATOR
Premium Off-Road Navigation for the serious 4WD Explorer
Explore Australia with Confidence!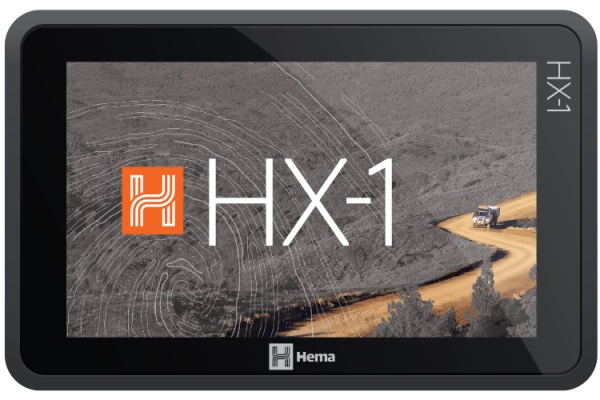 "Without a doubt the best sat-nav system I have used, both on and off-road"
"When it comes to Caravanning in Australia, the Hema HX-1 Navigator is hard to beat"
| | | | |
| --- | --- | --- | --- |
| 693,000km+ | 6,000+ | 40,000+ | 545,000km+ |
| 4WD & Off-road Tracks | Campsites & Caravan Parks | Hema-verified POI | Outback & Dirt Roads |

Find Campsites & Caravan Parks Fast
6000+ free and low-cost campsites & caravan parks by Camps Australia Wide & Caravan Parks Australia Wide
View over 2300+ site photos
Detailed site information, i.e. Pets allowed
Locate sites around you, search by name or location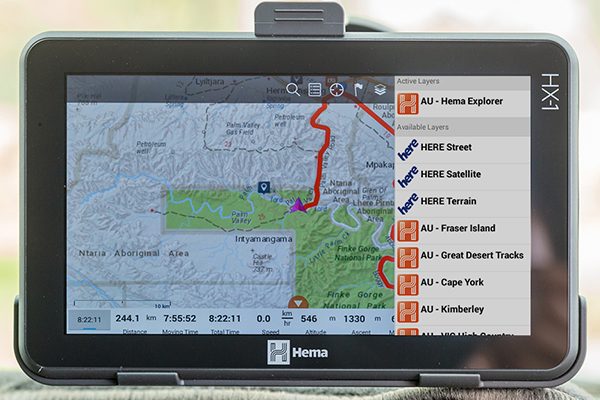 Preloaded with Hema's Premium Maps
Australia-wide Hema Explorer Map (1:18M – 1:150,000) 
Digitised Hema touring maps: Cape York, Fraser Island, The Kimberley, High Country Victoria & Great Desert Tracks
Hema 1:1 million Road Atlas
Easily download higher detail Hema Explorer Map plus additional map sources.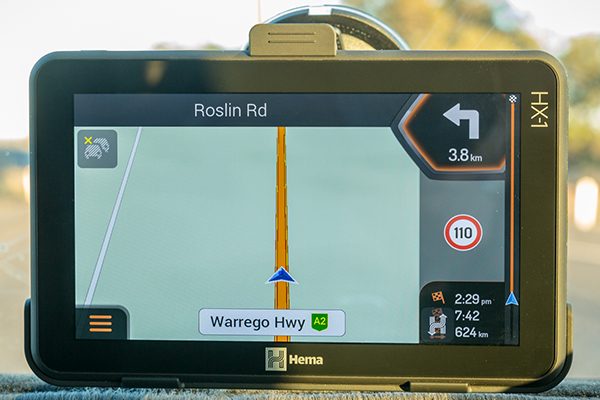 Intelligent, Reliable Street Navigation
Precise turn-by-turn navigation
Voice guidance
Visual lane guidance
Alerts for speed cameras, school zones & red light cameras
3D landmarks and buildings
Don't miss a turn

Turn-by-turn navigation ensures you will not miss important turns on your journey.

Easily discover new places

40,000+ Hema-verified POI including campsites, caravan parks, lookouts & more.

Let us guide you

Voice guidance lets you focus on the journey at hand with audible directions.

Explore off-road confidently

Over 1,200,000km of 4WD tracks and outback roads to explore across Australia.

Stay in the best lane

Visual lane guidance will show you which lane you need to be in at specific times.

Search for places and locations

Find a location (i.e. Ayers Rock) by name search and then displayed on the map.

Avoid fines

Be alerted when approaching a speed camera or red light camera as you drive.

Know what you're up against

Track classifications lets you know the difficulty of a track before attempting it.

Be alerted

Timed school zone alerts ensures you are aware of school children & reduce your speed.

Plan your trip

Create multi-point routes to each destination for your entire journey, start to finish.

Understand where you are

Buildings and landmarks are displayed on the screen in 3D as you drive.

Record your journey

Record the path (breadcrumb trail) your vehicle follows as you travel off-road.

Get help fast

Help Nearby assists you to locate services quickly such as hospitals & mechanics.

Remember important locations

Mark locations on the map using waypoints to find your way back to that spot in the future.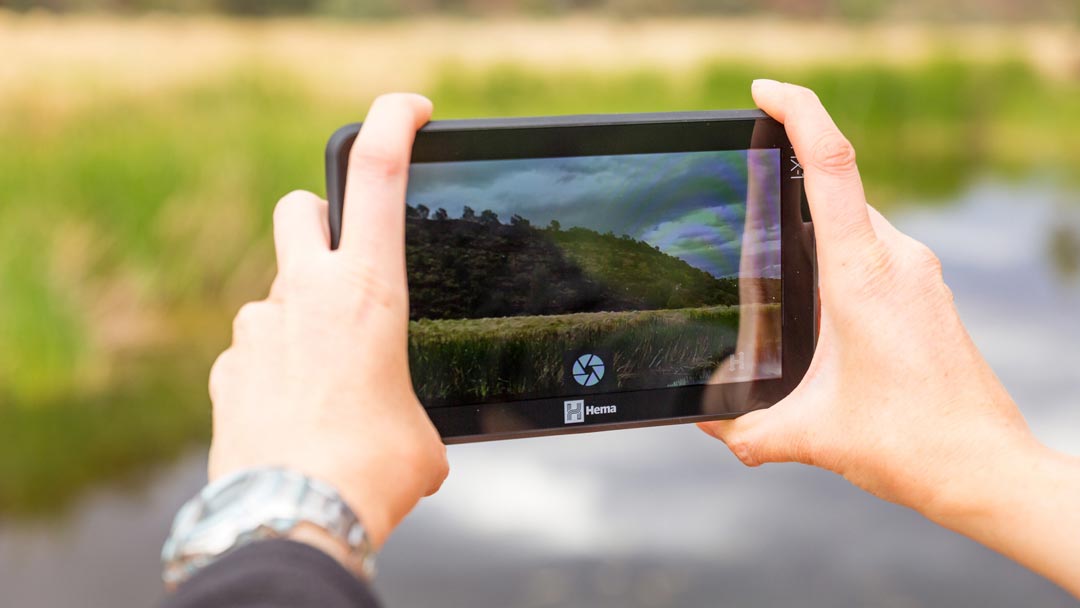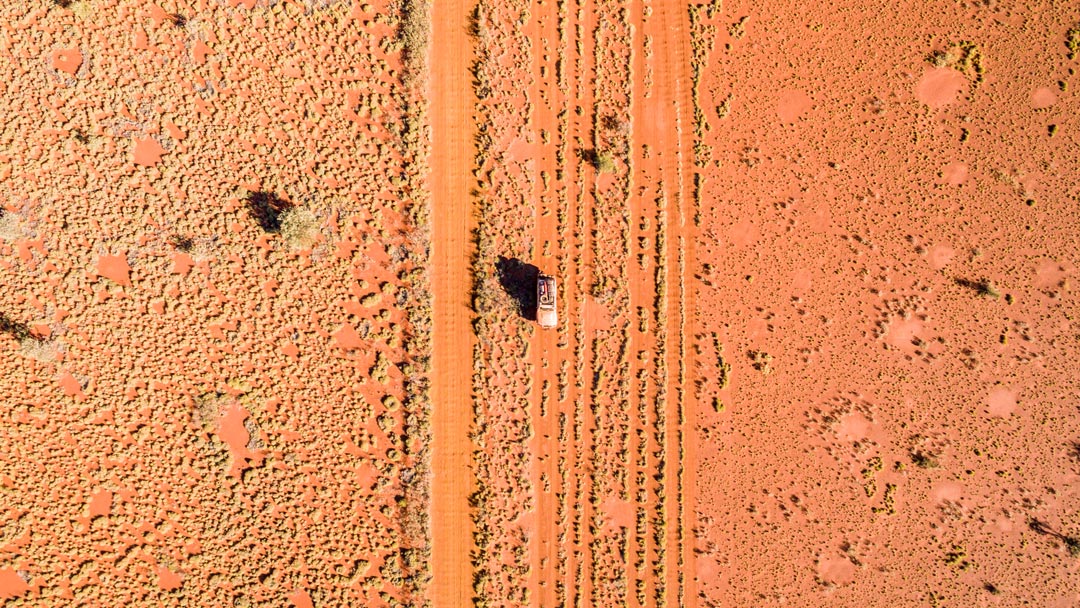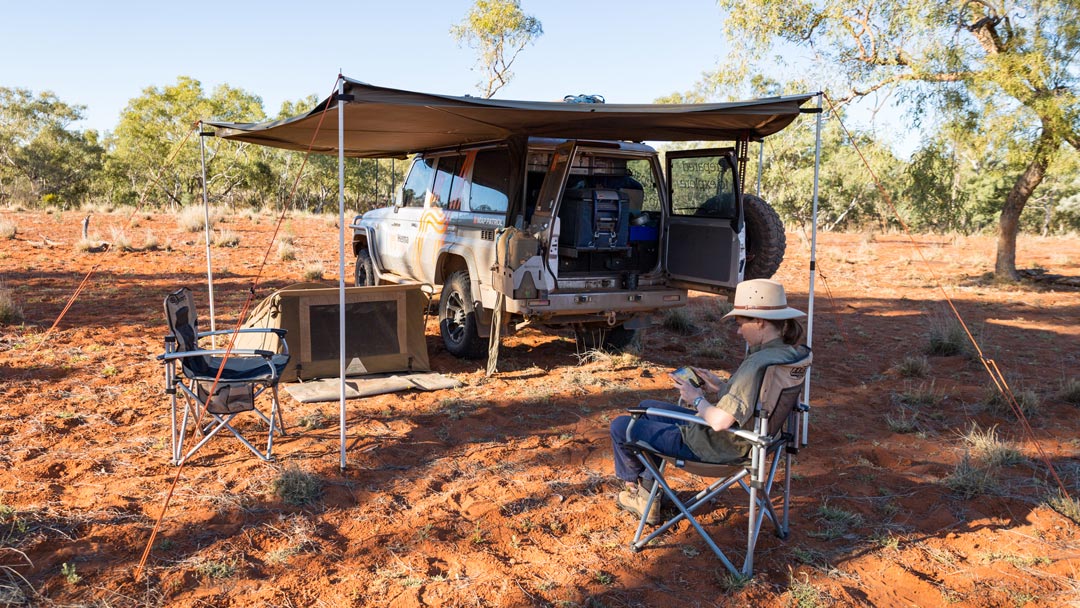 Capture your adventures as they happen with the Hema HX-1's intuitive trip recording tools. Save your track while you navigate, drop a waypoint to mark that hidden campsite you found, and take geotagged photos and video of the best parts of your trip with the Hema HX-1's 5-megapixel camera.
To help you find Australia's best tracks, trails and places off the beaten track, the Hema HX-1 features the revolutionary Hema Explorer Map. Combining 1,200,000km of 4WD tracks and outback roads with vital topographic information like contour lines and detailed river network data, as well as walking trails, symbolised track difficulty classifications and more, your dream adventure is waiting for you on the Hema Explorer Map.
In addition to the Hema Explorer Map, the Hema HX-1 also comes with a wide range of map sources to download and use on your next adventure. This list includes digitised Hema touring maps for Cape York, Fraser Island, the Kimberley, High Country Victoria and our iconic Great Desert Tracks maps, additional Hema base maps, state government topographic maps (QLD, NSW, TAS, VIC, SA), as well as HERE Street and Terrain mapping.
Powerful trip recording tools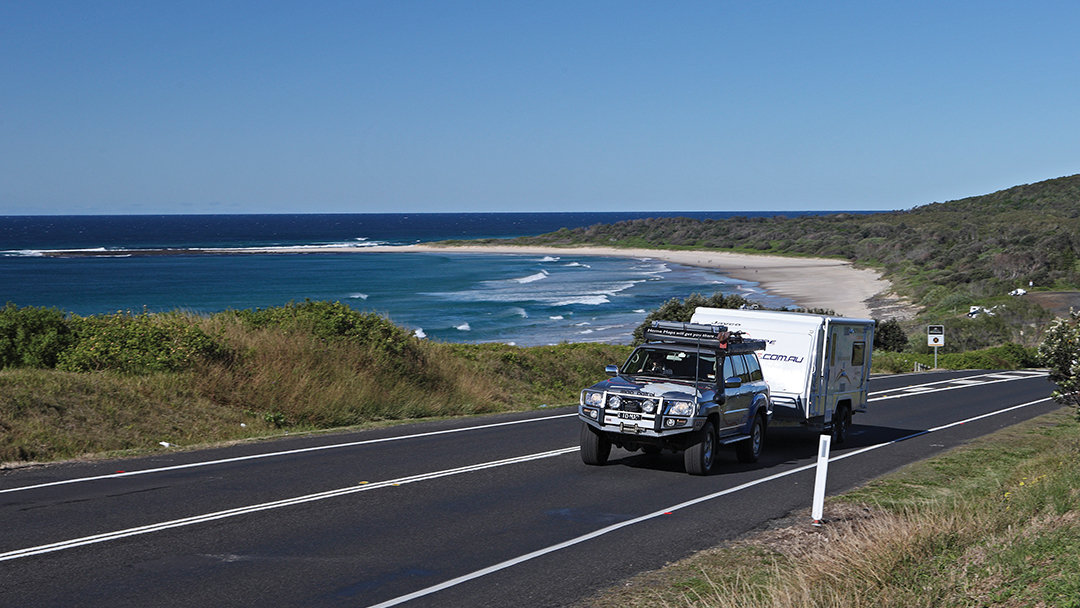 Navigate confidently throughout Australia and New Zealand with precise turn-by-turn voice guidance to addresses, points of interest and coordinates in Drive mode. Drive mode delivers the latest HERE navigation data for driving around town and Hema track data for exploring places off the beaten track, as well as visual lane guidance and alerts including red light and speed cameras, timed school zones and more. Drive mode makes the HX-1 a powerful street navigator with the added bonus of 4WD and unsealed road data from Hema.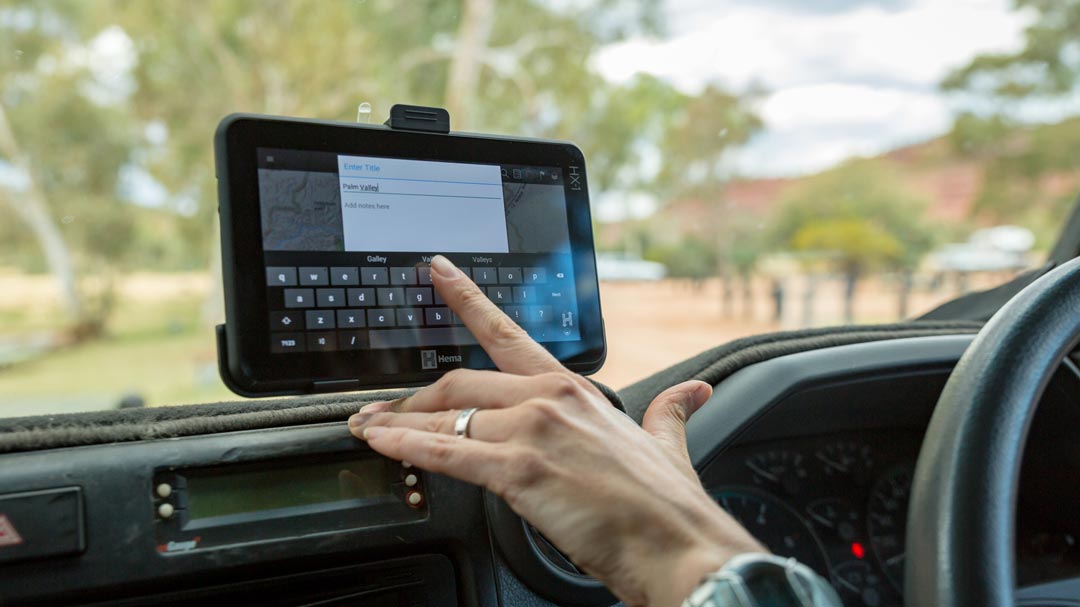 Explore mode's wide range of map sources, points of interest and tools for planning, navigating and sharing your trips makes the Hema HX-1 the ultimate companion for confidently exploring off-road Australia. 
Designed for navigating off the beaten, it features topographic and touring mapping plus an extensive list of points of interest in combination with trip recording tools and other content and features.
Share with other explorers
Find campsites & caravan parks
Quickly and easily share your trips online with friends, family and other Hema users with the Hema HX-1. Connect to Wi-Fi to upload your latest adventure to your personal Hema Explorer Cloud account, which you can then share on social media, send as a URL or post to our online trip gallery, where it will be seen by other explorers from all around the world. You can even browse and download other people's tracks, which you can then take with you offline to guide you on your next adventure.
Discover over 45,000 campsites, caravan parks and other points of interest (POI) across Australia with the Hema HX-1. Drive mode features over 6,000 POI from Camps Australia Wide and Caravan Parks Australia Wide – Australia's most comprehensive directories for free and low-cost camps across Australia. Each point of interest contains insightful details like pet-friendliness and mobile phone reception, while integrated Camps Snaps site images give you a visual preview of your destination, allowing you to find the perfect spot to stay for the night.
The Hema HX-1 also features over 40,000 Hema-verified points of interest for explorers in Drive & Explore mode, which covers everything from campsites and caravan parks to rest areas, roadhouses, 24-hour fuel, lookouts, mechanical repairs, historical points and much more.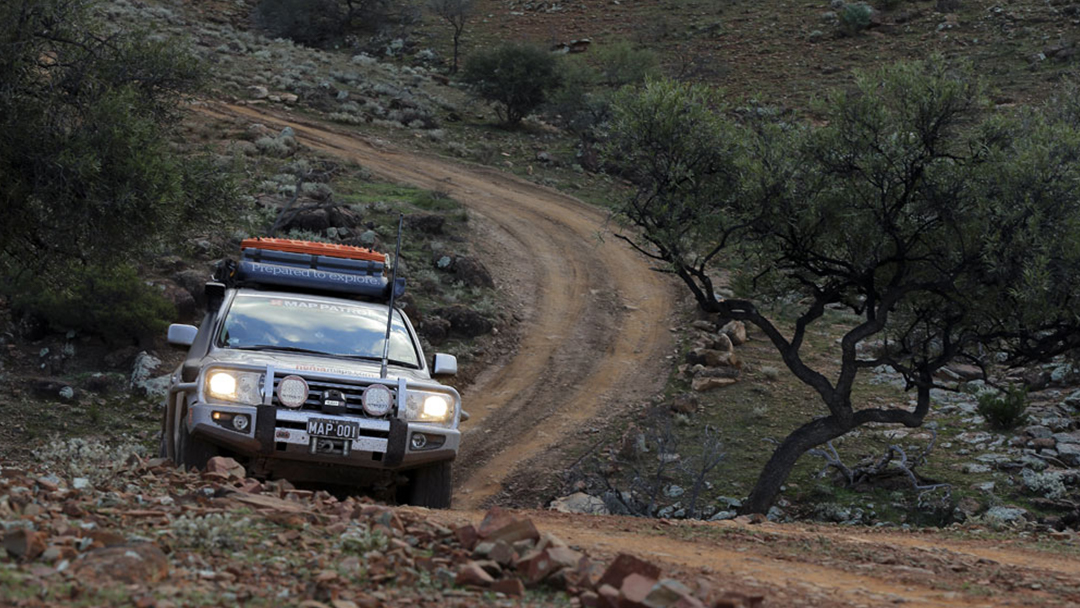 Australia's best adventure mapping – Explore off-road with confidence
Signature Car Sound, your local In-Car Navigation Specialists on the Sunshine Coast