Description
Focal SUB 25A4
ACCESS 10″ Subwoofer
The Access Focal 25 A4 sub is the ideal boost to your car audio system's bass performance. With its 25 cm (10″) diameter and its 200 W RMS rated power, it is ideally suited for fitting in a sealed or bass reflex enclosure.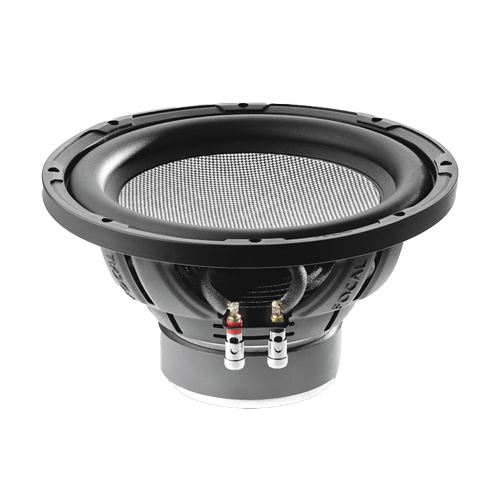 HIGH PERFORMANCE for a compact subwoofer
The 25 A4 provides the bass your car audio installation needs. Its Kapton-mounted 50 mm coil with spider decompression ventilation gives this speaker high power handling. With its butyl suspension, the DFS® cone is a consistent performer. And its 120 mm magnet provides very high performance and optimises the power delivered.
Focal SUB 25A4 – Description
The SUB 25A4 subwoofer is a great addition to your car audio installation, it gives your system heightened dynamics and you benefit from powerful Focal sound. It is ideal for use in sealed and bass reflex enclosures.
DFS® : Dual Fiberglass Structure.
Robust and reliable
DFS® tecnology features robust and reliable cones. Composed with two 90° woven glass fibres and insulated with polyurethane, it resists to extreme acoustic environments and harsh weather conditions.
Acoustic properties
Access DFS® cones have great power handling, and deep bass, common denominators of the philosophy of the Access line which has been having an impact on users for almost 10 years…
Focal SUB 25A4 – Suggested Enclosures
Compact sealed enclosure: 15-25L (0.52 – 0.88 cu.ft)
Bass reflex enclosure: 20-35L (0.71 – 1.23 cu.ft)
Focal SUB 25A4 – Features
DFS® cone (Dual Fiberglass Structure)
Powerful 43/4? (120 mm) magnet: 200 Watts RMS
Spider decompression ventilated coil
High power
Signature Car Sound, your local Authorised Focal Dealers, Stockists and Installation Centres on the Sunshine Coast