Description
Alpine CDA-137EBT
CD Receiver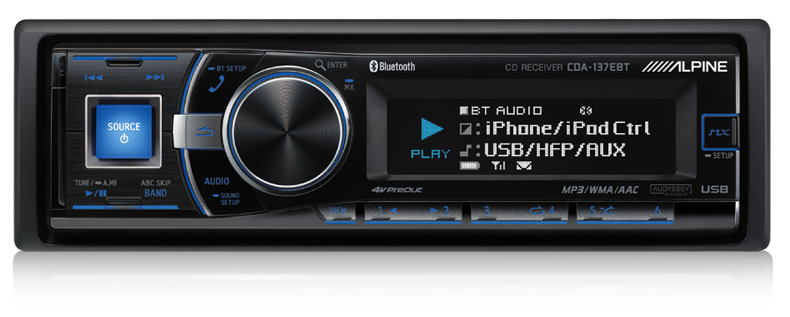 The Alpine CDA-137EBT high-performance head unit delivers benchmark sound quality thanks to Alpine's all-new CD mechanism, world-leading circuit design and cutting-edge audio engineering. Boasting advanced features including MediaXpander technology, digital time correction, 7-Band parametric EQ or 5-Band parametric EQ and high pass filter enable precise fine-tuning and sound customisation.
Also, a Burr Brown 24-Bit DAC for ultra-high resolution processing and a 4-Volt preout stage achieve the best possible audio reproduction.
Built-in Bluetooth Plus provides hands-free operation of a Bluetooth enabled mobile phone, and many other convenient functions like adjustable volume and text messaging alert, as well as audio streaming. It's also ready for automatic IMPRINT calibration with the Alpine PXA-H800 processor for the ultimate in sound clarity and imaging.
Superior Sound Quality Is Designed In
The CDA-137EBT outdistances the competition in terms of sound quality because it's designed in. All components and materials were rigorously evaluated and then tested to achieve maximum performance.
More Information with a Clearer View
Alpine's large and bright exclusive BioLite Display™ provides a wide range of information. The display is white, making it clearly visible in all types of light conditions, even glare from sunlight.
Introducing the Best Disc Mechanism Ever
Every disc mechanism revolves the disc and reads the data recorded on it, but some do it better than others. And now the best of all is in the CDA-137EBT. The problem is that vibrations caused by disc rotation and vehicle movement can affect the data reading accuracy. To effectively absorb and disperse these vibrations, the CDA-137EBT introduces an extra-high performance disc mechanism. It has all-new dampers, a very rigid chassis made out of a vibration-damping metal, and a floating structure. This eliminates reading errors, for consistently high sound quality.
The Same DAC Used in Pro Equipment
The AlpineF#1Status line of super-high-end models are the best audio components to ever hit the road, and we learned a lot by designing and producing them. The CDA-137EBT is one of the direct descendants of those models. Like them, it uses the highest grade parts and circuits, subjected to a rigorous sound tuning process. For example: the Burr-Brown 24-bit DAC, the same type as used in professional recording systems. It's one more way that this head unit achieves pure, linear and precise sound reproduction.
Alpine-Developed, Time-Proven S.T.A.R. Circuit
"Low noise" is a constant theme in Alpine mobile electronics. We designed and developed our original S.T.A.R. circuit and have used it in our products for many years because it is an extremely effective way of reducing noise in the circuit board's power supply line. It achieves this by combining the ground lines to one point, eliminating the electrical potential differences that are the cause of noise generation. Even if your customer doesn't need the technical explanation, they'll like the result: pure power, pure sound.
Better Sound When Extra Amp is Connected
The Alpine CDA-137EBT is a great choice if the customer is going to be using an extra amplifier. Its power supply management function stops the power supply to the built-in amplifier. This stabilises the internal current flow, providing powerful and clean signal output to the preout stage.
Taking MP3 Sound to Another Level: MediaXpander®
Customers may think their iPod or other player sounds good, but remind them that the data is compressed. So they're not getting the sound that the artist originally intended. Now they can very easily, thanks to the built-in MediaXpander. At the touch of a button, it enhances the frequency ranges where the sound is compressed and corrects music data based on harmonic analysis, restoring the original sound quality. In addition to MP3 sound, MediaXpander is effective for iPod songs, old recordings on CD and FM radio. And one more benefit: it improves the bass from factory-installed speakers.
Move Up to Professional Grade Sound Tuning
For true audiophiles or those geared to competition, Alpine offers the ability to connect the Alpine PXA-H800 or Alpine PXA-H100 IMPRINT Sound Processors, which provide professional-quality sound upgrading and many advanced functions.
New Shutter Design Blocks Noise-Causing Radio Waves!
The shutter protects the disc, but on this high-end head unit, that's not all it does! It actually prevents radio waves from affecting the optical pickup system. These waves are emitted by mobile phones, radio communications, auto doors, and other sources. They can cause annoying interference, but CDA-137EBT owners don't have to worry about them.
They'll enjoy the same great sound quality as ever, no matter what devices are in the area.
Not Your Ordinary Capacitors
That's right, even the capacitors in the CDA-137EBT are special. They are topgrade low equivalent series resistance electrolytic capacitors that minimise the noise generated in the digital and high frequency circuitry. These capacitors were developed exclusively for audio circuits and are tuned to ensure audiophile-grade performance.
Ready for Pro-Level Sound Tuning
If a customer is really focused on sound quality, be sure to point out that the Alpine CDA-137EBT is IMPRINT Ready.
This means it's ready to connect to one of Alpine's IMPRINT Sound Processors, the Alpine PXA-H800 or Alpine PXA-H100. Both of these units automatically fine-tune the sound for the best possible output within the car's acoustic environment. For customers who desire more specialised sound tuning, the PXA-H800 allows further adjustments after the auto tuning process is finished.
Massive and Stable Power Supply Capacitor
Here's a fact you should know: if you want faithful sound reproduction, you need a stable flow of electricity to the power supply block. That's never a problem in this model, thanks to an extra-large, audiophile-grade capacitor for the power supply. It makes a difference in the sound!
High Voltage Output
More good news for extra amp users. By employing a +/– power supply, stable, high voltage output is ensured no matter what the input voltage and current are. This high voltage output creates an anti-noise environment at the signal transmission stage when using an external amplifier, so high quality sound can be output.
Go Black for Better Quality
For even higher sound quality, the user can eliminate the slight electromagnetic noise generated by the illumination. Pressing the Audio button to select the Black Out mode will turn off all the illumination including the display; touching any button turns it on again temporarily. Suppressing electromagnetic noise and reducing power consumption optimises sound quality.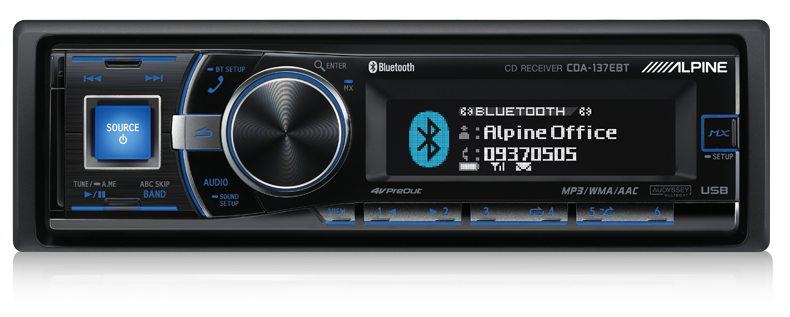 Alpine CDA-137EBT – Features
50W x 4 High Power Amp
Built-in Parrot Bluetooth Module
Advanced Bluetooth Functions (BT Plus)
BT Audio Streaming
CD-R/RW/MP3/WMA/AAC Playback
High Speed USB Connection for iPod or USB sticks
Made for iPod and iPhone
USB Cable and iPod/USB Adapter Included
Direct iPod/iPhone Control
Works with Nokia (requires KCU-230NK)
7-Band Graphic EQ / 5-Band Parametric EQ
6-Channel Digital Time Correction
High-pass Filter
MediaXpander™
IMPRINT Ready with PXA-H800/H100
24-Bit DAC
Biolite Display
Steering Wheel Remote Control Ready
Remote Control Included
KTP-445 Power Pack Ready
2 Illumination Colours Selectable (Blue/Red)
3 PreOuts
4V High Voltage Output
Hands-free Microphone Included
* 1 Year Warranty as per Alpine Electronics Australia Terms &Condition's
Signature Car Sound, your local Authorised Premium Alpine Car Stereo Stockists and Installation Centres on the Sunshine Coast.