Description
Alpine CDE-W265EBT
CD Tuner with BlueTooth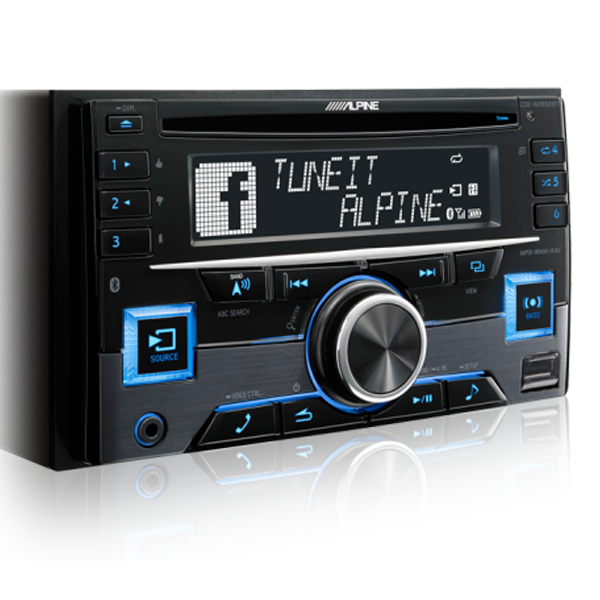 2-DIN CD RECEIVER WITH ADVANCED BLUETOOTH
The Alpine CDE-W265EBT combines all the cool new features and functions you would expect from an Alpine Head Unit,  such as Alpine TuneIt App compatibility for iPhone and Android based phones, allowing full sound tuning and sharing via your phone, as well as new Facebook message alerts.
It's Steering Wheel Remote Control Ready for a perfect install in almost any vehicle. If your car is equipped with a start-stop engine, this Head Unit is even more interesting for you, since it will keep playing when your engine stops at a crossroad.
It also features a 3-way crossover and you can even adjust the button and display illumination colour separately with a stunning 150.000 colour variations.  
Play all your favourite music from CD, MP3/WMA/AAC files on USB storage, plus connect and play iPod/iPhone via USB and the 3 x 4v Pre-outs enable the unit to be connected to multiple amplifiers to enhance your listening experience.
The 9 band parametric EQ and high pass/ low pass filters give you maximum control to tune the sound exactly how you like it, while the TuneIt app gives you even more advanced audio tuning options including search and download of preset audio parameters, and Facebook text-to-speech. App direct mode provides access to apps such as Pandora, TuneIt Radio, and Soundcloud to listen to your favourite tracks.
BASS ENGINE SQ
The BASS button next to the central control knob takes you directly to the advanced bass level adjustment function. As you choose one of the six levels, it automatically adjusts frequency cut-off, Q factor and subwoofer level for optimum sound quality and tonal balance.
BUILT-IN BLUETOOTH® HAS MANY ADVANTAGES
Bluetooth® comes built in, so you can enjoy hands-free phone operation and a wide range of convenient functions for superior in-car phone use. These include the ability to hold and switch incoming calls, phonebook functions like auto updating and easy ABC search, and easier control of music search and playback functions. When an iPhone is connected to the USB port for the first time, the unit will automatically start the inital Bluetooth setup.
HEAR THE MUSIC YOU LOVE, FROM MANY DIFFERENT APPS!
Alpine takes head unit/iPhone integration a step further with App Direct. Connect your iPhone via USB and App Direct will let you listen to sound from many apps through your system speakers. Select music or talk from Internet Radio, streaming services, whatever your favourite apps are. You get full control from the iPhone's touch screen and the iPhone stays fully operational.
FULL ENJOYMENT OF iPods AND iPhones
The Alpine CDE-W265EBT provides a high speed USB connection to let you enjoy the functions of your iPod or iPhone. Along with superior sound quality and easy operation, you also get quick music search via song, artist, album, and other choices.
SIRI VOICE CONTROL
Use the voice control key to activate Siri on your iPhone 4S / iPhone 5 / iPhone 6 and 6 Plus to control the music playback and place calls. This works also for Android phones with voice control function.
3-WAY X-OVER
This unit is equipped with an active crossover. The crossover limits the frequencies delivered to the outputs. Each channel is controlled independently. Thus, each speaker pair can be driven by the frequencies for which they have been optimally designed.
The crossover adjusts the HPF (high pass filter) or LPF (low pass filter) of each band, and also the slope (how fast the filter rolls off the highs or lows). Adjustments should be made according to the reproduction characteristics of the speakers. Depending on the speakers, a passive network may not be necessary. If you are unsure about this point, please consult one of our in house technicians .
TUNE YOUR SOUND, CHECK YOUR FACEBOOK
Download the Alpine TuneIt App, then connect your iPhone via USB or Android based smartphone via Bluetooth. Now you're ready to use your phone as a handy interface to achieve exactly the sound you want in your car. If you're on Facebook, the app will also notify you of new messages on both your phone and the head unit. For more details, see the Alpine TuneIt App description in the Apps product category
ALPINE PREMIUM DESIGN
Variable RGB Illumination (Separate LCD & Key)
Metallic material design
Alpine CDE-W265EBT – Features and Specifications
GENERAL
50W x 4 High Power Quality Amplifier
CD:MP3/WMA/AAC/CDDA
Front USB:MP3/WMA/AAC
Large size LCD display
2-Lines 14 Segment RGB LCD Display
3 PreOuts (4V, Front / Rear /Subwoofer)
Variable Illumination RGB  (Separated LCD / Button control)
iPod/iPhone support
Wireless Remote Control Included
Tag Language (Eng only)
Idling stop function support
Clock
App direct
BLUETOOTH
Built-in Module
Hand free calling (HFP)
Music streaming A2DP
AVRCP with TAG display
Song / Folder searching
BT Plus (Advance Bluetooth Technology)
Secure simple paring supported
Phone book transfer
First letters alphabet search
6 preset dialing memory
5 Phone number registration possibility
Voice dial operation supported
Call waiting switch
Call  history :  Phone book called/ Dialed call/Receive call / Missed call
Speech Volume level Adjustment
5 type of HFP Sound Setting
Battery quantity display
Signal Strength display
Microphone Include
Firmware update by USB
Siri (Phonebook)
* 1 Year Warranty as per Alpine Electronics Australia Terms and Conditions
* Pandora, Alpine TuneIt App and any other applications used with Alpine products require the use of a compatible smartphone with the downloaded and installed application, charges incurred for the use of the application inclusive of data transfer and consumption are the responsibility of the user, and Alpine disclaims any liability for such charges.
Signature Car Sound, your local Premium Alpine Car Stereo Specialists and Installation Centres on the Sunshine Coast