Description
 Alpine CDE-147BT
CD Receiver with Bluetooth +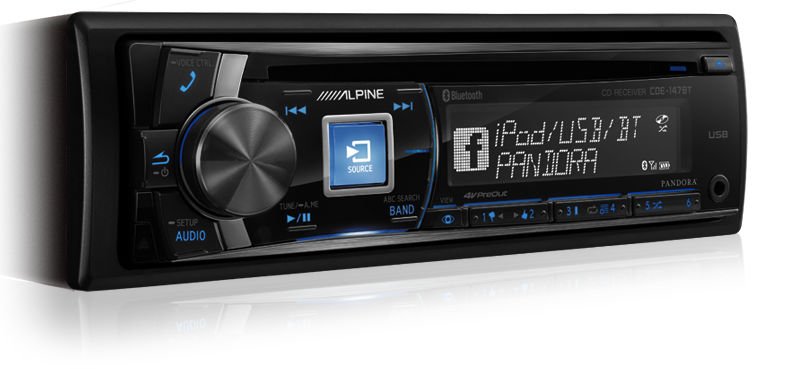 The Alpine CDE-147BT CD Receiver remains faithful to Alpine's promise that the focus of their head unit products is Sound Quality first. All features included in this unit are designed to enhance and achieve Sound purity.
Whether you have an iPhone or Android smartphone, the Alpine CDE-147BT gives you full control right from the dash.
The Alpine CDE-147BT is equipped with Pandora Internet Radio you can explore and enjoy music online from a vast music library.
With the Pandora App downloaded on your iPhone or Android smartphone and connected to the Alpine CDE-147BT via USB or Bluetooth streaming you're ready for Pandora on-the-go.
Also, you have enhanced Pandora functions to create your own channels by Genre, Artist or Song preference, and Pandora will suggest music similar to your taste.
Use the Thumbs Up/Thumbs Down buttons on the Alpine CDE-147BT face to rate suggested songs and personalise your channel to your liking.
What's more, it's ready to connect iPod, iPhone and Nokia, plus play MP3/WMA files stored on USB devices. Built-in Bluetooth Plus gives you audio streaming from enabled devices and hands-free with full phonebook access.
Plus Alpine's TuneIt App turns your phone into an interface for custom sound tuning, Facebook updates and more. Downloaded to your Android or iPhone, Alpine TuneIt App allows you to find online, customise and save sound tunings, and receive Facebook notifications with text-to-speech.
* 1 Year Warranty as per Alpine Electronics Australia Terms & Condition's
* Pandora, Alpine TuneIt App and any other applications used with Alpine products require the use of a compatible smartphone with the downloaded and installed application, charges incurred for the use of the application inclusive of data transfer and consumption are the responsibility of the user, and Alpine disclaims any liability for such charges.
Discover a new world of Internet Radio with Pandora
Whether you have an iPhone or Android smartphone, Alpine gives you full control of Pandora straight from your dash. Choose to connect through USB or stream via Bluetooth, you can enjoy your favourite Pandora channels with Thumbs Up/Thumbs Down buttons directly on the faceplate, Quick search features, and even the ability to create a new Pandora station and bookmark your favourite tunes on the go.
With Pandora, search the name of your favourite genre, artist or song and Pandora will quickly scan its entire music library to find songs with similarity to your choice. Sit back and listen as it creates a music experience tailored specifically to you.
Give songs the Thumbs Up/Thumbs Down rating via the CDE-147BTi buttons as you go, to ensure you hear only the music you like.
Built-in Bluetooth Plus
Built-in Bluetooth Plus not only allows you to make and receive phone calls, it also provides battery, text message and reception icons to keep you informed. AVRCP 1.4 Bluetooth means you can also stream your favourite music wirelessly, straight from your Bluetooth enabled phone. Plus, view and navigate through your tracks using the song/artist/tag information displayed conveniently on the ultra-sharp display.
App Direct Mode
App direct mode allows passengers to control your music, right from the iPod or iPhone. Third party apps such as Tune In Radio, Soundcloud and Pandora can also be used to listen to your favourite tracks. The song, artist, station and album information is even shown on the display for maximum convenience.
Alpine's TuneIt App
Alpine's TuneIt application is designed to make smartphone integration a breeze, offering advanced audio tuning, search and download of preset audio parameters and Facebook access optimised for on-the-run information.
Best of all, Alpine's App Direct Mode compatible head units support the use of both Android and iOS devices to access the Alpine TuneIt app.
Browse custom tunings based on car type and genre. Tunings can be uploaded and shared with other users for easy access to a large range of tuning setups
Adjust the sound to perfection, with parameters including 9-Band parametric EQ, time correction, high pass and low pass filters, subwoofer phase, fader/balance and Media Xpander.
Facebook in your car
The Alpine TuneIt app also keeps you in touch with your Facebook friends. When you receive a new message, you get a visual notification on both smartphone and head unit, plus a sound notification through your car's speakers. The visual notification includes a big "f" logo and the sender's name, with the profile picture shown on the phone.
Sound tuning from your phone
Download the Alpine TuneIt app and connect your iPhone via USB or your Android-based phone via Bluetooth. Your phone instantly becomes a sound tuning interface. As you change settings on the phone, you hear the results, so you can customise the sound exactly how you want.
After making your sound settings, upload them to the Alpine Cloud Server to share them with other Alpine fans. You can also check out their settings, and rate them. Download some high rated or interesting settings and try them in your car. The database will keep growing, so check back often to see new ones.
Download the Alpine TuneIt App from the App Store or Google Play
The all-new Alpine TuneIt app turns your phone into an interface for custom sound tuning, Facebook updates and more! Compatible with iPhone and Android-based phones like Samsung Galaxy. Download from the Apple App Store or Google Play.
Alpine CDE-147BT – Features
50 x 4 High Power Amp
Works with Pandora Internet Radio
Works with iPod/iPhone
TuneIt App for Android/iOS
Built-in Bluetooth
CD/MP3/WMA/AAC Playback
Front AUX Input
Rear USB Input
Works with Nokia
3 PreOuts (4V)
9-Band Parametric EQ
High Pass & Low Pass Filters
6 Channel Time Correction
4 Illumination Colours
Steering Wheel Remote Control Ready
Remote Control Ready
Signature Car Sound, your local Authorised Premium Alpine Car Stereo Specialists and Installation Centres on the Sunshine Coast