Description
ALPINE iLX-007
In-Dash Digital Media Receiver with Apple Car Play
Apple CarPlay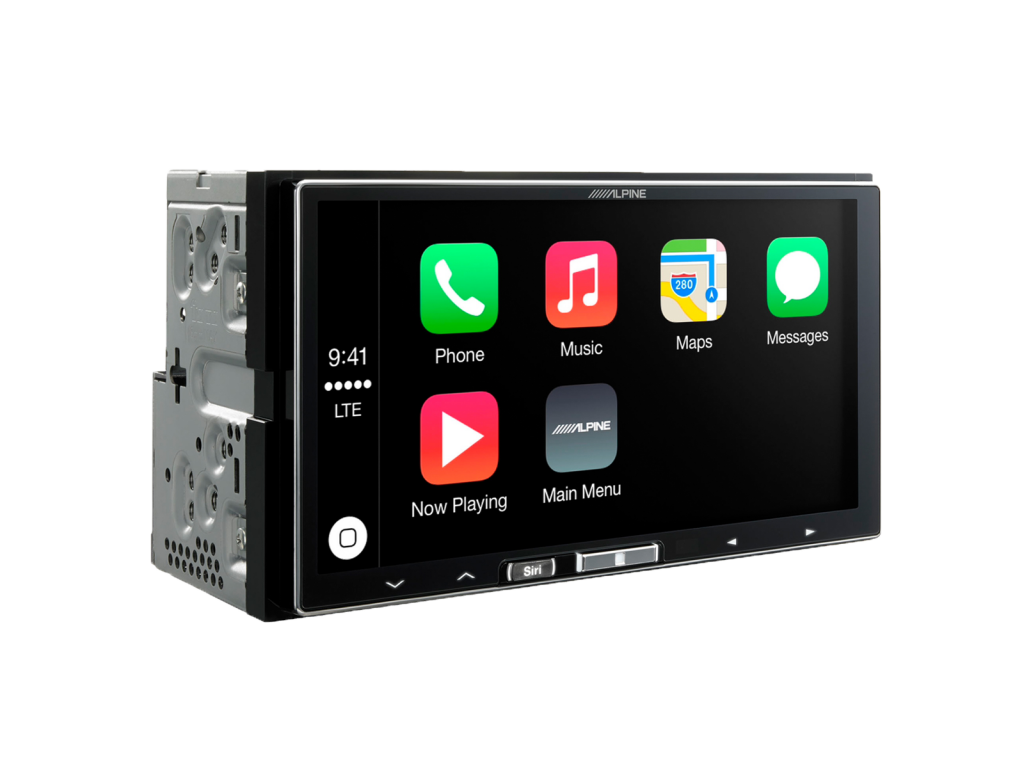 The innovative ALPINE iLX-700 In-Dash System with Apple CarPlay brings you a smarter way to use your iPhone on the road. Apple CarPlay gives iPhone users an incredibly intuitive way to make calls, use Maps, and listen to music and access messages with just a word or a touch.
You can even enjoy Spotify, internet radio or Podcasts while on the road for a truly connected experience.
When Apple CarPlay is used on the Alpine iLX-700, users can control Apple CarPlay from the 7-inch high-resolution display or activate Siri for minimized distraction.
Apple CarPlay is compatible with iPhone 5S, iPhone 5C, Phone 5, iPhone 6 or iPhone 6 plus running the latest version of IOS.
ALPINE iLX-700, iPhone and Apple Car Play — a brilliant combination.
Apple Car Play offers a safe and intuitive way to use your iPhone in your car. Simply connect your iPhone to the iLX-700 through the lightning connector and the Apple Car Play apps appear on your Alpine screen.
Use the the 7" capacitive touch screen or Siri to get driving directions, make calls, browse though your music library and dictate SMS messages – or have Siri even read new incoming SMS messages to you.
Additionally there are more Apple Car Play approved apps such as Podcasts, Spotify, internet radio and others – and the list keeps growing. Apple Car Play allows you to use all these apps while keeping your eyes on the road.
Phone
Apple Car Play seamlessly integrates with your iPhone for greater operating ease and functionality. Use Siri to make calls, return missed calls and listen to voice mails, keeping your eyes on the road.
You get your Contacts, Favorites and Recents lists, a Keypad display and an easy-to-use Call Screen.
Maps
Wherever you go, let Apple Car Play show you the way. The utter simplicity of Apple Maps will guide you through turn-by-turn spoken directions, interactive 3-D views, traffic conditions and estimated travel time – all from your dashboard. And when you start to input an address, Apple Car Play will use various information to quickly predict the destination.
Additional Apple Car Play apps
Additional Apple Car Play approved apps such as Spotify, Podcasts, Rdio and others can be downloaded from iTunes to your iPhone and will then appear on the Apple Car Play menu.
For more information and updates on third party apps supported by Apple Car Play, please visit the Apple Car Play website.

Apple Car Play Apps
When connecting your iPhone there are four pre-installed Apple Car Play apps: Music, Phone, Maps and Messages.
They basically work just the same as on your iPhone, however they have been optimised to be used in the vehicle while driving. Simply tell Siri what music you want to listen to,  dictate SMS messages, ask for driving directions or take and place calls.
Below we explain the these key apps in more detail. When you stop your car and engage the parking break you get additional option such as a keyboard to manually input navigation destinations.
Music
You can control all the music search options of your iPhone directly from the iLX-700. Search playlists, artists, albums, songs, and more by scrolling or via alphabetic search. You can also activate Siri to play music by giving voice commands. The USB connection ensures superfast access and high-quality sound.
Messages
Enjoy a better way of text messaging with friends and family with Apple Car Play when you're on the road. Through your voice commands, Siri can do all the heavy lifting by sending, reading and replying to your text messages so that you never have to glance at your phone while behind the wheel.
Siri
Apple Car Play uses Siri voice control specifically for driving scenarios. Tell Siri what you'd like to listen to and Siri will be on it. Want a text message read or sent? Siri has that handled. Have calls to take and return on the road? Siri is the perfect co-pilot for that. Siri can seamlessly be activated from the dedicated hard button on the iLX-700 and on your steering wheel controls (if applicable).
Edge-to-Edge Glass Design
The Alpine iLX-700 features a beautiful edge-to-edge glass design that underlines the premium quality of the product. It seamlessly integrates into your car for a neat appearance.

7" Capacitive WVGA Touch Screen
Using the 7" capacitive touch screen for the first time you will notice how well and delay-free it responds to inputs. This is by far the best screen we ever put into any of our products. Key features are:
Highly responsive to inputs
Supports drag and flick gestures
Excellent visibility even in direct sunlight
High contrast and brightness
Includes DEMO mode
Digital AM / FM Tuner Provides High Performance
Alpine's digital AM / FM tuner finds and locks onto stations with extreme precision for superior sound quality and faster tuning performance. Virtually it also eliminates interference from multipath and adjacent channels. As a result, you enjoy crystal clear radio reception at all times.
Become a Tuning Expert with Alpine TuneIt App
Download the free Alpine TuneIt App onto your iPhone and create a user profile about your vehicle and Alpine sound system. Settings that can be adjusted include Time Correction, Parametric EQ, Crossover, and Media Xpander. You can make and save up to 100 different sound settings in your account, which is helpful if you want various settings to use for specific types of music.
You can also …
Upload numerous preset vehicle choices for easier sound system tuning.
Share your sound tunings through the Alpine Cloud Server
Adjust Bass-Engine SQ bass characteristics for different types of music
Note: The Alpine TuneIt App is required to use all of the iLX-700's sound tuning capabilities.

BASS ENGINE SQ
This advanced bass customisation control automatically adjusts frequency cut-off, Q factor and subwoofer level, while maintaining optimum overall sound balance. It also offers five presets for quick selection.
Shallow Chassis
The iLX-700 will fit in most vehicles with its very low installation depth of only 7cm. It allows installation in VW Golf 7, BMW Series 1, BMW Series 3 and other vehicles with shallow 2DIN installation depth.
Additional Features
Three PreOuts
Rear View Camera Ready: Connect an Alpine rear view camera system (sold separately) and get the convenience and peace-of-mind of knowing what is behind your vehicle.
AUX-Video Input: Enjoy video content from your video device (3.5mm mini-jack)
See Beyond Traditional Blind Spots
Alpine makes it easy to add Drive Assist camera systems to any Alpine AVN system. Choose from a variety of camera systems that make parking a breeze. Alpine cameras are durable and specifically designed for wide-angle and multi-angle views for front and rear applications.
Connection for Alpine Climate Control and Parking Sensor Interfaces
Many original factory head units have climate control and parking displays, which will be lost if the unit is removed. With the Alpine iLX-700, this is not a problem, as it supports Alpine interfaces that provide attractive graphic displays of climate control and parking information. This ensures full integration of the Alpine system with the car for greater driving safety and convenience.
Parking sensor displays distances to the front and rear, making it easier and safer to maneuvre into and out of parking spaces.

Full climate and heater contour display including air vent settings and seat heater display makes it easy to achieve desired settings.

HFT (Hands Free Transfer) via USB Connection
Full connection with the iPhone including phone hands free calling is done via USB connection
No Bluetooth connection required
Plug & Play pairing with iPhone when connected (The iLX-700 does not have a Bluetooth module)
Alpine iLX-700 FEATURES
Tuner
Memory Presets: FM:18 / MW:6 / LW:6
Memory: Auto Memory
Seek Mode: Local / DX Selection
RDS
RDS Functions: AF, TA, EON, RADIO TEXT
Connection for iPhone®
Compatibility for iPhone®: Works with Apple CarPlay; iPhone5S,iPhone5C, iPhone5, iPhone 6, or iPhone 6 plus
Connection: KCU-471i (Not Included) or Apple Lightning Cable
Artwork Display
Available Selections: Playlist/Artist/Album/Song/Podcast/Genre/Composer/Audiobook
Alphabet Search
Direct Up/Dn: Playlist/Artist/Album/Podcast/Genre/Composer
M.I.X. (Shuffle) Capability: Song, Albums, All
Repeat
Battery Charging
USB Extension Cable Included
Sound Tuning
Subwoofer Level Adjustment
Subwoofer Phase Select
BASS ENGINE SQ
Equalizer: Flat, Pops, Rock, News, Jazz, Electrical, Hip Hop, Country, Classical
9-band Parametric Equalizer
MediaXpander
Time Correction: 6-Channel Digital Time Correction
Crossover: Digital Crossover Setting
Alpine TuneIt App Ready
General
Power Output: 4 x 50 W High Power Amplifier
Display: 7 inch High Resolution Display
Control Type: Capacitive Touch Screen
High Grade Audiophile Design
Camera Connection: 1 Camera Input
AUX Input: 1 A/V AUX Input (3.5mm mini jack) for DVB-T tuners or any audio/video playback device
3 PreOuts (2V, Front/Rear/Subwoofer)
Steering Wheel Remote Control Ready
Clock
Auto Dimmer
Power Antenna Lead
Remote Turn-On
Remote Control Ready
CAN Connection port
Start-Stop Engine unaffected
Alpine iLX-700 – SPECIFICATIONS
Screen
7 inch Capacitive WVGA Touch Screen
LCD Type: Transparent Type TN LCD
Operation System: TFT Active Matrix
Number of Picture Elements: 1,152,000 pixels (800 x 3 x 480)
Effective Number of Picture Elements: 99% or more
Illumination System: White LED Backlighting
FM Tuner
Tuning Range: 87.5 – 108.0 MHz
Mono Usable Sensitivity: 8.1 dBf (0.7 µV / 75 ohms)
50dB Quieting Sensitivity: 13.5 dBf (1.1 µV / 75 ohms)
Alternate Channel Selectivity: 80 dB
Signal-to-Noise (S/N) Ratio: 60 dB
Stereo Separation: 35 dB
Capture Ratio: 2.0 dB
MW Tuner
Tuning Range: 531 – 1,602 kHz
Usable Sensitivity (IEC Standard): 25.1 µV / 28 dBf
LW Tuner
Tuning Range: 153 – 281 kHz
Usable Sensitivity (IEC Standard): 31.6 µV / 30 dBf
Sound Tuning
Subwoofer Level Adjustment: 0 to +15
Subwoofer Phase Setting: 0° or 180°
BASS ENGINE SQ: 5Mode, Level 0 to +6
High Pass Filter: 20 / 25 / 31.5 / 40 / 50 / 63 / 80 / 100 / 125 / 160 / 200 Hz
Low Pass Filter: 20 / 25 / 31.5 / 40 / 50 / 63 / 80 / 100 / 125 / 160 / 200 Hz
Parametric Equalizer (Band 1): 20 – 100 Hz
Parametric Equalizer (Band 2): 63 – 315 Hz
Parametric Equalizer (Band 3): 125 – 500 Hz
Parametric Equalizer (Band 4): 250 – 1k Hz
Parametric Equalizer (Band 5): 500 – 2k Hz
Parametric Equalizer (Band 6): 1k – 4k Hz
Parametric Equalizer (Band 7): 2k – 7.2 k Hz
Parametric Equalizer (Band 8): 5.8k – 12k Hz
Parametric Equalizer (Band 9): 9k – 20k Hz
Parametric Equalizer (Gain): -7 to +7
Time Correction: 0.0 – 9.9ms (0.1ms step)
Application Volume Level: -14 to +14
High Pass Filter (Slope): Off / -6 / -12 / -18 / -24 dB/oct.
High Pass Filter (Gain): -12 to 0 dB
Low Pass Filter (Slope): Off / -6 / -12 / -18 / -24 dB/oct.
Low Pass Filter (Gain): -12 to 0 dB
Dimensions
Din Size: 2DIN
Chassis Size (W x H x D) mm: 178 x 100 x 75.5 mm
General
Power Requirement: 14.4 V.DC (11-16V allowable)
Pre Output Voltage (Before Clipping): 2 V / 10k ohms
AUX Audio Output Level: 1.2 V / 10k ohms
Maximum Mounting Angle: 30°
Weight: 0.9 kg
Signature Car Sound your local Authorised Premium AlpineCar Stereo & In-Car Navigation Specialist, Stockists and Installation Centres on the Sunshine Coast