Description
Alpine PDX-M12GC
Professional Series Mono Block Amplifier
PDX Professional Series – for the most astute audiophile and competition system designer.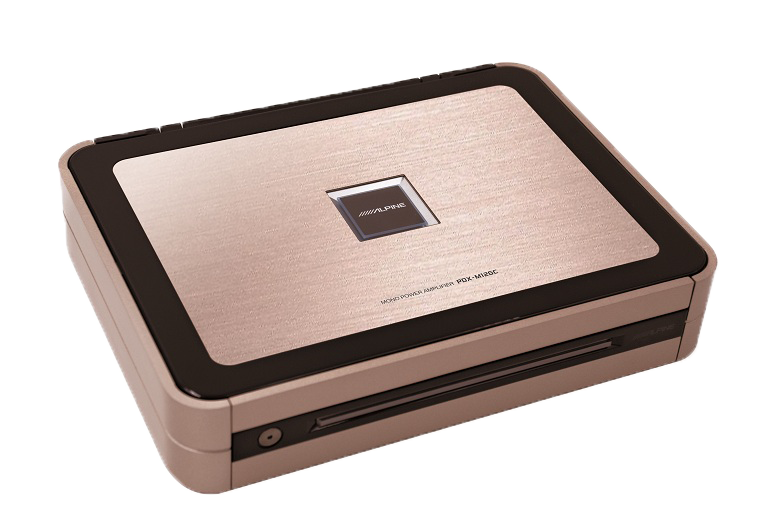 The PDX Professional Series are a special collection that elevates PDX amplifiers to new heights of prestige with their new luxurious and gorgeous gold aluminium finish.
The first true audiophile D-class amplifiers have never been so remarkably beautiful and elegant.
Incorporating new technology to maximise sonic quality, the new Alpine PDX-M12 Mono Block Amplifiers deliver extremely low distortion levels, wide bandwidth and industry leading S/N ratios. The new Alpine PDX-M12 Mono Block Amplifiers have an exceptionally high damping factor, more than 1000 for the Alpine PDX-M12 Mono Block Amplifier
What's more, the all-new Alpine PDX-M12 Mono Block Amplifiers are 20% smaller than the first generation models and their unique stacking design allows for a large multi amplifier system to be installed virtually anywhere. These new Alpine PDX-M12 Mono Block Amplifiers are for the true car audio enthusiast, providing exceptional sound quality and performance.
* Noteworthy Awards
The Alpine PDX Audiophile Series is a recipient of the 2010 CES Innovations honors award. Every year at the world's largest consumer technology tradeshow, the Consumer Electronics Show (CES), the Innovations Designs and Engineering Awards program recognizes the most innovative consumer electronics products, such as the PDX Series for the In-Vehicle Audio category.
InCarMagazine Review – Alpine PDX-M12:    CONCLUSION – Not surprisingly Alpine has again hit the mark with its new PDX-Audiophile range, offering a blend of impressive specs, good looks, excellent build, top flight digital technology and above all copious amount of clean power. All for an asking price of $999 which just coincidentally is less than one dollar per continuous watt. Brilliant!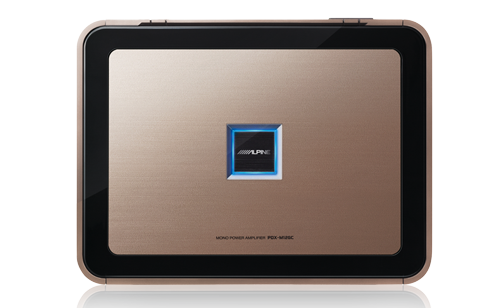 The all-new PDX series are the first ever class-D amplifiers to triumph sound purity and power efficiency.
With precision design and UltraBlu technology PDX deliver unsurpassed definition. Rivalling even the best high-end amplifiers, PDX set the benchmark with a frequency range of 5Hz-400Hz (mono) and 5Hz-100kHz (4ch).
Unique to PDX, distortion decreases at higher frequencies, resulting in a clean signal where your ear is most sensitive to distortion. -<0.005% THD+N @ 1W, <0.05% THD+N @ rated power. What's more, PDX are capalable of S/N ratios up to 123dB S/N ar rated power for unprecedented clarity.
Delivering ultra-low impedance, PDX are highly stable for tight bass and superb sound with a dampening factor rating at >1000 (Mono) and >500 (4ch). With tremendous headroom and low distortion, PDX have a high total system efficiency of ~80% (power supply >90%, output stage >90%).
PDX. The new rival in audiophile amplifiers.
New Reference Grade Output Stage
Ultra-Wide Frequency Response
This super-wide, industry leading frequency range offers listeners unparallel sound quality and detail that bests even the most high-end audiophile equipment. 5Hz-100kHz for 4ch, 5Hz-400Hz for Mono (+0,-3dB).
Total Harmonic Distortion(THD+N) vs. Power
The all-new PDX series amplifiers are not your typical class-D amplifiers. Traditionally, class-D amplifiers have not been known for both low distortion and wide frequency response. These new PDX amplifiers are the first ever class-D amplifiers to break tradition and trump the amps of yesterday. The PDX-M12, PDX-M6, PDX-F6, and PDX-F4 are synonymous with extremely high resolution and detail.
Total Harmonic Distortion(THD+N) vs. Frequency
Uniquely PDX, distortion actually decreases at higher frequencies, resulting in a clean and clear signal where your ear is most sensitive to distortion. -<0.005% THD+N @ 1W, <0.05% THD+N @ rated power.
Signal to Noise
These amps are capable of unheard of S/N ratios up to 95dB S/N @ 1W, 122dB S/N at rated power for extremely clean, uncolored sound. Forget unwanted background noise or static. The PDX amps deliver crystal clear music every time.
Damping Factor
With ultra-low output impedance, the new PDX offers extremely controlled, tight bass for unprecedented sound quality. Ratings are >1000 for Mono and >500 for 4ch.
Power Output to the Extreme

Beefed up Power
The PDX power supply delivers tremendous headroom with low distortion and noise. PDX amplifiers have an extremely high total system efficiency of ~80% (power supply is rated at >90%, output stage is rated >90%).
Low Impedance Stability
These amps are stable at low impedances and are capable of their rated power from 2 to 4 ohms for all models. This allows excellent flexibility with multiple speaker and subwoofer loads and is adjusted automatically.
Certified Power From Birth, Guaranteed Each PDX amplifier comes with its very own birth-sheet. PDX amplifiers are tested and documented to show their true actual output.
Power Management Processor
PDX amps incorporate Alpine's new Power Management circuit. The Power Management Processor controls all aspects of amplifier performance, monitoring voltage, temperature and output to ensure uninterrupted power output for non-stop listening.
Power Output to the Extreme (Cont.)
If the amp gets too hot, the Thermal Protection circuit kicks in and gradually decreases output power until it cools down. Once cool, the power output automatically increases back to the previous level. If the circuit detects a Low Battery condition, it will gradually decrease power output if battery voltage becomes too low. Once the battery voltage increases, power will be restored. This interruption-free design allows for non-stop enjoyment with no hiccups or drop-outs, just clean, clear output.
MOSFET


Metal-Oxide Semiconductor Field Effect Transistors have higher switching speeds than ordinary FETs, for faster response, better linearity
Application Flexibility
Unique Stacking System
The new PDX series amplifiers are 20% thinner than previous models at only 2" thick. New stacking system packs the amps closer together so there are no gaps and to save space in the trunk while directly coupling the amps heatsinks to help share cooling duties.
Speaker terminals
The super high power speaker connectors allow for up to 8GA wiring and have a unique quick disconnect design for simple error-free installation
Power Connector
The new removable connector features a low-loss, high-current design. It accepts up to 4GA wire, to ensure your amp gets the power it needs while allowing for easy installation.
Remote Control Bass Knob (RUX-KNOB)
Simply add the Alpine RUX-KNOB (sold separately),and get full control from the dash for remote on-the-fly bass adjustments. You also have the ability to control multiple amps from just one controller with simple telephone cord adapters.
A Touch of Personalization
PDX amplifiers come with removable trim rings, allowing them to be easily custom painted to match your vehicle or personalized to anything you want. Add it as another Do-It-Yourself project, or leave it to professionals and ask an Authorized Alpine retailer/installer near you
Alpine PDX-M12 – Specifications
Install
Connectors: Quick Disconnect Terminals (Power Terminal and Speaker Terminals)
Terminal Layout: One-Sided
Mounting Design: Easy Stacking and Clean-look installation
General
Amplifier Type: Class-D (Digital)
Channel Design: 1 Channel (Mono)
Thermal Protection
Low-battery Protection
Power Supply: Resonant Mode Power Supply
Power Supply Design: DC-DC PWM Power Supply
Board Circuitry: STAR Circuit
Current Protection: Auto Over-Current Protection
Power Indicator: Top Mounted Blue LED Power/Status Indicator
RCA Output: Non-Fading Pre-Amp Output
Crossover: Adjustable High Pass, Low Pass
Pre-Amp Stage: Discrete
Final Outputs: MOSFET
Board Design: 6-Layer Glass Epoxy PC Board
Gain Control: Adjustable
Bass Control: Remote Bass Control RUX-KNOB (Sold Separately)
RMS Continuous Power (at 14.4 V)
Per channel into 4 ohms: 1200 W x 1
Per channel into 2 ohms: 1200 W x 1
THD+N (Reference: 10W / rated power into 4 ohms): 0.004% / 0.04%
S/N Ratio: (IHF A Weighted, Reference: rated power into 4 ohms): 123 dBA
S/N Ratio: (IHF A Weighted, Reference: 1 W into 4 ohms): 92 dBA
Input Impedance: 10k ohms
Frequency Response (Reference: 1 W into 4 ohms): 5 Hz – 400 Hz / 0 dB ~ -3 dB
Crossover  Fequency (Variable, L.P.F Only, 1/2 ch): 50 Hz – 400 Hz (-24 dB / oct)
Input Sensitivity (V/at 10k ohms): 0.1 V – 8.0 V with Input Level
Dimensions
Width: 257.0 mm (10-1/8?)
Height: 50.8 mm (2?)
Depth: 192.0 mm (7-9/16?)
Weight: 3.03 kg
* 1 Year Warranty as per Alpine Electronics Australia Terms and Conditions
Signature Car Sound your local Authorised Premium Alpine Dealers, Stockists and Installation Centres on the Sunshine Coast