Description
Focal FDS 1.350
COMPACT MONO AMP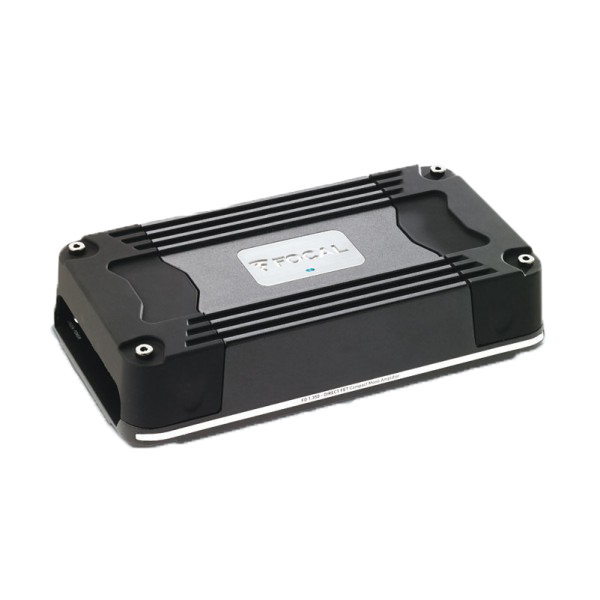 FOCAL FDS 1.350 – DESCRIPTION
The FDS 1.350 is a mono block amplifier specifically designed for handling a subwoofer channel.
It has a power of 210 and 350 Watts RMS under 4 and 2 Ohms respectively.
In order to configure the system's bass according to the car's installation; it is equipped with an active crossover, bass correction and phase adjustment.
Mono D Class amplifier with dual output
High-level inputs with auto-detection / RCA low-level inputs
Compatible with OEM head units thanks to the audio transformers – auto detection feature
FOCAL FDS 1.350 – KEY FEATURES
D Class – Direct Fet ® Technology – Efficient heat dissipation and precision
Stable under 2 Ohms
Stackable aluminium chassis with high heat dissipation
Low noise operational amplifier New Japan Radio® NJM4580
Low ESR capacitors – 105°C (220°F)
Pseudo-balanced inputs
Cable accessories included – easy to install
Focal FDS 1.350 – Technical Specifications
Ultra-compact mono amplifier
• Aluminium chassis high heat dissipation
• Compatible with OEM head units thanks to the audio transformers – auto detection feature
• Hidden connectors Stackable chassis Built-in active crossovers
• D Class amplification Optimal integration Direct FET ® Technology Mono D Class amplifier with dual output High-level inputs with auto-detection / RCA low-level inputs CEA power (4 Ohms)
1×210 Watts RMS Power max (2 Ohms)
1×350 Watts RMS Low-pass crossover: 40Hz-400Hz Progressive phase adjustment (0-180°) Bass boost (0/6dB/12dB)
Protections: Short circuit / low impedance / reversal of polarity / DC / power drop / heat protection
Dimensions (LxHxW):713/16×41/4×111/16 (199x108x43mm)
Weight: 1.8 lbs
Signature Car Sound, your local Focal Car Sound Specialists, Stockists and Installation Centres on the Sunshine Coast