Description
Alpine SPR-50C
Type R Component Speakers.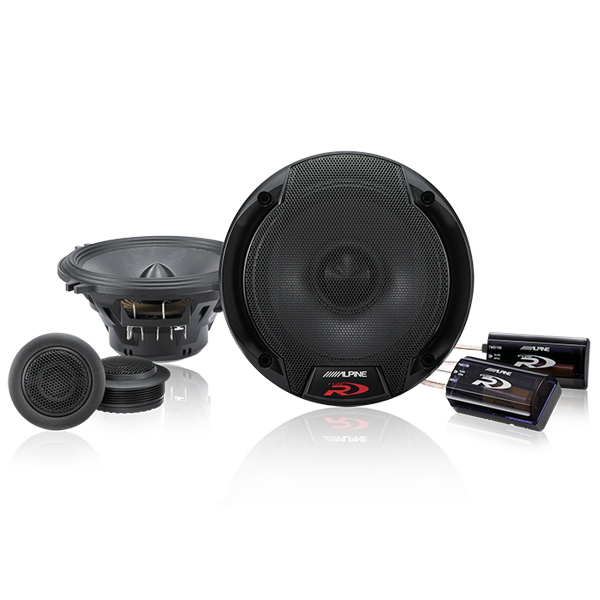 Alpine's SPR-50C Type-R performance component speakers are compact and light thanks to a smaller neodynium magnet and a strong yet light HD polymer frame allowing for easier installation in a wider range of vehicles. Even the crossover is 75% smaller than its predecessors.
The new Alpine SPR-50C Type-R component speakers are also much more efficient, makeing them the perfect match for built-in head unit power, the Alpine KTP-445 Power Pack, or a high powered amplifier like the MRX or PDX series.
The Alpine SPR-50C Type-R component speaker range have taken a huge leap forward with High-Amplitude Multi-Roll (HAMR) technology, adapted from Alpine's popular Type-R subwoofers, which provides clean, high-impact bass performance.
The patented linear drive motor design uses a neodymium magnet and square-wire voice coil to provide linear motion over an extremely wide excursion range. The wave guide optimises the acoustic impedance for smooth response and enhanced vocal clarity, both on and off axis. The ring tweeter with EQ ring and copper cap enhances both detail and output, while the swivel mount allows the sound to be focused for the best in-car performance.
Alpine SPR-50C Type-R component speakers deliver solid performance, superior linearity, efficiency, and great bass response.
Alpine SPR-50C Type-R component speakers are without compromise the perfect balance of power and control.

Alpine SPR-50C Type-R component speakers are engineered to deliver prodigious power while maintaining extreme sound clarity, for totally exciting sound. They provide high power handling, wide frequency response and a powerful bass kick.
Alpine SPR-50C Features:
Tweeter
Tweeter Type: 1" (2.5cm) Ring Radiator Tweeter
Voice Coil Type: Large Aluminum Voice Coil
Magnet Material: Neodymium Magnet
Swivel Application: Swivel Application
Application Type: Flush Mount, Surface Mount
Woofer
Cone Material: Hybrid Multi Layer Cone
Motor Technology: Linear Drive Technology
Surround: HAMR Surround
Voice Coil Type: Large Aluminum Voice Coil
Voice Coil Wire: Copper Square Wire
Magnet: Ultra High Density Neodymium Magnet
DX Ring: DX Ring
Wave Guide: Wave Guide
Mounting: Shallow Mounting Design
Design: Bi-Amp Ready Design
Crossover Network
Design: In-line Network Design
Attenuation Control: 4 Step (0, -2, -4, -6 dB)
High Grade Network Components: High Grade Network Components
Others: Pure Copper Trace-Style Resistance Circuit Board
Alpine SPR-50C Specifications
General
Peak Power Handling: 300W
RMS Power Handling: 100W
Nominal Impedance: 4ohms
Frequency Response: 70Hz – 29kHz
In-Line High Quality Crossover
57mm Mounting Depth
4 Step Crossover Attenuation
Neodymium Magnet
HD Polymer Frame
Sensitivity: 87dB (1W/1m)
Dimensions
Tweeter Mounting Diameter (mm): 37.9mm
Tweeter Mounting Diameter (in): 1-1/2"
Tweeter Mounting Depth (mm): 19mm
Tweeter Mounting Depth (in): 3/4"
Woofer Diameter (mm): 130mm
Woofer Diameter (in): 5-1/8"
Woofer Mounting Diameter (mm): 118mm
Woofer Mounting Diameter (in): 4-11/16"
Woofer Mounting Depth (mm): 57mm
Woofer Mounting Depth (in): 2-1/4"
Crossover Size (mm): 63mm x 32mm x 24mm
Crossover Size (in): 2-1/2" x 1-1/4" x 15/16"
* 1 Year Warranty as per Alpine Electronics Australia Terms and Conditions
Signature Car Sound, your local Alpine Car Stereo Specialists on the Sunshine Coast