Description
Alpine SPS-517
5×7″ Coaxial Speakers
Alpine sound tailor-made for easy factory speaker placement.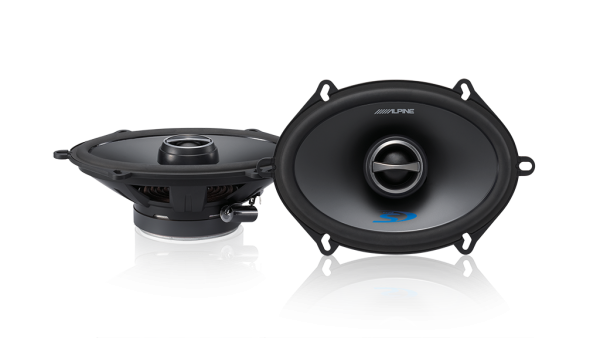 Alpine's  SPS-517  Type-S coaxial speakers features sleek, high-tech looks and ultra-light HD polymer frames for improved sound quality, higher efficiency and high power handling.
Alpine sound tailor-made for easy factory speaker placement
Introducing the Type-S speaker line up with multiple size options that fit almost any vehicle.
If you want to add incredible sounding Alpine speakers to your system, this is the way to go.
This latest offering from the popular Type-S family of speakers is a best bet upgrade, and still budget-friendly.
Great sounding speaker upgrade at a competitive price.
Perfect for OEM upgrade, with many sizes to choose from to suit almost any vehicle.
New cosmetics that look good in your car, and fit easily in stock speaker locations.
Improve the output and sound quality of your vehicle with these highly efficient speaker choices.
High efficiency design runs easily off of factory or built-in head unit power.
Anatomy of the New Type-S Coaxial

1.    1" Wide Range Silk Dome
Soft silk dome diaphragm with rigid aluminum provides high resolution and wide-band response.
Optimized magnet circuit drives CCA wire and soft silk diaphragm with high efficiency.
6×9 version Type-S as soft dome & horn loaded hard dome.
2.    Swivel Tweeter
More than 10 degree swivel for sound tuning
3.    High Grade Network Components
Less restriction results in dynamic, open sound character.
4.    High Excursion Suspension (Surround)
Butyl rubber surround for natural response and stability.
5.    High Excursion Suspension (Spider)
Progressive Aramid fiber spider with optimized shape for deep bass, linearity and break-up mode control at high dive levels.
Anatomy of the New Type-S Coaxial (Cont.)
6.    FEA Optimized Motor Structure
Yoke shaped reduces magnetic leakage.
High-grade strontium magnet.
Maximize linearity and motor strength.
7.    High Power Handling
Large diameter voice coil (30mm diameter).
>250 watts peak power.
8.    Stable Voice Coil Structure
Rigid & strong VC structure contributes to clear sound with high efficiency.
Tightly packed square wire structure puts more turns in the gap and adds strength.
Aramid reinforced TIL bobbin holds wire very rigid.
Square VC wire + strong magnet = High efficiency with low distortion.
9.    Tuned Poly/Mica Cone
New cone structure with strong mica results in faster energy transfer & clarity.
Assorted Sizes, Versatile Upgrade
With six models in the Type-S line-up, you'll find a speaker size to fit your car's needs – and an ideal replacement for factory speakers. A shallow mounting design allows for easy installation in a wide range of door panels giving you a perfect fit. Their high-efficiency design can run off of the built-in amplifier power from the factory or Alpine head unit, resulting in an easy system improvement for any vehicle.
Packing a Punch
Turn up the volume. These speakers deliver amazing lows, mids, and highs. Become a believer once you hear the difference between stock and Alpine sound quality. Upgrade your system and hear what you've been missing.
Silk Dome Swivel Tweeters
Type-S speakers also use an HD polymer frame for improved sound and installation, while a high-performance soft dome tweeter provides smooth, detailed sound. The tweeters can swivel up to 10 degrees so you can adjust for the optimum listening position.
Alpine SPS-517 Features
Tweeter
Tweeter Type: 1" Wide-Range Silk Dome Tweeter
Magnet Material: Neodymium Magnet
Swivel Application: Swivel Application
Woofer
Cone Material: Tuned Poly-Mica Cone
Voice Coil Type: Large Size Voice Coil
Voice Coil Wire: Copper Square Wire
Magnet: High Grade Strontium Magnet
Mounting: Shallow Mounting Design
Frame: HD Polymer Frame
Mounting Adapters: 6" x 8" Install Adapter
High Grade Network Components: High Grade Network Components
Alpine SPS-517 Specifications
General
Peak Power Handling: 230W
RMS Power Handling: 75W
Nominal Impedance: 4ohms
Frequency Response: 73Hz – 22kHz
Mounting Depth: 59.3mm
HD Polymer Frame
Sensitivity: 88dB (1W/1m)
Power Handling
CEA-2031 Power Rating: 75 Watts
Power Handling Capacity (RMS): 75 Watts
Power Handling Capacity (Peak): 230 Watts
Dimensions
Woofer Mounting Diameter (mm): 125 x 182mm
Woofer Mounting Diameter (in): 4-15/16" x 7-3/16"
Woofer Mounting Depth (mm): 59.3mm
Woofer Mounting Depth (in): 2-11/32"
Signature Car Sound, your local Alpine Car Stereo Specialists on the Sunshine Coast.