Description
Alpine SWX-1043D
Type-X 10″ DVC Subwoofer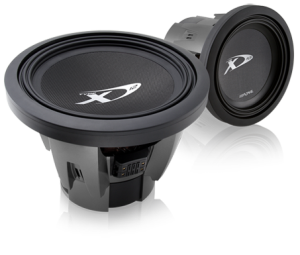 Alpine SWX-1043D Type-X 10″ DVC Subwoofer = Extreme Performance.
If you are looking for a high-quality subwoofer with the most accurate and precise in-vehicle subwoofer performance, then look no further. Alpine's 2nd generation state-of-the-art Alpine SWX-1043D Type-X 10″ DVC Subwoofers are your answer.
With the advanced motor structure and new sound of these subs, you will experience higher efficiency, lower heat creation while maintaining superb sound, so you can really crank up the bass.
Power Handling
Power Handling (RMS/peak): 1000W/3000W
Pair up with an Alpine PDX-M6 Mono Block Amplifier
* 1 Year Warranty as per Alpine Electronics Terms & Condition's
These top-of-the-line subwoofers deliver exceptionally powerful, yet tight and accurate bass. Their ultra-high performance and efficiency comes from an ultra-lightweight cone and large strontium magnet, and they include a unique venting system for better cooling.
Aerospace Material Cone

The Kevlar-Rohacell cone is made of lighter and stronger material than previous models, for less moving mass and greater efficiency. The underside uses a vented force transfer assembly for added strength, contributing to high SPL and fast, accurate response. This combination of light weight and strength maximises bass output while ensuring durability.

High-Amplitude Multi Roll Surround

In order to handle extra-high SPL, the suspension has to travel far and still maintain control. Most designs sacrifice cone area for a wide surround, or sound quality for a tall surround. The High-Amplitude Multi Roll Surround is formed from injection-moulded multi-roll Santoprene, enabling both a larger cone area for higher SPL and greater cone excursion for better sound quality.

Large Stronium Magnet

A Specially designed, advanced motor structure and extra-large, triple-stacked stronium magnets ensure that these subwoofers are very efficient. In fact, stronium magnets are used in smaller speakers for their efficiency; using large stronium magnets in subwoofers results in extremely high performance.

Easy-Access Terminals

Simple jumpers with solid-insert, gold-plated terminals make it very easy to configure these subwoofers for series or parallel applications.

Dual-woven tinsel leads with terminals on the same side can handle heavy gauge speaker wire.
Alpine SWX-1043D – Features
High-strength Kevlar-Rohacell Cone
Large Strontium magnet
High-Amplitude Multi-Roll Surround
Gold-Plated Easy-Access Terminals for heavy-gauge speaker wires
Easy jumper configuration
Alpine SWX-1043D – Specifications
Power Handling
Power Handling (RMS/peak): 1000W/3000W
Power Range (RMS): 500W-1000W
General
Diaphragm Material: Kevlar Rohacell Layered Composite
Frequency Response (Hz): 26Hz-200Hz
Spider Material: Nomex
Dimensions:
Recommended enclosure sizes for optimum bass output
Sealed Enclosure
Vented Enclosure

Recommended Volume: 39.7L
Round Port Dia. x L (cm): 8.9 x 44.5
Slot Port W x H x L (cm): 30 x 2.1 x 44.5
Signature Car Sound, your local Authorised Premium Alpine Car StereoSpecialists, Stockists and Installation Centres on the Sunshine Coast