Description
Alpine X-S69C
6 x 9″ Component 2-Way X-Series Speakers
X-Series: An Audiophile Sound Experience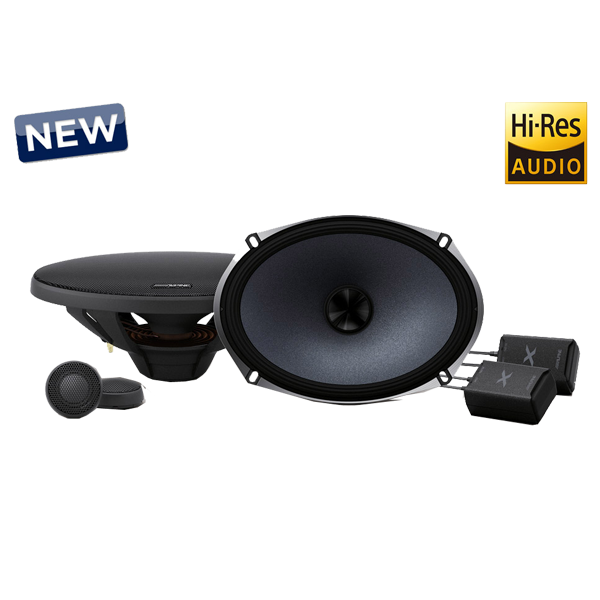 Alpine introduces the all-new X-Series of high-grade speakers and amplifiers. These products have been engineered and tuned to create a perfect match for extraordinarily dynamic, realistic sound reproduction and a spatial sound impression. With Alpine X-Series speakers, you can enjoy Hi-Res Audio playback up to 40kHz with stunning detail and dynamic. These flagship speakers have been engineered and tuned with highest precision and use highest grade materials, while staying affordable and offering a wide vehicle compatibility.
Peak Power: 360 Watts
RMS Power: 120 Watts
Frequency Response: 45 Hz – 50 kHz

Alpine Sound ID
Alpine's top sound engineers from all over the world gathered in the Alpine Iwaki, Japan headquarters to critically evaluate in-car sound from aftermarket and high-end factory systems. While many of these systems were able to perform with wide dynamic range and at sufficient volume levels, there was a lack of reality of instruments, but most predominantly in most systems, a lack of spatial imaging. As a result, Alpine ID was born to address this need.
Alpine ID, which stands for "Alpine: Image Defined," is Alpine's new global philosophy with an evolutionary approach for solving what's missing in most car audio systems these days: great spatial imaging and depth of stage. The Alpine ID philosophy centers on developing matched sound systems that work together to create a highly realistic sound stage with great dynamic range (Hi-Res Audio) and sound quality. The matched sound system components allow the listener to experience a new level of realism and engagement while enjoying music in their vehicle. In other words, the listener can experience the music as the artist originally intended.
The X-Series speakers, amplifiers, and subwoofers create the foundation of sound system components that will feature Alpine's new sound philosophy.
| | | |
| --- | --- | --- |
| Great Installability | All New Motor Structure | HAMR Surround |
| | | |
| Alpine uses high-power neodymium magnets for the new X-Series speakers. This means the magnet can be much smaller compared to traditional speaker designs, allowing for a much lower mounting depth and overall space requirement inside the car door. | By using a powerful Neodymium magnet in a radial configuration, Alpine could achieve a very compact motor assembly for a high vehicle compatibility rate. The radial magnet configuration drastically increases magnetic efficiency – resulting in high dynamic and power handling. | The High Amplitude Multi-Roll (HAMR) surround allows a maximum, linear cone excursion for high SPL, while maintaining full control over the diaphragm at any excursion stage for highest sound clarity |
| Nano-Fibre Cone | X-Series Motor Linearity | Included Mesh Grill |
| | | |
| The small-diameter nano-fibers create a cone structure that is lightweight and rigid, for increased sound accuracy. Nano-fiber cones also have good internal damping, so residual energy decays quickly without distorting the original music tones. | Alpine found a need to create a speaker with balanced motor force throughout its operating range of motion. A balanced force factor curve should look identical / mirrored when the cone moves in or out. The Alpine X-Series speakers offer excellent linearity for highest clarity. | Alpine have included a metal mesh grill to protect the woofer in open installations. |
Alpine X-S69C – Features
Tweeter
Tweeter Type: 1″ (2.5cm) Hard Dome Carbon Graphite Tweeter
Magnet Material: Neodymium Magnet
Application Type: Surface Mount
Woofer
Cone Material: Nano-Fibre Woofer Cone
Radial Ring Magnet Design
Large 35mm Voice Coil
Surround: HAMR Surround
Magnet: Ultra High Density Neodymium Magnet
Wave Guide: Wave Guide
Mounting: Shallow Mounting Design
Mounting Adapters: Mounting Adapter Kit Included
Crossover Network
Compact Design for Easy Installation
Design: In-line Network Design
Attenuation Control: 3 Step (-3, 0, +3dB)
Phase Adjustment: Normal/Reverse
High Grade Network Components: High Grade Network Components
Alpine X-S69C – Specifications
General 
Peak Power Handling: 330W
RMS Power Handling: 120W
Nominal Impedance: 4ohms
Frequency Response: 60Hz-40kHz
In-Line High Quality Crossover
78mm Mounting Depth
Carbon Graphite Dome Tweeter
Neodymium Magnet
Nano-Fibre Woofer Cone
Dual Gap Voice Coil
All-New Motor Structure for Precision Response
Hi-Res Audio Certified
Dimensions
Tweeter Mounting Diameter (mm): 58mm
Tweeter Mounting Depth (mm): 19mm
Woofer Diameter (mm): 160 x 240mm
Woofer Mounting Diameter (mm): 148 x 223mm
Woofer Mounting Depth (mm): 78mm
Crossover Size (mm): 63mm x 32mm
Signature Car Sound, your local Premium Alpine Car Stereo Specialists, Stockists and Installation Centres on the Sunshine Coast.