Description
Mercedes Benz ML – Alpine X800D-ML
8″ Navigation Multimedia Solution
 60% larger than the original ML display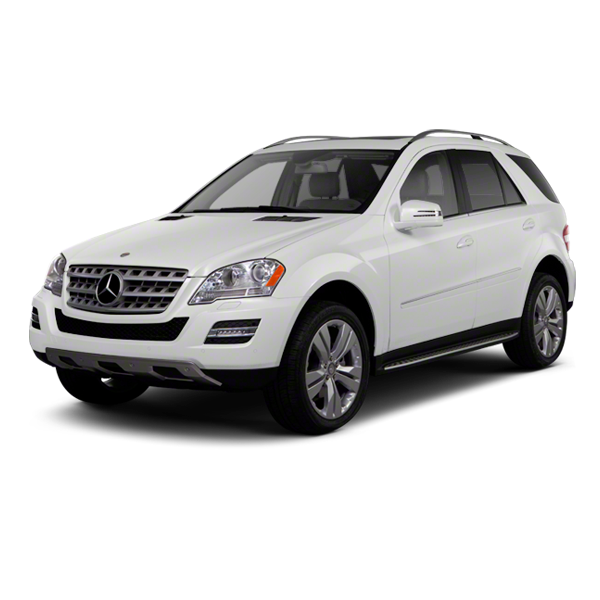 This is the ultimate infotainment system specifically designed for ML (W164) and GL (X164) providing the latest media compatibility, cutting-edge navigation technology and audiophile sound quality. All components are precision engineered to fit into existing locations and integrate seamlessly with the vehicle's electronic systems.
Enjoy brilliant picture quality from the astounding 8" high-resolution display, the latest digital media compatibility and Bluetooth hands-free phone functionality. What's more, the premium audio system is superbly matched and tuned for the most exhilarating, hi-fidelity audio experience. You and your family will discover a new level of entertainment, premium sound quality and the most advanced navigation system on the road.
There are various upgrade options available for your Mercedes ML or GL, including:
Alpine HCE-C252RD Rear-View Camera with ML Specific Rear Camera Installation Kit*
Alpine Premium Sound

Premium Speaker System
Digital High-End Amplifier

MOST Interface
For details on these and pricing, please contact your local Authorised Alpine Dealer.
For further information on the Alpine X800D-ML 8? Advanced Navigation Multimedia Station, click here.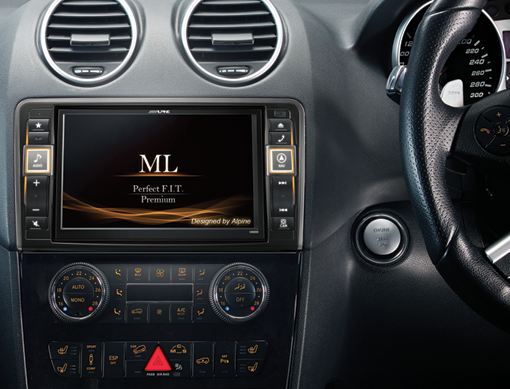 When Alpine set out to study the ML driver's car life, Alpine had only one goal in mind: to create a high-end infotainment system that exceeds all expectations an ML owner may have.
The result is a premium infotainment system that perfectly integrates into the ML (W164) and GL (X164) to bring the latest media compatibility, cutting-edge navigation technology and audiophile sound quality to your vehicle. All components are designed to fit perfectly in existing installation locations and integrate perfectly with the vehicle's electronic systems.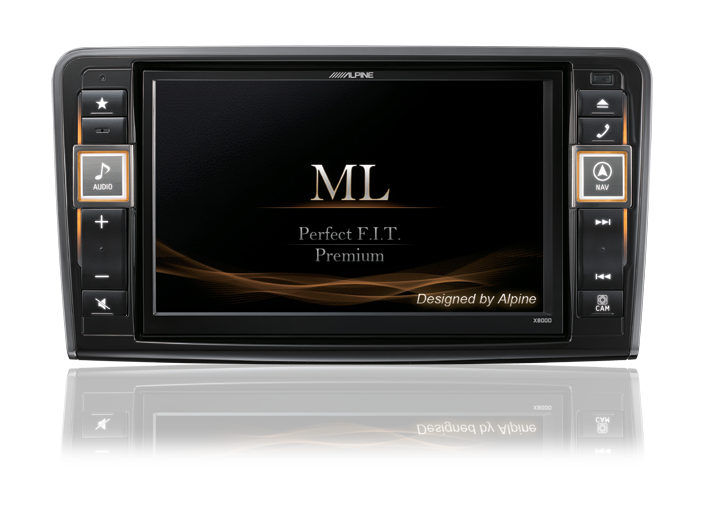 Perfect vehicle integration with premium components. Performance without compromise.
With the Alpine X800D-ML upgrade you can enjoy stunning playback of music and video from CD/DVD, iPod/iPhone and USB, or built-in DAB+ digital Radio with the addition of RDS showing exactly what you're listening to.
The HDMI input enables high resolution display of video and content output from compatible smartphones and devices, and MirrorLink lets you connect compatible devices to play music and use apps, as well as navigation.
Plus, built-in Bluetooth Plus provides audio streaming and full hands-free operation with access to phonebook and advanced functions.
The innovative 'One-look Navi' allows a 50/50 split screen mode which displays navigation and the selected source for convenient operation and information at a glance.
With its premium navigation you have high-res maps with live traffic updates, text-to-speech, 3D landmarks, fixed speed and red light camera alert, 4WD off road maps and an enhanced POI database. What's more, sound tuning options include the TuneIt app for iPhone and Android, and built-in Bass Engine SQ, allowing precise personalised tuning for the best sound quality.
8″ High Resolution Touch Screen
The 8-inch (20.3 cm) high-resolution display is 60% larger than the original ML display and features the latest video technology for outstanding picture clarity, contrast and resolution. This allows navigation maps to be displayed in stunning detail, while movies or video clips become a real cinematic experience.
It also contributes to driving safety. Navigation map details are easier to see and destination input keys appear larger and are easier to operate.

DAB Digital Radio
The built-in DAB/DAB+/DMB tuner uses the most advanced digital technology to deliver radio reception in outstanding, noise-free sound quality. DAB also offers many other advantages over traditional FM radio: select from a much wider range of radio stations and after an initial station scan you can easily select your desired channels from an alphabetic and genre list of available stations.
Perfect System
Integration
It requires extensive research and detailed understanding of the vehicle to design a Head Unit that perfectly integrates with the vehicle's electronic systems. The Alpine X800D-ML is fully compatible with the ML steering wheel control buttons and the multi-information display in the instrument cluster to maintain all important vehicle functions. The system also automatically "wakes" when the driver unlocks the doors.
Video Playback
The Alpine X800D-ML allows you to enjoy movies, music videos or? TV shows from many different sources, such as DVDs from the built-in optical drive, USB sticks, latest smartphones with HDMI output or portable video devices connected to the A/V connector (optional cables may be required).
You can also connect your iPod or iPhone to enjoy your video content on the large 8-inch display. For driving safety the video playback feature is only available if the vehicle is not in motion.
Connect your HDMI enabled smartphone or portable media player via HDMI connection to enjoy all your video content on the Alpine X800D-ML's high-resolution display. Full digital data transfer and the WVGA display ensure excellent image quality.
An optional HDMI cable (KCU-610HD for iPhone, Sony Xperia ACRO and Motorola, etc or KCU-610MH for HTC ONE, Samsung Galaxy S4, Sony Xperia Z, etc) is required.
Alpine TuneIt App for Tuning and Keeping in Touch
The Alpine X800D-ML works with Alpine's cool and convenient Alpine TuneIt App to bring you custom sound tuning features right from your smartphone.
You can upload your sound settings to the Alpine Cloud Server to share them with other Alpine fans, and see their settings. The app also displays Facebook messages, lets you "Like" them and even reads them to you!
Download Alpine TuneIt App with TTS from the Apple App Store or Google Play.
Bass Engine SQ
The Alpine X800D-ML puts the power of advanced sound processing in your car with BASS ENGINE SQ to maximise bass sound and overall tone balance, plus lots of custom tuning functions like Digital Time Correction and 9-Band Parametric EQ. Best of all, you can control them easily from your smartphone with the Alpine TuneIt App.
Built-in Bluetooth® Technology
The built-in Bluetooth® module allows wireless connection of a mobile phone for hands-free communication, while frequent software updates ensure full compatibility with the latest phones. A very intuitive user interface makes it very easy to operate and also includes a speed dial function for the most frequently called numbers. Bluetooth® also enables audio streaming from the phone: audio content or even internet radio can be wirelessly transferred to the Alpine X800D-ML.
High-end Sound Quality
Alpine is known worldwide for excellent sound quality. Our audio specialists engineered the Alpine X800D-ML with greatest attention to detail – from selection of high-grade components to extensive audio tuning – to deliver a high-end sound experience for the ML. The system also offers many sound adjustment functions such as digital time correction and professional equalisation to allow users to adjust the system to their own preferences.

Extra Convenience for Two Users
If you and your spouse or another person frequently drive the car, you can both save your own user profile. When you enter the car, Bluetooth automatically connects the phone and initiates your profile.
The profile includes the basic operating screen as well as favourites, phonebook, radio presets and camera view.
You don't have to manually input settings each time, saving time and making your whole system more convenient to use.
Customise Your Unit for Personal Use
My Favourites lets you put three pages with each eight frequent actions on one screen for one-touch selection, and arrange the layout the way you want it by dragging icons.
Tune in your favourite radio stations, search your favourite POI categories, or call your favourite people without scrolling through the phone book.
You can also select the background colour and match audio settings to your car model. And all this works for two people, based on Bluetooth phone recognition.

One Look Display
Alpine's innovative "One Look" split-screen technology allows the driver to view the navigation map and audio playback information at one glance. This eliminates the need to switch between different applications.
The user can switch from regular to One Look view with just the touch of a button. This function is especially useful on long highway trips.
Navigation maps and audio playback information can be displayed by innovative split-screen technology

Advanced Address Input
You can input postal codes for all European countries, including 7-digit UK codes, which makes searching for addresses quicker. The system even reads partial addresses. Select your own language from 33 different keypads, including Cyrillic and Greek.
Parking Assistance Technology
The optional rear-view camera system provides parking safety with cutting-edge camera technology.
The rear-view camera automatically activates when reversing and also mutes the audio so you can hear the parking sensor signals. You not only have a clear view to the rear, you can also see useful distance guides that are programmed to exactly match the ML measurements for easier parking. You have a choice of four viewing modes.
Multi-view splits the screen so you have a clearer view of both left and right behind the car.
Top view is very convenient when backing up to hook up a trailer, enabling you to get within centimetres of the trailer. There's also a picture in picture function that shows the regular rear view in a small screen when you've selected a special viewing mode.
Multi-view: split screen provides sharp images of left and right rear.
Top view: convenient for precise reversing, for example to hook up a trailer.

Optional Multi-View Camera (Alpine HCE-C252RD). Camera Installation Kit (Alpine KIT-R1ML) compatible with ML model year 2008 and newer.
Optional – Digital High-End Amplifier*
This high performance digital amplifier delivers clean, powerful sound and features a built-in DSP (Digital Sound Processor). Specifically designed and tuned for the ML, it provides a true audiophile sound experience. The amplifier can be pre-programmed by the dealer for left-hand/ right-hand steering wheel configuration and even the height of the driver to achieve the optimum sound setting.
* For upgrading the ML W164 original entry sound system. Can also be used with the original factory radio.
Digital High-End Amplifier for an audiophile sound experience (PDP-E310ML).
Optional – Premium Speaker System*
This top-class speaker package includes a front system with soft dome tweeters and large midrange speakers, plus a 20cm high performance subwoofer. All speakers are perfectly matched to the digital amplifier for superb audio quality with optimum sound staging. They are also specifically designed to fit in the ML's original speaker and subwoofer locations.
* For upgrading the ML W164 original entry sound system. Requires PDP-E310ML.
Premium Speaker and Sub-woofer System upgrade (SPC-100ML).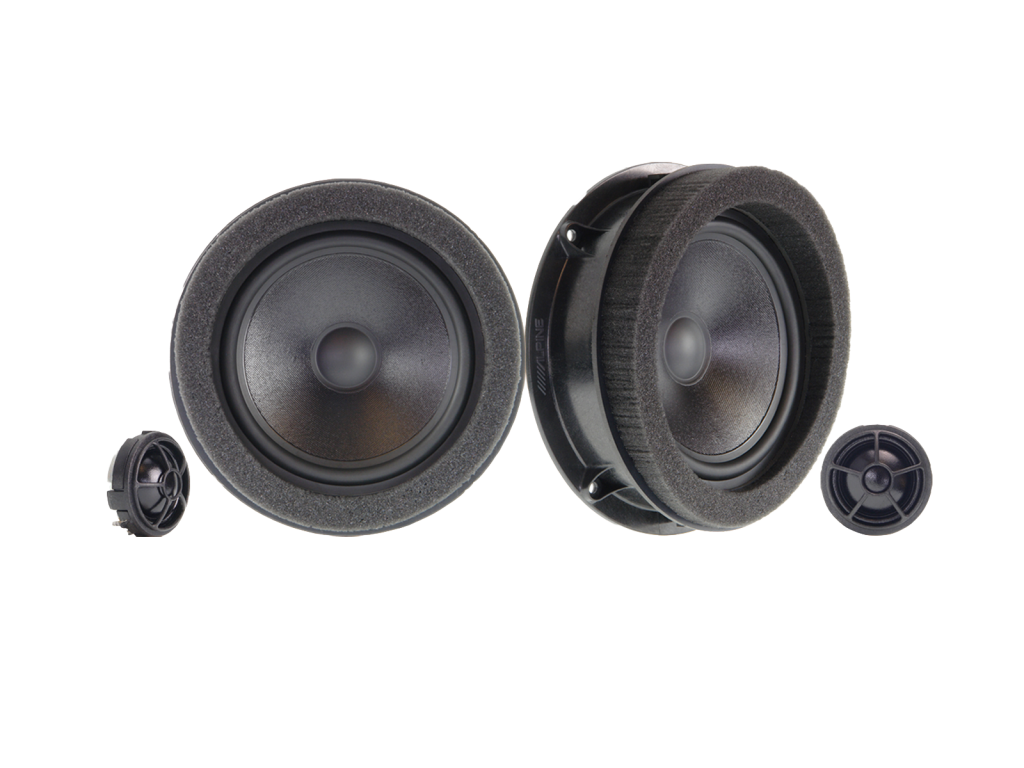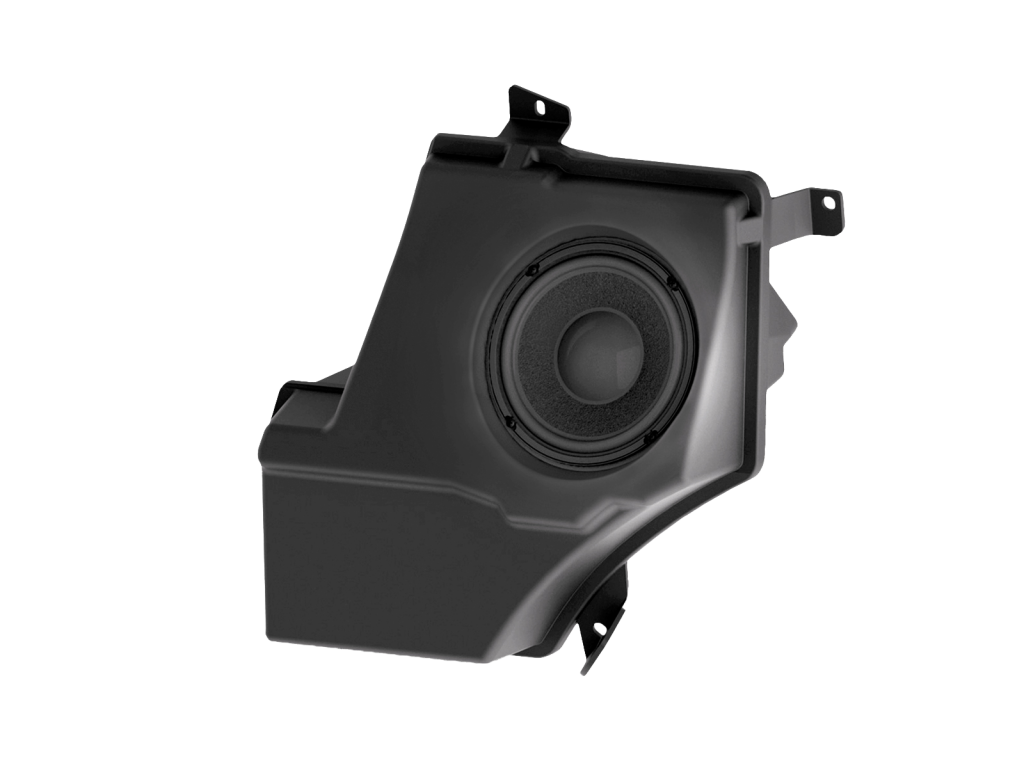 X800D-ML Perfect Fit Solution includes:
Premium OEM Grade Fascia Kit, including mounting hardware
Wiring Harness, including Steering Wheel Control retention
Interface for Multi-Function Display retention
Alpine X800D-ML – FEATURES
Tuner
Memory Presets: Preset Stations (FM: 18 / MW: 6 / LW: 6)
Memory: Auto Memory
Seek Mode: Local / DX Selection
RDS
RDS Functions: AF, TA, TP, PTY, NEWS, RADIO TEXT
DAB Tuner
DAB Tuner Built-in
DAB+/DMB Supported
Service Preset: 18 Preset Memory (6 services for each band, DAB 1/2/3)
Auto Ensemble/Service Memory
RDS Fallback (where available)
Service Search Function
PTY Search Function
Antenna Power Supply Selection
DAB Antenna included
BLUETOOTH®
Built-in BLUETOOTH® Module
HFP (Hands-Free Profile) Compatible
Streaming Music: A2DP (Advanced Audio Distribution Profile) Compatible
Streaming Music Control: AVRCP (Audio / Video Remote Control Profile) Ver.1.4 Compatible
Advanced BLUETOOTH® Technology
Connection: SSP (Simple Secure Pairing) Supported
Individual Profile Connection Hands Free Phone and Music Streaming
Phone Book: Phone Book Synchronization
Speed Dial: 4 Preset Memory (per phone)
Multiple Phone Number Registration: 5 Phone Numbers can be stored for one name
Device Name Display
Auto Answer
Call History Display: Outgoing Calls / Incoming Calls / Missed Calls
Redial Function
Speech Volume Level Adjustment: Possible for Outgoing and Incoming Volume
DTMF (Touch-Tone) Function
Signal Strength Indicator
Battery Level Indicator
Menu Language Selection: 24 Languages
Firmware Updatable
Microphone Included
Made for iPod® / iPhone®
Compatibility for iPod/iPhone: Made for iPod touch 5th/4th/3rd/2nd/1st Gen., iPod nano 7th/6th/5th/4th/3rd/ Gen., iPod classic 160GB/120GB/80GB, iPod with video, iPhone5S,iPhone5C, iPhone5, iPhone 4S, iPhone 4, iPhone 3GS, iPhone 3G
Connection: KCU-461iV Required (Sold separately)
Music & Video Playback Compatible
Available Selections: Playlist / Artist / Album /Song / Podcast / Genre / Composer / Audiobook
Alphabet Search
Artwork Display
Direct Up / Down: Playlist / Artist / Album / Genre / Composer
M.I.X. (Shuffle) Play: Song, Albums, All
Repeat
Battery Charging
Disc Player
Disc Type: DVD/CD Player
Disc Playback Type: DVD-Video, CD, CD-R/RW, DVD±R/RW
Playable Format: DVD-Video, CDDA, MP3/WMA/AAC, DivX
M.I.X. Random Play
Repeat
DVD Direct Menu Control
CD Text Display
CD Text Name Search
DAC: 24 Bit DAC
Navigation Function
3 Year Map Care (Free Maps – 3 years)
Map Coverage: Australia
Voice Guidance (TTS)
Advanced Address Search
Post Code Search
Free Form Search
Partial Name Search
Advanced POI Functions
Smart Routes: Smart Routes using historic traffic patterns
Advanced Route Planning
Eco Route Search
7 Alternative Route Recommendation
Advanced TMC Mode
Map Display Mode: 2D Heading Up, 2D North Up, 3D
3D City Mode: 3D Building/Icon Display
Elevation Map Display: 3D maps with elevation mode
3D Motorway Junction View: Junction View with Sign Post
Drive Lane Suggestion
Tunnel Mode
Highway Mode
Voice Guidance Mixing
Text-to-Speech
Direct Phone Call from POI data
3 Positioning Sensors: GPS, Gyroscope, Vehicle Speed Pulse
USB Media Connection
USB Connection: USB Extension Cable Included
Music & Video Playback Compatible
Music Playback: MP3/WMA/AAC Playback
Video Playback: DivX Playback
File / Folder Name Search
Tag Info Search
Folder Up / Down
M.I.X. Random Play
Repeat
Sound Tuning
Bass Engine SQ
Bass Engine™ Pro
Subwoofer Level Adjustment
Subwoofer Phase Select
4V High Voltage PreOut
Equalizer: Flat, Pops, Rock, News, Jazz, Electrical Dance, Hip Hop, Easy Listening, Country, Classical
9-band Parametric Equalizer
6 Channel Digital Time Correction
Digital Crossover Setting
Customized Sound Setting by Car Type
MediaXpander
Application Volume Level Setting
Sound Setting Data Download
Easy, Step-by-Step Sound Customization
Alpine TuneIt App ready
General
Power Output: 4 x 50 W High Power Amplifier
Advanced Power IC
Display: 8″ WVGA High Resolution Display
White LED Backlighting System
50/50 Split Screen: Left / Right Position Changeable
Motorized Display Operation
Control Type: Touch, Drag, Flick
My Favorites Function
Automatic Setting Change for 2 Users
Display Colour Setting: Mercedes Design – Amber
High Grade Audiophile Design
PreOut: 3 PreOuts (4V, Front / Rear / Subwoofer)
AUX-Out: 1 A/V AUX Output
AUX-In: 2 A/V AUX Input
Steering Wheel Remote Control Ready
OEM Sub-display Ready
Remote Control Ready
Navigation Guidance Mix
Camera Connection & Built-in Controls for Multi-View Camers
Camera Guide Line preinstalled
Rearview Camera Display Automatic Boot-up
Simple Mode & Info Mode Display Selection
Visual EQ
Live Contrast Adjustment
Menu Language: 24 Languages (for AV / Bluetooth), 29 Languages (Navigation Menu and Voice Guidance)
Clock
Auto Dimmer
Anti-theft security code
Firmware Updatable
Power Antenna Lead
Remote Turn-On
Optical Output
HDMI Input (Alpine Special HDMI connector required)
Start-Stop Engine unaffected
Can Connection Interface Included
Map & Database
Online Map Update via www.alpine.com.au
Installation
Includes installation brackets, wiring harness, antenna adaptor, CAN bus interface and DAB antenna for complete installation.
Signature Car Sound, your Premium Authorised Alpine Dealers, Stockists and Installation Centres on the Sunshine Coast.