Description
EZY2C EZ SEC Asset Security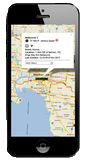 Features:
TheEZY2C EZ SEC Asset Security package allows users to:
View the whereabouts of the assets online through the Ezy2c dashboard
Review the previous history of an assets including ignition on/off and location
Set up Geo-fence, movement or ignition based alerts which may be sent by email or SMS to advise of potential theft of equipment
Optional remote immobilisation capability available
Typical Applications:
Used by anyone wanting to safeguard an asset.
The types of assets customers use this device for include:
Cars,
Motorbikes,
Boats,
Tractors,
Ride on lawn mowers,
Earthmoving equipment and generators.
Motor Homes
Suitable for:
Car enthusiasts – owners of expensive vintage or classic vehicles,
Earthmoving companies,
Equipment hire companies,
Landscaping contractors.
Can also be used to safeguard Boats, Caravans, Motorhomes, Camper-vans and motorbikes.
EZY2C EZ SEC Asset Security – Tech Specs:
GPRS device
Power input from 10V to 30V DC
Immobiliser relay input
Immobilise vehicle by SMS
Motion sensor
External GPS antenna