Description
Focal ES 165 KX3
THREE-WAY COMPONENT SPEAKER KIT 6½" / 3″
The Focal ES 165 KX3 is a very complete kit offering remarkably extensive frequency response (45 Hz – 22 kHz). Its main advantages are the excellent power handling and the very realistic soundstage.
Composed of two 165 mm (6½") woofers and two 80 mm (3″) mid-range speaker drivers with Kevlar® cones, it offers a very rich and dynamic mid-range and very low frequency response (45 Hz). The two bi-amped "M"-shaped tweeters guarantee a precise high end with perfect definition.
The kit is supplied with aluminium and mesh grilles.
EXCEPTIONAL SOUND FOR YOUR VEHICLE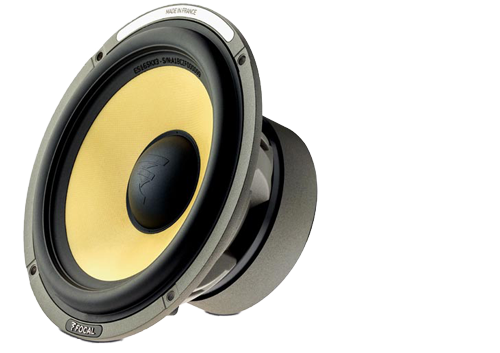 The speaker drivers used for the K2 Power have been completely redesigned.
Each component is the result of extensive research in acoustics to push back the limits of performance, of power and of precision!
KEVLAR® CONE Precision and dynamics
The K2 Power Kevlar® cone, a product of unique expertise Made In Focal, is to this day second to none.
Composed of an ultra-light foam structure sandwiched between a thin layer of Kevlar® aramid fibres, and a layer of glass fibres, the K2 Power cone combines three key factors of quality acoustics: Rigidity / Lightness / Damping, for precise and dynamic sound.
NEW "M"-SHAPED TWEETER For a precise and smooth high end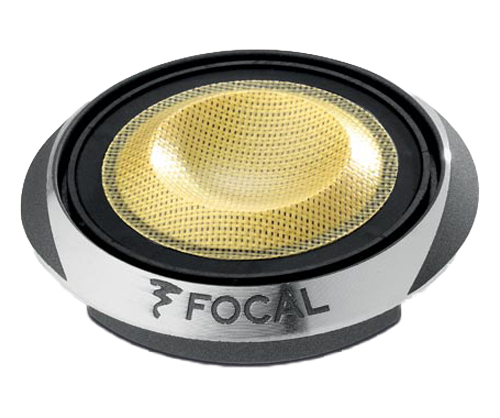 The new K2 Power TKMX tweeter features an exclusive "M"-shaped structure.
This new-generation aramid-fibre inverted dome tweeter provides great precision in the very high end, and its combination with a "push-pull" motor with IAL2 technology extends the low end of the frequency response and provides extraordinary harmonic balance.
TMD SUSPENSION
Say goodbye to distortion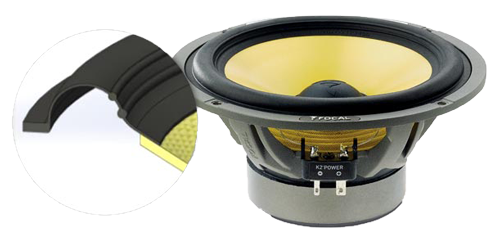 Initially developed for Sopra high-fidelity loudspeakers, TMD suspension (Tuned Mass Damper) features a special structure designed to control unwanted resonance and drastically reduce the harmonic distortion caused by the stress the cone is subject to. This patented technology endows the speaker driver with a very realistic mid-range with great definition.
Kevlar sandwich cone
Focal's Kevlar® sandwich cone, recognisable by its distinctive yellow colour, is the symbol of K2 Power Car Audio line.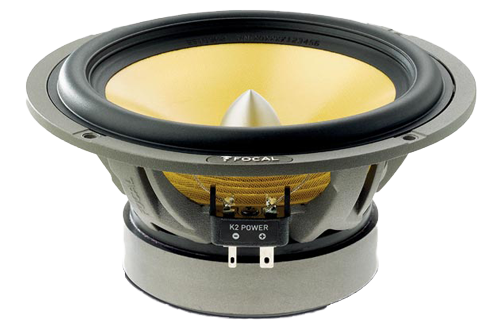 A heritage cone
Used in JMLab Vega or Antea high-fidelity speakers, the K2 sandwich cone was introduced for the first time in 1986 with the use of Polykevlar. The Poly-K cone is composed of two layers of aramid fibres, applied to either side of a hollow micro-ball structure in order to improve the balance between weight, rigidity and damping.
The cone at the heart of the performance
In 2016, our Kevlar® cone has evolved, but preserves its identity and the combination of its three key factors: rigidity, lightness and damping. The goal: guaranteeing high-quality audio reproduction whatever the genre of music you listen to.
It is now composed of a very light foam layer, between a layer of Kevlar® fibres and a layer of fibreglass, ensuring clear and precise sound void of any colouration.
"Radial VC" cooling for higher SPL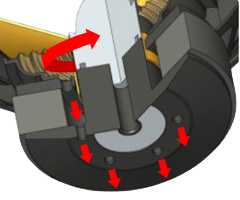 The new Radial VC cooling system for speaker driver voice coils expels hot air from the voice coil towards the bottom of the magnet through 6 holes.
This improves control over the voice coil temperature, limiting the effects of thermal compression and improving reliability. This significantly increases the efficiency of the speaker driver.
It also improves dynamics and produces a more powerful sound.
Progressive spider profile Improved linearity and precision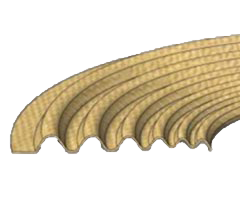 The progressive spider profile of K2 Power speaker drivers is designed to provide a full-bodied sound
at low levels and to increase linearity, precision and dynamic range.
An optimised crossover for improved reliability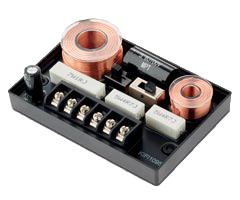 The components used for the new K2 Power crossovers were selected specifically and optimised in order to improve control over the effects of heat dissipation.
These components, which are fundamental to managing the various channels and for the soundstage, are now even more reliable.
Made in France
Designed and developed in France
K2 Power speaker drivers and tweeters have been designed and developed by our engineers in our Research & Development laboratory in France.
K2 Power Speaker Drivers and Tweeters manufactured in Saint-Etienne
The Kevlar® cone, the speaker drivers and the tweeters of the K2 Power line have been manufactured and assembled in our workshop in Saint-Etienne, France.
Quality control in their workshops in France
All K2 Power products are subject to strict quality control procedures throughout the production line in order to guarantee unique acoustic quality.
Signature Car Sound, your local Authorised Focal Dealers, Stockists and Installation Centres on the Sunshine Coast