Description
FOCAL FDS 2.350
ULTRA-COMPACT 2-CHANNEL AMPLIFIER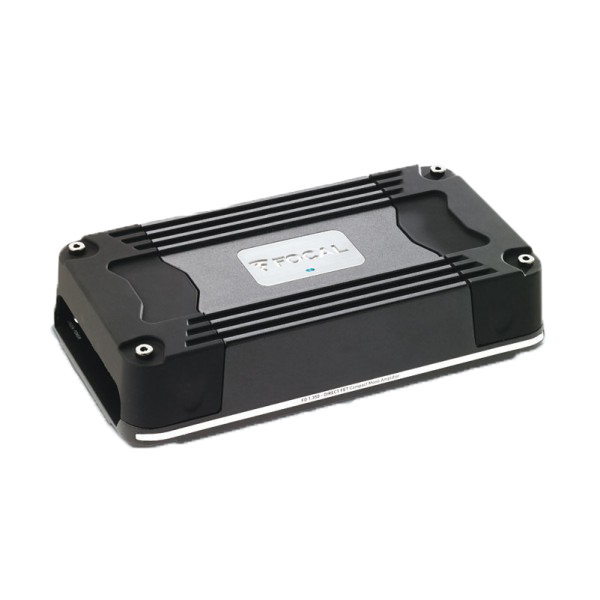 The FOCAL FDS 2.350 is a 2-channel model delivering a power of 2 x 105 Watts RMS under 4 Ohms.
For a perfect matching, it's featuring an active high-pass and lowpass crossover.
FOCAL FDS 2.350 – DESCRIPTION
The FOCAL FDS 2.350 can consequently drive a pair of speaker drivers or a subwoofer.
Stereo D Class bridgeable amplifier
High-level inputs with auto-detect / RCA low-level inputs
Compatible with OEM head units thanks to the audio transformers – auto detection feature
FOCAL FDS 2.350 KEY FEATURES
D Class – Direct Fet ® Technology – Efficient heat dissipation and precision
Stable under 2 Ohms
Stackable aluminium chassis with high heat dissipation
Low noise operational amplifier New Japan Radio® NJM4580
Low ESR capacitors – 105°C (220°F)
Pseudo-balanced inputs
Cable accessories included – easy to install
FOCAL FDS 2.350 – Technical Specifications
Compatible with OEM head units thanks to the audio transformers
auto detection feature Stereo D Class bridgeable amplifier
High-level inputs with auto-detect / RCA low-level inputs
CEA power (4 Ohms): 2 x 105 Watts RMS
Power max (2 Ohms): 2 x 170 Watts RMS
Power max (4 Ohms bridged): 1 x 360 Watts RMS
Configurable high-pass/low-pass crossover: 40Hz-400Hz
Full range mode Bass boost (0-12dB)
Protections: Short circuit / low impedance / reversal of polarity / DC / power drop / over heating protection
Dimensions (LxHxW): 713/16×41/4×111/16 (199x108x43mm)
Weight: 1.8 lbs
Signature Car Sound your local Focal Car Sound Specialists, Stockists and Installation Centres on the Sunshine Coast