Description
FOCAL IS 165TOY TOYOTA SPEAKER UPGRADE
The Focal IS 165TOY is a two-way component kit with a 6½" woofer and a tweeter enabling to equip factory locations up front and improving the musicality of numerous Toyota® models.
Perfect integration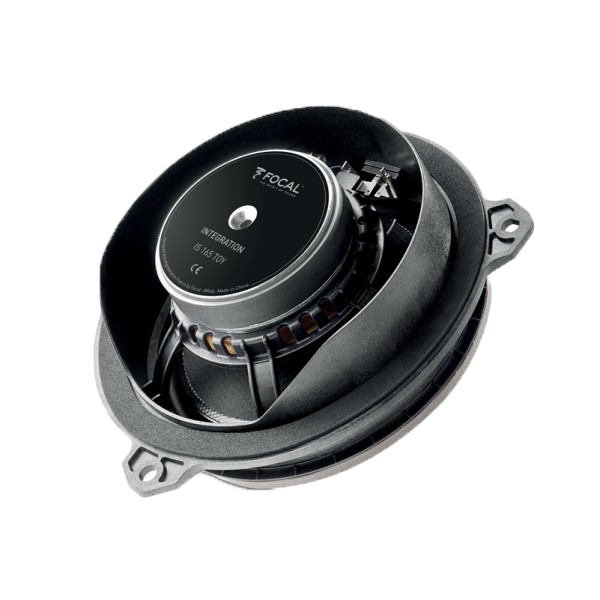 About the design: ABS baskets for a look which matches the manufacturer's equipment and foam soundproofing joints, rivets provided, Toyota® connectors, compact tweeters including accessories to ensure they fit perfectly into the factory locations, built-in crossovers for directly connecting to the vehicle's harnesses, Focal's Toyota® kits have been designed to ensure easy installation and perfect integration.
Focal technologies for improved musicality
Toyota® speaker driver kits use benchmark technologies for a great musicality and value for money: a glass fibre cone with butyl suspension for improved neutrality and impressive bass, TIS 1.5 aluminium inverted dome tweeter for increased precision in the high frequencies. Thanks to their high efficiency (over 90dB), they provide excellent dynamics using the original head unit. In addition to providing a quick and easy way to enhance OEM systems, these speaker drivers provide high power handling, allowing them to be used with a power amplifier, resulting in an even more remarkable high-fidelity system.
What makes the difference
Easy installation
Respect of the original Toyota® connectors
Better precision in high frequencies
Compact tweeter for better adaptation in factory location
High-density rubber ring for acoustic sealing with the door panel
Car compatibility
This kit can be installed in the following car models:
Front installation
Toyota Corolla
Toyota Auris
Toyota Yaris
Toyota RAV4
Toyota Fortuner
Non-exhaustive list of vehicles, subject to adaptation of the tweeter and the connector, depending on the countries and models
Signature Car Sound Authorised Focal Stockist on the Sunshine Coast