Description
SoundStream LW1.1100D
1000W – Mono Block Amplifier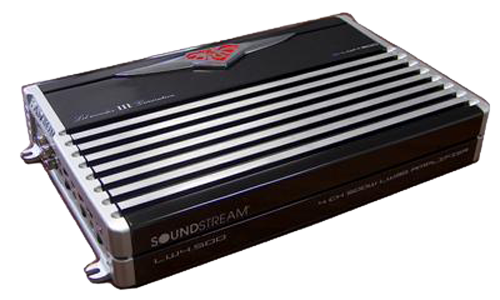 Car Audio companies come and go.  Few have survived over a quarter of a century!  Most companies are downsizing and offering fewer products each year.
Soundstream continues to grow with the evolution of the Lil' wonder series, new generations of subwoofers, and much more, including over 70 new products since 2009!
Whether you're an audiophile, a SPL competition fanatic, street modifier or new vehicle retailer, Soundstream has the largest variety of truly engineered, quality products available for any budget.
Soundstream LW1.1100 – Specifications:
900W RMS @ 2Ohms
1100W RMS @ 1Ohm
 Gloss Black Finish w/ Brushed Accents
MOSFET Pulse Width Modulated Power Supply
IDI Intelignet Distress Indicator (short, thermal & overload protecion)
Twin Stack Technology (strap amps together for double power)
Delayed On/Off Circuit
15-150KHz Frequency Response
95dB Signal-to-Noise Ratio
0.50% Total Harmonic Distortion
>300 Damping Factor
1mV-2v or 2V-6V Input Sensitivity
Variable 0-18dB 45Hz Bass Boost
Variable 12dB 10-40 Hz Subsonic Filter
Pre-Amp Output
180 Phase Shift
Direct Wire 4 ga. Power, 8 ga. Speaker Terminals
Direct Wire 0 ga. Power, 4 ga. Speaker Terminals (2600D)
Signature Car Sound, your local Authorised SoundStream Dealers, Stockists and Installation Centres on the Sunshine Coast