Description
THINKWARE F750 16G Dash Cam
Now Safer, Smarter and WiFi-enabled.
2015 CES Innovation Awards Honoree/ Design Award Grand Slam (reddot, iF, IDEA)
THINKWARE Dash Cam™ is delighted to announce that the F750 has been named a 2015 CES Innovation Awards Honoree by the Consumer Electronics Association (CEA)® for outstanding design and cutting edge engineering in the category of in-vehicle accessories. Scoring highly across judging criteria in engineering qualities, aesthetic and design qualities, intended function and user value, novel features and innovation, we joined a small percentage of other products that were given the honor this year.
See more with a 140? Wide Angle View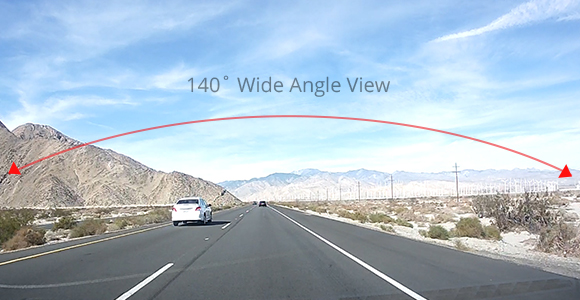 The THINKWARE Dash Cam F750 has a 140? wide viewing angle for maximum visibility, capturing a wider view of the roads.
SAFE ON THE ROAD
THINKWARE Dash Cam F750 not only acts as a reliable eyewitness in the case of an incident, it is also your best protection against insurance frauds and road accidents.
Equipped with the Road Safety Warning System that provides alerts for Lane Departure and Front Collision, the F750 detects road markings and gives voice warnings to the drivers if the vehicle begins to stray from its lane or when it is at risk of an imminent collision.
Such advanced technology that once could only be seen in the best luxury sedans is now available in our dash cams to provide convenience and safety while aiding drivers on the road.
Safety Camera Alert
Exclusive safety feature from THINKWARE – The Safety Camera Alert powers THINKWARE Dash Cam to be on continuous alert for photo enforcement locations on your driving routes while recording high quality videos at the same time.
THINKWARE Dash Cam provides active warning for these 5 types of road safety cameras.
RED LIGHT / SPEED CAMERA / RED LIGHT & SPEED CAMERA
ALERT
With the built-in GPS and safety camera location database, Thinkware Dash Cam actively monitors the vehicle location to inform you of approaching traffic enforcement cameras such as red light cameras and speed cameras along your way.
Voice guidance together with visual alert** on the dash cam screen will alert drivers of any approaching traffic enforcement cameras along the route. Thinkware Dash Cam employs a two-step warning system where the first warning will provide distance remaining from your current location to the camera location and the second warning will alert you when you reached the exact traffic camera location.
Cultivate safe driving habits with Thinkware Dash Cam. Start from driving at the correct speed.
* only available on selected models
** only available on selected models with LCD screen
AVERAGE SPEED / MOBILE SPEED ZONE ALERT
Drive with confidence knowing your exact speed and the locations of traffic control zones in real-time. Let Thinkware Dash Cam remind you the locations of average speed cameras and mobile speed camera zones while you remain focused on driving.
Voice and visual alerts are activated when entering the speed enforcement camera zones. The dash cam will continuously guide you along the speed controlled stretch of road, thereby reducing the danger of speeding.
What's more, Thinkware Dash Cam is designed to recognize the direction of your route and automatically disable warning for irrelevant speed and red light cameras in the opposite direction so that you are not distracted by unnecessary or false alerts.
Know where the traffic enforcement cameras are. Safe driving starts with Thinkware Dash Cam.
* The video records both the location and speed information of the drive.
The recorded footage can be accessed via the PC viewer where you can easily review and replay your driving routes on the map.
* The Safety Camera Alert database in Thinkware Dash Cams contains a comprehensive coverage of safety cameras across regions including
North America (approximately 10,000 camera locations across the region) and the United Kingdom (approximately 18,000 locations).
The safety camera database is constantly updated to ensure that it is accurate and up-to-date.
* Some discrepancies may exist due to addition, removal and/or relocation of the traffic enforcement cameras so be advised that all motorists should observe safe driving practices at all times.
Speed/ Speed & Red Light Cameras
"Speed Camera in 400 yards, Speed Camera Ahead"
– For Speed/ Speed & Red Light cameras, voice guidance will inform the driver of the distance to the camera ahead.
Variable Speed Point and Red Light Cameras
– Voice guidance will only inform distance to the camera ahead.
Average Speed Zone
"Average Speed Zone. Speed limit is xx miles per hour."
– Voice guidance will inform entry into the Average Speed Zone and the speed limit in that zone.
* There is no pre-alert given.
Mobile Zone
What is a Mobile Zone?
Mobile zone is an area set up and operated by police officers who are armed with speed guns or automated in-vehicle systems to check the speed of passing vehicles. Zones may vary for places where police appearance frequency is high.
*Speed limit guidance is not available for all Mobile Speed Camera Zones.
* There is no pre-alert given.