Description
8" Apple CarPlay / Android Auto / Primo 3.0 Navigation / HDMI / USB / Bluetooth / FLAC / DAB+ Receiver
Alpine sets the industry standard with it's all-new remarkable 8" advanced navigation system equipped with Apple CarPlay and Android Auto. The X308AU is an exemplary piece of technology delivering smartphone apps into your dashboard such as phone calls, messages and an endless choice of music which can all be commanded effortlessly by Siri and voice control. With a revolutionary user interface you have full control of the 8" capacitive touchscreen display.
The Primo 3.0 NextGen navigation platform provides high resolution maps displayed with stunning realism while featuring 4WD Off-Road maps and an extensive Point of Interest database. High-Res audio can be played back up to 192kHz/24Bit through FLAC music files. With it's unrivalled performance standards the X308AU will transform the dash of your vehicle.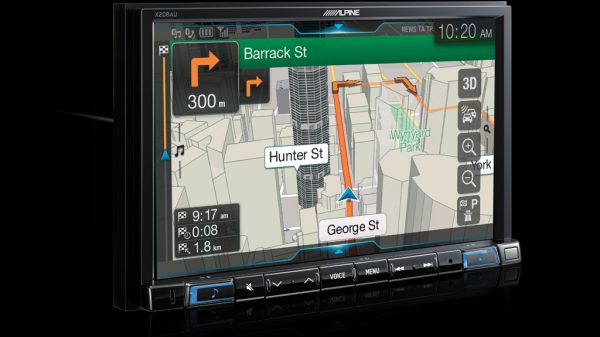 Apple CarPlay
Apple CarPlay provides your iPhone functions all through the 8" display. You can get directions, make calls, send and receive messages and listen to music while maintaining full focus on the road.
Android Auto
Android Auto allows for the connection of an Android smartphone sanctioning phone calls, text messages, Google maps, other apps and voice control through the magnificent 8" capacitive touch display.
Smartphone Navigation
The X308AU includes a precision GPS antenna which ensures a pin-point and highly accurate navigation experience when using Apple CarPlay and Android Auto. Voice control works seamlessly with this function allowing you to dictate your destination and start driving.
 Premium Built-In Navigation with 4WD Off Road Maps
Premium navigation is provided with the exquisite Primo 3.0 navigation platform. GPS locaton can be found in the most obscure areas to ensure you never lose your bearings. Remarkable content is provided with 3D landmarks, 3D cityscapes, high resolution maps and seamless animation graphics all controlled through the state- of-the-art user interface. Whilst 3 years of free map updates ensure your navigation system is up to date.
4WD Off Road Maps

4WD Off Road Maps come standard with the X308AU including point-to-point off road navigation, intuitive turn- by-turn guidance and 3D terrain. While the one look display allows you to view audio and navigation simultaneosly.
HDMI Connectivity
HDMI enables connectivity to a number of different devices including smartphone mirroring—making audio and video playback possible in high-definition through the 8" display for virtually limitless entertainment.
Built-In Bluetooth
Built-in Bluetooth enables wireless connection of a mobile phone for the convenience and safety of hands free phone and audio streaming. Plus, you can use voice control through the built-in or wired microphone.
USB Connectivity
USB connection provides a multitude of source options, such as memory sticks, iPod or iPhone, and other devices to playback audio and video files. Furthermore, MP4 and AVI files are played up to HD 1080p with superb clarity.
DAB+ Digital Radio 
DAB+ provides you with a range of quality digital only stations that you can search by station name. DAB+ offers clearer sound and improved reception, achieving a noise free, crystal clear radio listening experience.
Full List of Specifications Below
8" Capacitive Touch Display
Apple CarPlay and Android Auto
GPS / Glonass Antenna Included
USB Input and HDMI Input/Output
FLAC Playback (Up to 192kHz / 24bit)
MP3/WMA/AAC Music
MP4/AVI/MKV Video
Built-In Bluetooth (Pair up to 5 devices)
Customised Opening Screen
Spotify Internet Radio Ready
FM/AM Radio With RDS
DAB+ Digital Radio (KAE-242DA-R)
Dual Zone Playback (via HDMI)
GUI Background (Blue, Light Blue, Aqua, Red, Green, Yellow, Amber)
Key Illumination (Blue, Light Blue, Aqua, Red, Green, Yellow, Amber, White)
Rear AV Output / AUX Input
CAN/UART Vehicle Data-Bus Ready
CD/DVD Ready with optional DVE-5300 • 3 Years Free Map Updates
Advanced Primo 3.0 Navigation
TMC Live Traffic Updates
3D Landmarks and City Maps
Enhanced POI Database
School Zones Fixed Speed & Red Light Camera Alerts • Advanced 4WD Off Road Maps
Alpine TuneIt App Ready
Alpine Connect App Ready (Android Only)
6-Channel Digital Time Correction
Bass Engine SQ / MediaXpander
9-Band Parametric EQ / Crossover
4 x 50W High Power Amp / 3 PreOuts (4 Volts)
Steering Wheel Control Ready
RCA Camera Input and Direct Camera Port
Signature Car Sound, your local Premium Alpine Car Stereo Specialists, Stockists and Installation Centres on the Sunshine Coast