Description
Alpine CDE-163EBT
CD Receiver with Bluetooth
With the Alpine CDE-163EBT you can play all your favourite music from CD, MP3/WMA/AAC files on USB storage, plus connect and play iPod/iPhone via USB.
What's more, the 3 Pre-outs enable the unit to be connected to multiple amplifiers to enhance your listening experience.
The 9 band parametric EQ and high pass / low pass filters give you maximum control to tune the sound exactly how you like it, while the TuneIt app gives you even more advanced audio tuning options including search and download of preset audio parameters, and Facebook text-to-speech.
App direct mode provides access to apps such as Pandora, Tune In Radio and Soundcloud to listen to your favourite tracks.
TuneIt and Share It

TuneIt is an easy-to-use sound-tuning app that also offers Facebook notifications. Download the free app or the TuneIt with TTS app onto your iPhone or Android smartphone and create a user profile about your vehicle and Alpine sound system.
Follow the simple TuneIt graphical instructions to adjust sound settings for your specific vehicle or choose from pre-made settings in the database. Settings that can be adjusted include Parametric EQ, Crossover, and Media Xpander.
You can make and save up to 100 different sound settings in your account, which is helpful if you want various settings to use for specific types of music. Share your settings and get rated on your tuning skills, plus try out and rate settings made by others. The more active you are, the higher your profile status progresses within the app.
Now in its second generation, new features added to TuneIt® 2.0 include increased vehicle choices for easier profile set-up, an expanded database of Alpine speakers and subwoofers for more precise sound system tuning and Bass Engine SQ tuning to tailor the in-vehicle bass characteristics.
Bass Engine SQ: Bring Balance to Your Music

Use the Bass button on the faceplate or the TuneIt app to get the best tonal balance and efficient power distribution to all (front, rear, and sub) speakers independently.
Bass Engine SQ tuning provides tonal balance by automatically adjusting different combinations of EQ, Sub Level and Crossover settings through the choice of five bass profiles (Standard, Punch, Rich, Mid Bass, Low Bass).
BT Plus, Bluetooth Hands-Free Calling & Audio Streaming

Don't fuss or fiddle with your phone and say goodbye to uncomfortable headsets and earpieces. Most importantly, stay focused on safe driving. The CDE-163BT is equipped with Bluetooth wireless technology so you can carry on your phone conversations in the car without additional adapters.
Easy Audio Streaming, Even with iPhone iOS 8

Do you have a large music library on your phone? The Alpine CDE-163BT can stream and control your phone's music via Bluetooth.
Want to listen to your iPhone without plugging-in? Stream your music via Bluetooth.
Whether you have music on your iPhone locally, on iTunes Match or select third-party audio apps, the Alpine CDE-163BT can stream your tunes!
Microphone Included

This unit comes with all that's needed for Bluetooth convenience. The Alpine CDE-163BT comes with a tuned microphone that's engineered to reduce noise interference and feedback.
This allows optimal placement in your car, for the best possible sound quality.
Making, Taking Calls & Call Waiting
Making and taking phone calls has never been more convenient. Use the supplied microphone to speak, and then listen through your car's speakers.
When a call comes in, your music mutes to carry the phone call. View caller information including Caller ID, Missed, Dialed, and Received calls right from the head unit display.
If you receive a second call, you can have the first caller wait momentarily by pressing "2" for call waiting mode. Once both calls are finished, the mute for music is deactivated.
This truly makes the transition from your phone calls to music enjoyable and convenient. You can even use the Alpine CDE-163BT's preset buttons to quickly jump through your phone book, making navigation through large phone books much faster.
Hands-Free Calling Sound Customization
To bring sound balance to your hands-free experience, you can adjust the Alpine CDE-163BT's mic gain, phone output and ringtone volume.
If that's not enough, there are five sound quality settings to choose from to get the balance just right for you. This flexibility will make your phone calls a pleasurable experience.
Steering Wheel Control

If your car has factory Bluetooth steering wheel controls, then it will also control your new Alpine CDE-163BT's built-in Bluetooth. Or, control your head unit right from your factory installed steering wheel controls by adding a third party adapter.
Use an adapter from popular brand names such as Axxess or PAC to add this feature.
Front Aux Input

With a dedicated USB input and USB cable, you can even connect USB memory devices like thumbdrives. Song lists on USB devices are displayed in alphabetical order, and allows eight levels of file / folder search capabilities.
This unit will find music files while ignoring other file types on the USB device.
Note: MP3 device or cell phone cannot be independently controlled through the head unit.
Made for iPod® and iPhone®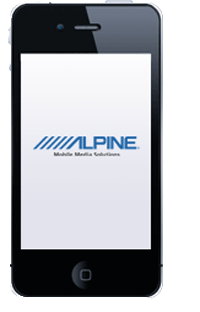 It's convenient to control your iPod or iPhone music in the car – enjoy seamless operation of your iPod in addition to full control of all your favorite media sources. Control all search options of your iPod directly from the CDE-163BT via Playlist, Artist, Album, Song, Genre, Podcast or Composer. The USB connection allows for high-quality iPod playback and delivers an even faster access speed so you'll find songs as quickly as you expect to find them on your iPod.
Find it Fast with Quick Search and Alphabet Search
Get access to and control of all the songs from your iPod or iPhone right from the head unit! Large music libraries are no problem with a faster connection speed. With Quick Search featuring Alphabet Search, you can easily scroll through long lists of music by skipping through the letters of the alphabet. Once you find the letter you want, you can jump to the exact song! With so many ways to listen to thousands of songs, now you can get super-fast access to Playlist, Artist, Album, Song, Podcast, Genre and Composer.
App Direct Mode
Listen to even more music from your iPhone or iPod with App Direct Mode. This new feature offers basic app control (Play, Pause, Track Forward, Track Back) and displays metadata directly on the head unit from numerous third-party apps so that you can enjoy your drive even more and expand your listening choices without fumbling with your phone.
Charge Your Phone
Standard in-vehicle solutions may drain the battery of your phone, but with the CDE-163BT, your phone charges via the USB cable (sold separately), so you can enjoy nonstop music and power your phone at the same time.
Works with Pandora® Internet Radio for iPhone® and Android™

Whether you have an iPhone or Android smartphone, Alpine gives you full control of Pandora straight from your dash.

Whether you choose to connect through USB or stream wirelessly, you can enjoy your favorite Pandora channels with Thumbs Up/Thumbs Down buttons directly on the faceplate, QuickSearch features, and even the ability to create a new Pandora station and bookmark your favorite tunes on the go.
Alpine's DSP-Sound Expansion circuitry ensures the best possible sound from the Pandora connection.
Note: Third party services may not be available in all areas; please contact an authorized retailer for coverage in your area.
Detachable Face*

Features a detachable face as an anti-theft precaution. With the push of a button the face is easily removed for extra security. When you're back in the car, click the face back in and you're ready to go.
Variable RGB Illumination

Add a cleaner look to your dash with more color control. Enjoy a well-integrated look by matching the illuminated buttons on the radio to your dashboard.
The Alpine CDE-163BT offers up to 30 different colors to choose from.Can't find the correct match? Adjust the base colors (Red, Blue, Green) to find the closest match to your dash.
Best Sound Quality
For unrivaled sound quality, expect nothing less than the best. The Alpine CDE-163BT uses a 24-Bit DAC for ultimate sound quality with all your digital media sources.
Built-in Equalizer
Select from 10 different EQ modes to get the best sound from all your sources (Flat/Pops/Rock/News/Jazz/Elec Dance/Hip Hop/Easy Lis/Country/Classical).
If the Equalizer presets aren't enough for your listening taste, there's a 9-Band Parametric Equalizer you can adjust and save as a user preset for a better sound response curve.
Get a Boost in Great Sound
With Alpine, expect the premium sound your ears deserve. This head unit allows you to customize your crossover adjustments so you can control where you send high and low frequencies, for the best sound from yourAlpine  CDE-163BT.
For a true power upgrade, just add-on the Alpine KTP-445A Power Pack to instantly increase your head unit's power from 18W x 4 RMS to a true 45W x4 RMS (based on CEA-2006 power ratings).
Now we're talking about some serious sound!
Alpine CDE-163EBT – Features
High SQ 50 X 4 High Power Amp IC
Works with iPod/ iPhone
All-New High Performance Radio Tuner
TuneIt App for Android / iOS
FaceBook Ready
Works with Pandora (App required)
Built-in Bluetooth
CD/MP3/WMA/AAC Playback
Front USB Port and Aux Input
Independent Variable RGB Illumination
Engine Start-Stop Non Shutdown
3 PreOuts (4 Volt)
24Bit DAC
Bass Engine SQ: 9-Band Parametric EQ, Digital Crossover 2-Way/ 3-Way, 6 Channel Time Correction, Subwoofer Phase Selection, MediaXpander
Remote Control Included
Alpine CDE-163EBT – Specifications
FM TUNER SECTION

Tuning Range 87.5 ~ 108.0 MHz
Mono Usable Sensitivity 9.3 dBf (0.8 ?V/75 ohms)
Alternate Channel Selectivity 80 dB
Signal-to-Noise Ratio 65 dB
Stereo Separation 35 dB
Capture Ratio 2.0 dB

AM TUNER SECTION

Tuning Range 531 ~ 1,602 kHz
Sensitivity (IEC Standard) 22.5 ?V/27 dB

CD PLAYER SECTION

Frequency Response 5 ~ 20,000 Hz (Å}1 dB)
Wow & Flutter (% WRMS) Below measurable limits
Total Harmonic Distortion 0.008% (at 1 kHz)
Dynamic Range 95 dB (at 1 kHz)
Signal-to-Noise Ratio 105 dB
Channel Separation 85 dB (at 1 kHz)

PICKUP

Wave length 795 nm
Laser power CLASS I

USB SECTION

USB requirements USB 1.1/2.0
Max. Power Consumption Smartphone charge-capable
USB Class Mass Storage
File System FAT 12/16/32
MP3 Decoding MPEG AUDIO Layer-3
WMA Decoding Windows Media™ Audio
AAC Decoding AAC-LC format ".m4a" file

BLUETOOTH SECTION

Bluetooth Specification Bluetooth v2.1 + EDR
Output Power +4 dBm Max. (Power class 2)
Profile HFP (Hands-Free Profile)
A2DP (Advanced Audio Distribution Profile)
AVRCP (Audio/Video Remote Control Profile)

GENERAL

Power Requirement 14.4 V DC
(11 ~ 16 V allowable)
Maximum Power Output 50 W Å~ 4
Maximum Pre-Output Voltage 4 V/10 k ohms
Bass Å}9.1 dB at 100 Hz
Treble Å}9.1 dB at 10 kHz
Weight 1.4 kg (3 lbs. 1 oz) (CDE-164EBT)

CHASSIS SIZE (CDE-164EBT)

Width 178 mm (7″)
Height 50 mm (4″)
Depth 164.7 mm (6–1/2″)

NOSE-PIECE SIZE (CDE-164EBT)

Width 169.8 mm (6–3/4″)
Height 45.8 mm (1–13/16″)
Depth 24 mm (15/16″)
• Due to continuous product improvement, specifications and design are subject to change without notice.
* 1 Year Warranty as per Alpine Electronics Australia T&C's
* Pandora, Alpine TuneIt App and any other applications used with Alpine products require the use of a compatible smartphone with the downloaded and installed application, charges incurred for the use of the application inclusive of data transfer and consumption are the responsibility of the user, and Alpine disclaims any liability for such charges. 
Signature Car Sound your Authorised Premium Alpine Dealer, Stockist and Installation Centres on the Sunshine Coast QLD