Description
Alpine INE-W997D
7inch DAB+/RDS/HDMI/FLAC/USB/Bluetooth/Primo 3.0 Navigation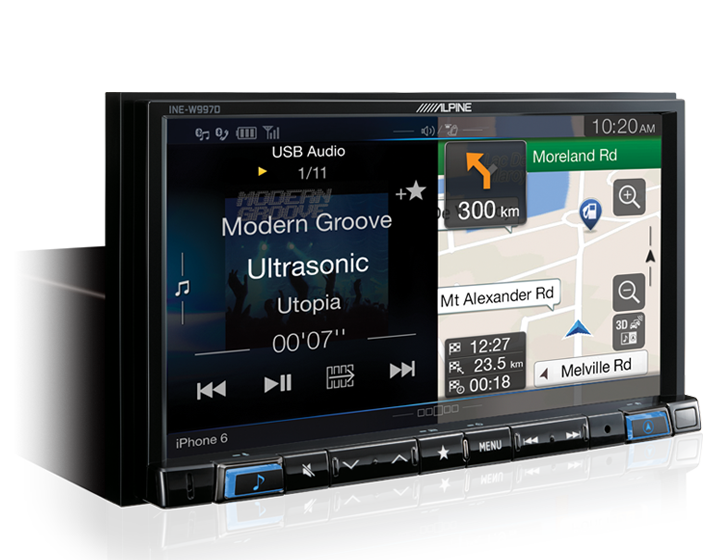 Crafted by engineering and innovation the Alpine INE-W997D is a truly remarkable in-dash multimedia navigation system.
Graced by an ultra-high-end 7" capacitive touch screen panel and an all new human-to-machine interface, both function and design unite for effortless usability and a display that is exceptionally beautiful and vivid.
The single-din chassis allows for versatile installations of the double-din 7" screen, where limited space may have previously been an issue.
The Alpine INE-W997D introduces a world of digital entertainment to playback
high-resolution FLAC audio files as well as MP3, WMA and AAC music from USB, plus video and audio from iPod or iPhone, DAB+ digital radio, RDS and much more.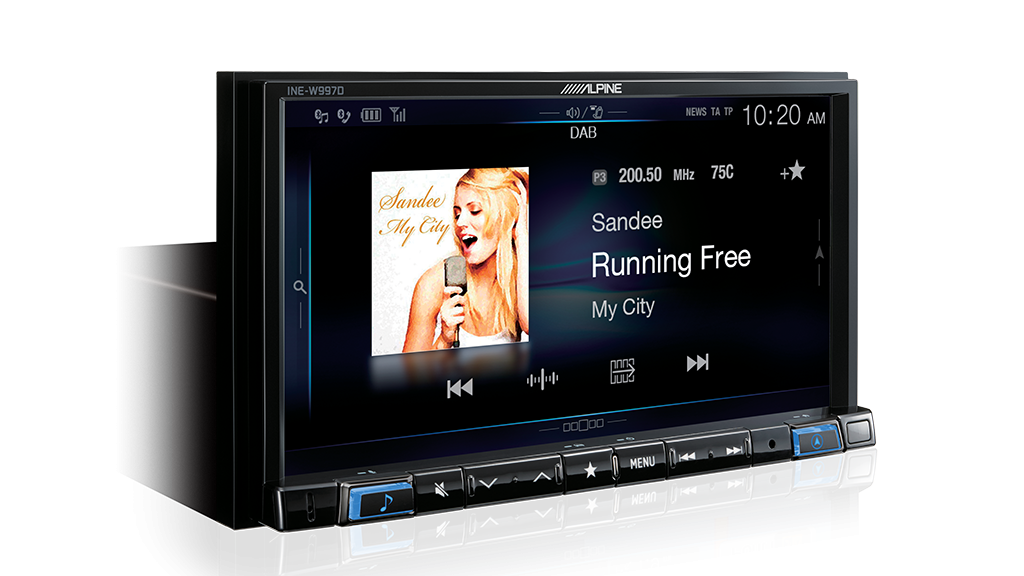 Moreover, HDMI enables connectivity to devices such as a DVE-5300 CD/DVD player and smartphones for virtually limitless sound and vision.
Built-in Bluetooth allows for hands-free calling, audio streaming and even voice control directly from compatible smartphones.
The all-new Navteq Primo 3.0 NextGen navigation sets the industry standard by offering a rich content experience with 3D landmarks and city scapes, high resolution maps and seamless animation graphics all controlled via a state-of-the-art intuitive user interface.
Premium navigation features include live traffic updates, fixed speed and red light camera alert, school zone alerts, 4WD off-road maps, and enhanced POI capabilities including parking areas.
Best of all, innovative 'One-Look Navi' means that with a single swipe you can easily display navigation and the selected source for convenient operation and information at a glance.
Additionally, the Alpine INE-W997D is steering wheel control and CAN/UART interface ready for seamless integration into a variety of vehicles, enabling retention of factory fitted functions.
A direct camera port allows for connection of a
Alpine HCE-C252RD
multi-view reverse camera.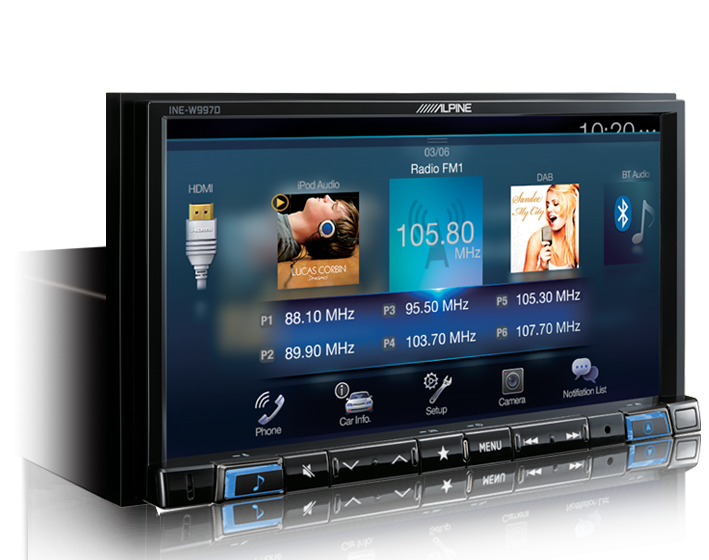 High-End Sound Quality and Tuneability

The Alpine INE-W997D puts the power of advanced sound processing in your vehicle with features like Bass Engine SQ and Media Xpander HD to maximise bass sound as well as overall tone balance.
Accompanying the elite hardware such as the 24-Bit DAC and 4-volt preouts, are the many advanced tuning functions such as Crossover adjustment and 6-Channel Digital Time Correction.
Also included is the latest in Parametric EQ technology – Dual HD EQ, which allows for adjustment of the centre frequency and Q bandwidth suiting front and rear seats simultaneously.
Alpine's TuneIt App 3.0 including Facebook Notifications
Alpine's TuneIt application is designed to make smartphone integration a breeze, offering advanced audio tuning, search and download of preset audio parameters. Plus, Facebook access with notifications and Text To Speech optimised completely for on-the-run information. You can even rate other users tunings or share your own with the Alpine community. Best of all, the INE-W997D supports the use of both Android and iOS devices to access the TuneIt app.
Advanced Parking Assist Technology
Parking and manouvering a vehicle has never been easier with Alpine's advanced drive assist technologies. The rear-view camera automatically activates when reversing and mutes the audio for easier use and concentration. Not only do you have a clear view to the rear, you can also see useful distance guides that can be adjusted to suit each individual vehicle.
Multi-View provides a selection of four viewing modes. Corner view splits the screen so you have a clearer view of both sides behind the vehicle. Top view is convenient when backing up to hook up a trailer, enabling you to get within centimetres of the trailer.
There's also a picture-in-picture function that shows the regular rear view in a small screen when you've selected a special viewing mode.
In addition to the existing Alpine HCE-C252RD (Rear) and Alpine HCE-C257FD (Front) cameras, a new KCX-C250MC* Multi Camera Interface may be added. This advanced new interface will allow for the addition of a side camera* enabling a whole new sense of manouverability, exclusive to the advanced Alpine INE-W997D navigation system.
 DAB+ Digital Radio
 The built-in DAB+ Digital Radio tuner uses the most advanced digital technology to deliver radio reception in outstanding, noise-free sound quality. DAB+ also offers many other advantages over traditional FM radio: select from a much wider range of radio stations and after an initial station scan you can easily select your desired channels from an alphabetic and genre list of available stations.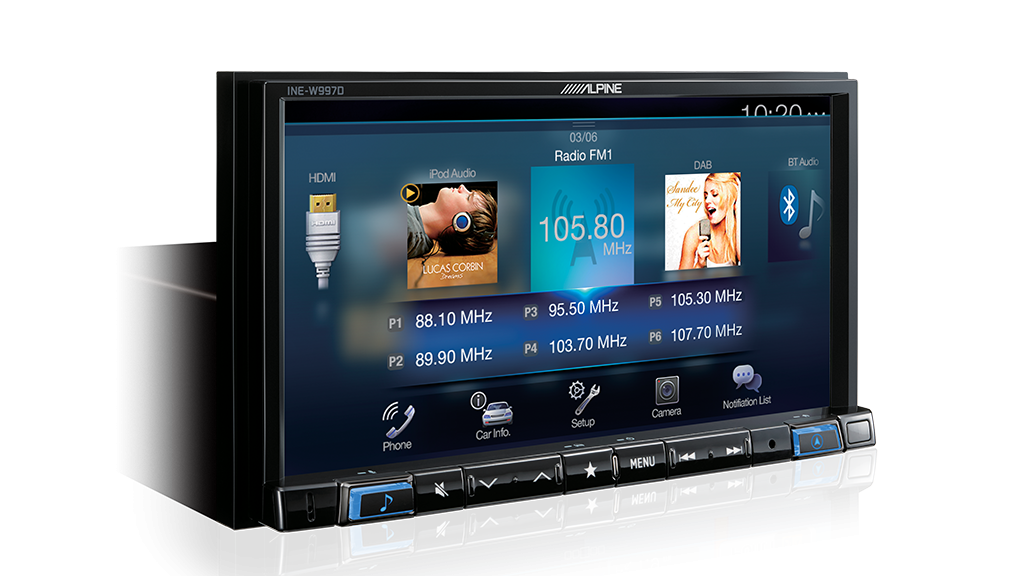 Primo 3.0 NextGen State-of-the-Art Navigation
Navigation is more advanced than ever before with the all-new Primo 3.0 NextGen user interface and processing power for seamless operation and display of rich content including 3D landmarks and city scapes with superb clarity. An array of features including Lane Guidance, Parking Around Destination, Fixed Safety Cameras, Speed Alerts and Live Traffic Information from SUNA™, ensure the most informed and safe driving experience possible.
Plus, with 3 years of free map updates you can be confident you'll have the latest map data available.
4WD Off-Road Maps and Point of Interest Database
Explore and discover over 120,000km's of 4WD tracks, featuring advanced off-road point-to-point mapping with a modern digital 3D terrain and intuitive turn-by-turn navigation.
With an integrated gyroscope, speed pulse input and reception from up to 12 satellites at once you can rely on accurate guidance on your next big adventure. What's more, the extensive POI database can guide you to services close to you when you need them, whether it be a petrol station, repair shop, local restaurant or even campgrounds and caravan parks.
 
Alpine INE-W997D – Features
Tuner

Memory Presets: Preset Stations (FM: 24 / MW: 6 / LW: 6)
Memory: Auto Memory
Seek Mode: Local / DX Selection
RDS

RDS Functions: PI, PS, AF, TA, TP, PTY, NEWS, RADIO TEXT
DAB Tuner

DAB+ Tuner Built-in
DAB+/DMB Supported
DAB+ Slideshow Service
DLS (Dynamic Label Service)
DAB Service Following
RDS Fallback (where available)
Service Preset: 18 Preset Memory
Auto Ensemble/Service Memory
Service Search Function
PTY Search Function
Alphabet Search Function
Antenna Power Supply Selection
BLUETOOTH®

Built-in BLUETOOTH® Module
Wide Band Speech Technology
HFP (Hands-Free Profile) Compatible
Streaming Music: A2DP (Advanced Audio Distribution Profile) Compatible
Streaming Music Control: AVRCP (Audio / Video Remote Control Profile) Ver.1.5 Compatible
Advanced BLUETOOTH® Technology
Connection: SSP (Simple Secure Pairing) Supported
Individual Profile Connection Hands Free Phone and Music Streaming
Phone Book: Phone Book Synchronization
Multiple Phone Number Registration: 5 Phone Numbers can be stored for one name
Device Name Display
Auto Answer
Call History Display: Outgoing Calls / Incoming Calls / Missed Calls
Redial Function
Speech Volume Level Adjustment: Possible for Outgoing and Incoming Volume
DTMF (Touch-Tone) Function
Signal Strength Indicator
Battery Level Indicator
Menu Language Selection: 24 Languages
Firmware Updatable
Microphone Included
Made for iPod® / iPhone®

Compatibility for iPod/iPhone: Made for iPod touch 5th/4th/3rd/2nd/1st Gen., iPod nano 7th/6th/5th/4th/3rd/ Gen., iPod classic 160GB/120GB/80GB, iPod with video, iPhone 6 and 6 Plus, iPhone5S,iPhone5C, iPhone5, iPhone 4S, iPhone 4, iPhone 3GS, iPhone 3G
Connection: KCU-461iV / KCU-471i Required (Sold separately)
Music & Video Playback Compatible with KCU-461iV only
Available Selections: Playlist / Artist / Album /Song / Podcast / Genre / Composer / Audiobook
Alphabet Search
Artwork Display
Direct Up / Down: Playlist / Artist / Album / Genre / Composer
M.I.X. (Shuffle) Play: Song, Albums, All
Repeat
Battery Charging
Navigation Function

Advanced Address Search
Post Code Search
Free Form Search
Partial Name Search
Advanced POI Functions
Smart Routes: Smart Routes using historic traffic patterns
Advanced Route Planning
Eco Route Search
7 Alternative Route Recommendation
Advanced TMC Mode
Map Display Mode: 2D Heading Up, 2D North Up, 3D
3D City Mode: 3D Building/Icon Display
Elevation Map Display: 3D maps with elevation mode
3D Motorway Junction View: Junction View with Sign Post
Drive Lane Suggestion
Tunnel Mode
Highway Mode
Voice Guidance Mixing
Text-to-Speech
Direct Phone Call from POI data
Advanced Comprehensive 4WD Off-road Mapping
3 Positioning Sensors: GPS, Gyroscope, Vehicle Speed Pulse
USB Media Connection

USB Connection: USB Extension Cable Included
Music Playback: FLAC/MP3/WMA/AAC Playback
File / Folder Name Search
Tag Info Search
Folder Up / Down
M.I.X. Random Play
Repeat
Sound Tuning

Bass Engine SQ
Bass Engine™ Pro
Subwoofer Level Adjustment
Subwoofer Phase Select
4V High Voltage PreOut
Equalizer: Flat, Pops, Rock, News, Jazz, Electrical Dance, Hip Hop, Easy Listening, Country, Classical
Dual HD EQ (9-band Parametric Equalizer front/rear)
6 Channel Digital Time Correction
Digital Crossover Setting
Customized Sound Setting by Car Type
MediaXpander HD
Application Volume Level Setting
Sound Setting Data Download
Easy, Step-by-Step Sound Customization
Alpine TuneIt App ready
General

Power Output: 4 x 50 W High Power Amplifier
Advanced Power IC
Display: 7?? Capacitive WVGA High Resolution Display
White LED Backlighting System
50/50 Split Screen: Left / Right Position Changeable
Control Type: Touch, Drag, Flick
My Favorites Function
Automatic Setting Change for 2 Users
High Grade Audiophile Design
PreOut: 3 PreOuts (4V, Front / Rear / Subwoofer)
AUX-In: 1 A/V AUX Input
Steering Wheel Remote Control Function
OEM Sub-display Function
Remote Control Ready
Navigation Guidance Mix
Camera Connection & Built-in Controls for Multi-View Cameras
Camera Guide Line Adjustment
Rearview Camera Display Automatic Boot-up
Simple Mode & Info Mode Display Selection
Visual EQ
Live Contrast Adjustment
Menu Language: 24 Languages (for AV / Bluetooth), 29 Languages (Navigation Menu and Voice Guidance)
Clock
Auto Dimmer
Anti-theft security code
Firmware Updatable
Power Antenna Lead
Remote Turn-On
HDMI Input (Alpine HDMI cable included)
Engine Start-Stop unaffected
CAN Connection Interface Included
DAB Antenna Included
Ready for optional DVD Player DVE-5300
Installation

Perfect F.I.T. Kit Solutions available
Alpine INE-W997D – Specifications
Screen

Screen Size: 7-inch Capacitive WVGA
LCD Type: Transparent Type TN LCD
Operation System: TFT Active Matrix
Number of Picture Elements: 1,152,000 pixels (800 x 3 x 480)
Illumination System: White LED Backlighting
Effective Number of Picture Elements: 99.99%
Colour System: NTSC, PAL
Max Power Output Ratings

Max Power Output: 4 x 50 W
FM Tuner

Tuning Range: 87.5 – 108.0 MHz
Mono Usable Sensitivity: 8.1 dBf (0.7 µV / 75 ohms)
50dB Quieting Sensitivity: 12 dBf (1.1 µV / 75 ohms)
Alternate Channel Selectivity: 80 dB
Signal-to-Noise Ratio: 65 dB
Stereo Separation: 35 dB
Capture Ratio: 2 dB
MW Tuner

Tuning Range: 531 – 1,602 kHz
Usable Sensitivity (IEC Standard): 25.1 µV / 28 dBf
LW Tuner

Tuning Range: 153 – 281 kHz
Usable Sensitivity (IEC Standard): 31.6 µV / 30 dBf
USB

USB Requirements: USB 2.0
Max. Power Consumption: 1,500 mA (CDP Support)
USB Class: Mass Storage Class, Play From Device
File System: FAT 16/32
MP3 Decoding: MPEG-1/2 AUDIO Layer-3
WMA Decoding: Windows Media™ Audio
AAC Decoding: ACC-LC format ??.m4a?? file
Flac Decoding
Number of Channels: 2-Channel (Stereo)
Frequency Response: 5 – 20k Hz ±1 dB *Frequency Response may differ depending on the encoder software/bit rate
Total Harmonic Distortion (at 1kHz): 0.008%
DynamicRange(at 1kHz): 95 dB
Signal-to-Noise Ratio: 100 dB
Channel Separation (at 1kHz): 85 dB
GPS

GPS Antenna Type: Micro-strip Planar Aerial
Reception Frequency: 1575.42 ±1 MHz
Reception Sensitivity: -130 dB Maximum
Reception Method: Parallel 12 Channels
BLUETOOTH®

BLUETOOTH® Version: Bluetooth V2.1+EDR
Output Power: +4 dBm Max. (Power class 2)
HFP: HFP (Hands Free Profile)
OPP (Object Push Profile)
PBAP (Phone Book Access Profile)
HSP (Head Set Profile)
A2DP: A2DP (Advanced Audio Distribution Profile)
AVRCP: AVRCP (Audio/Video Remote Control Profile)
SPP (Serial Port Profile)
Sound Tuning

Subwoofer Level Adjustment: 0 to +15
Subwoofer Phase Setting: 0° or 180°
BASS ENGINE SQ: 5Mode, Level 0 to +6
HighPassFilter: 20 / 25 / 31.5 / 40 / 50 / 63 / 80 / 100 / 125 / 160 / 200 Hz
HighPassFilter (Slope): Off / -6 / -12 / -18 / -24 dB/oct.
HighPassFilter (Gain): -12 to 0 dB
LowPassFilter: 20 / 25 / 31.5 / 40 / 50 / 63 / 80 / 100 / 125 / 160 / 200 Hz
LowPassFilter (Slope): Off / -6 / -12 / -18 / -24 dB/oct.
LowPassFilter (Gain): -12 to 0 dB
Time Correction: 0.0 – 9.9ms (0.1ms step)
Dual HD EQ Front + Rear
Parametric Equalizer (Band 1): 20 – 100 Hz
Parametric Equalizer (Band 2): 63 – 315 Hz
Parametric Equalizer (Band 3): 125 – 500 Hz
Parametric Equalizer (Band 4): 250 – 1k Hz
Parametric Equalizer (Band 5): 500 – 2k Hz
Parametric Equalizer (Band 6): 1k – 4k Hz
Parametric Equalizer (Band 7): 2k – 7.2k Hz
Parametric Equalizer (Band 8): 5.8k – 12k Hz
Parametric Equalizer (Band 9): 9k – 20k Hz
Parametric Equalizer (Gain): -14 to +14
Application Volume Level Setting: -14 to +14
HDMI Section

Input Format 720p/480p/VGA
Output Format 480p
General

Power Requirement: 14.4 V. DC (11-16V allowable)
Pre Output Voltage (Before Clipping): 4 V / 10k ohms
Maximum Mounting Angle: 30°
Dimensions

Din Size: 1DIN chassis and 7" Capacitive Touch Screen
Chassis Size (W x H x D) mm: 178 x 50 x 164 mm
Nose Piece Size (W x H x D) mm: 170 x 96 x 17 mm
Signature Car Sound your Premium Authorised Alpine Dealer, Stockist and installation centres on the Sunshine Coast.