Description
The all-new Alpine S-Series speakers are forged with new materials and innovative manufacturing techniques to deliver amazing sound quality beyond their price range. They feature Alpine's HAMR surround for high linearity and accuracy, as well as a new patented CFRP cone for excellent clarity and responsiveness. With their extreme efficiency makes them perfect for OEM upgrades, plus with many sizes available they suit a wide variety of vehicles. KTE-S65G Grilles pictured are sold separately.
Industry First CFRP Woofer Cone
The S-Series speakers set an industry first, utilising CFRP (Carbon Fiber Reinforced Plastic), a very lightweight yet rigid material. On an ordinary oval cone, the edges are naturally weaker than the center due to the elongated shape. However, CFRP material is directional, and can be manipulated during the molding process to strengthen the areas of the cone that are normally weak. The result is rigidity throughout the cone that delivers accurate and efficient performance.
Alpine HAMR Surround
Alpine's patented H.A.M.R. (High Amplitude Multi-Roll) surround is now found on the S-Series speakers. This proven technology increases excursion while maintaining accuracy and linearity. The multi-roll design allows an even unfolding of the surround, which creates incredible linearity and colorisation rejection.
Powerful Speaker Motor
The S-Series speakers are undeniably powerful, featuring a large voice coil. The 6.5-inch models have a 35-mm voice coil, at such a large size, this incredible voice coil increases the driving power and control of the motor.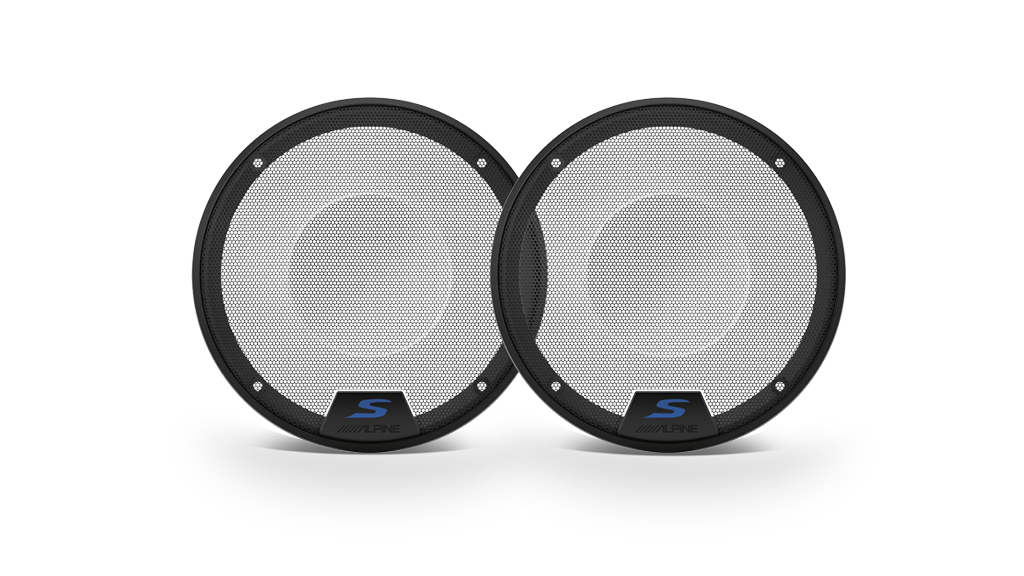 Grilles to Protect Your Speakers (Sold Separately)
Speaker grilles are available for several of the S-Series speakers and are sold separately. The durable mesh grilles are sold in pairs. See KTE-S65G
Features
Woofer
CFRP (Carbon Fiber Reinforced Plastic) cone with specialised rubber surround
HAMR (High Amplitude Multi-Roll) Surround
Large 35mm Voice Coil
Magnet Material: Ferrite
Grill sold separately: KTE-S65G
Tweeter
Tweeter Type: 1? Wide-Range Silk Dome
Magnet Material: Neodymium
Application Type: External/Swivel Tweeter Mounting Kit
Flush mount
Grill: Punched net
Crossover Network
Grade: In-line 2nd order Network Design
Specifications
Power Handling
Peak Power: 240 Watts
RMS Power: 80 Watts (CTA-2031 Compliant)
Dimensions Woofer
Frame 165 mm
Mounting Depth: 57.7 mm
Mounting Height: 12.0 mm
Magnet: 90.0 mm
Dimensions Tweeter
Frame: 37.8 mm
Dome: 26.6 mm
Height: 17.4 mm
General
Frequency Range: 70 Hz – 22 kHz
Impedance: 4 Ohms
Sensitivity: 88 dB/W