Description
Alpine UTE-62EBT
Advanced Bluetooth Mechless Head Unit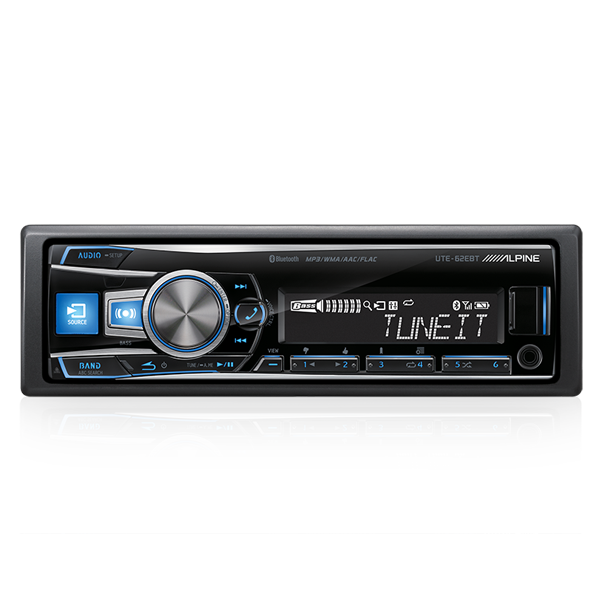 The UTE-62EBT delivers Alpine's famous sound quality and features in an affordable package. Connect a USB memory stick to play MP3/WMA/AAC and high resolution FLAC files or plug in your iPod/iPhone for quick access to all your favourite music. Plus, a handy AUX input on the front panel makes it easy to connect virtually any portable music device. What's more, built-in Bluetooth enables hands-free calling, audio streaming and voice control with compatible phones for maximum convenience.
The 9 band parametric EQ and high pass / low pass filters give you maximum control to tune the sound exactly how you like it, while the TuneIt app gives you even more advanced audio tuning options including search and download of preset audio parameters, and Facebook text-to-speech right from your compatible smartphone. Moreover, the three 4 Volt Pre-outs enable a stable connection to multiple amplifiers to expand your system and enhance your listening experience.
Whether you have an iPhone or Android smartphone, the UTE-62EBT gives you full control of Pandora straight from your dash. You can enjoy your favourite Pandora channels with Thumbs Up/Thumbs Down buttons directly on the faceplate, and even have the ability to create a new Pandora station and bookmark your favourite tunes on the go.
HIGH FREQUENCY LOSSLESS FLAC AUDIO FILE
Audio file have many type and compression but the good depth details audio file is FLAC files that play on Alpine device. You will enjoy perfectly sound in units.
X-Over 3 WAYS
Each vehicle have different device (Type and dimension of speaker). X-Over function separate frequency (High, Middle and Low) for matching each speaker type that make complete sounds in your vehicle.
EASY VOICE DIAL
You can command device with voice in one button on your steering wheel controller that safe your driving and continue joy your sounds.
OPEING LOGO SCREEN SUPPORT
Your style is shown in dash console that increase identify style by USB uploading with .bin file.
SMOOTH LISTEN
Sound will be fade in when changing source of head unit it's increase smooth listening.
TuneIt APP
Application support sound tuning in mobile phone.
Bass Engine SQ : Automatic control bass as follows all setting same time
Standard
Rich
Punch
Mid Bass
Low Bass
Manual Tuning
Each parameter were tuned your style and your needed
Trouble/ Mid/ Bass
X-Over
Equalizer (9Band P-EQ)
Balance/ Fader
Alpine UTE-62EBT Features:
4 x 50W High Power Amp
Mech-less Design
Built-in Bluetooth Audio Streaming
Hands-free Phone Calls and Voice Control
Front Panel USB and Aux Inputs
Made for iPod and iPhone
MP3/WMA/AAC/FLAC Playback from USB
Pandora Internet Radio Ready
9-Band Para EQ & 6-Ch Time Correction
3 Pre-outs (4 Volt) with Crossover (2-way/3-way)
Independent Variable RGB Illumination
TuneIt App Sound Tuning (iPhone & Andriod)
Bass-Engine SQ and Media-Xpander
24-Bit DAC
Steering Remote Control Ready
Remote Included
Alpine UTE-62EBT – Specifications
AUDIO
Bass level control
Treble level control
Preset EQ 10 types
P-EQ 9 Band
Media Expander (MX)
Time correction (TCR) 6 Channel
High Pass filter (HPF)
Low Pass filter (LPF)
X-Over:  2-Way/ 3-Way
Pre-out: 3 Ways (Front/ Rear/ Sub)
Pre-out voltage 4 voltage
Subwoofer phase
Subwoofer level
TUNE-IT
USB
TAG display
USB support file : MP3, WMA, AAC, FLAC
BASS ENGINE SQ
Pattern Standard (comes with unit)
Punch
Rich
Mid Bass
Low Bass
Bass Engine SQ 6 level
Illumination blink on Bass Engine SQ mode
TUNER
Preset station:

FM 2 x 6 stations
AM 1 x 6 stations

Local/ DX selectable
Channel EQ
iPOD
Search
Playlist
Artist
Album
Song
Podcast
Genre
Composer
Audiobook
Alphabet Search
BLUETOOTH AUDIO
Play / Pause button support
Forward/Backward
Folder up /down
Music search
BLUETOOTH HFP
Auto connect
Phonebook alphabet Search
Phone battery level indicator
Phone signal strength indicator
Max paring device: 5 Devices
Max phonebook number: 1000 contracts
Voice dial
Preset dial
Speaker selectable
Switch HU?Mobile phone
Phone list
Signature Car Sound your Premium Alpine Car Sound Specialists, Stockists and Installation Centres on the Sunshine Coast