Description
Focal 130 AS
Access 5″ Component Speakers
2-WAY COMPONENT KIT
The 130 mm Focal 130 AS Access Series 2-way component speaker kit is very versatile.
It fits perfectly into your vehicle interior and offers three different mounting options for the tweeter.
You can very easily use the tweeter's 3-position level control, thanks to its separate, easy-to-fit filter.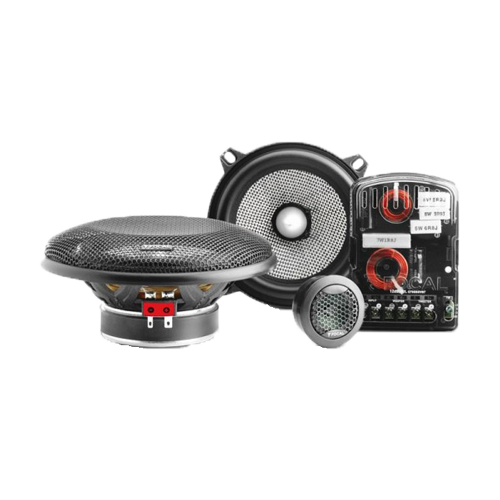 ENJOY "LIVE" SOUND
Two separate channels make for a wider sound stage in your car. So you get Focal "live" sound. And as if that were not enough, the woofer has an ogive cone, for improved sound dispersion and mid-range diffusion off the listening axis.  And last but by no means least, the inverted dome tweeter provides direction-free sound for optimal sound staging.
RELIABLE, EFFICIENT PROCESSES
This kit combines dynamic bass with precise treble, for prolonged listening without auditory fatigue. Focal pays extreme attention to the reliability and musicality of all its products including the Access range, which has all the brand's DNA and tradition of more than 30 years.
WHAT MAKES IT SPECIAL
DFS® cone (Dual Fiberglass Structure)
Tweeter adjustment for soundstage positioning
ACCESSORIES
FOCAL ACCESS SERIES
Access is more than a name… It is a compelling, internationally renowned story.
This iconic Focal line has enabled even more people to access "Made in Focal" innovation.
And now, Access has been completely renewed, while retaining what has always been its strength: unmatched performance and strategic price point.
A MODERNISED LINE
From a visual standpoint, this new product line is resolutely more modern: doped ABS basket structure, integral terminal block, new tweeter design, contoured grilles, etc. On the technical front there is a noteworthy radical change with the arrival of a new "DFS®" membrane, Dual Fiberglass Structure. Its 90° weave and polyurethane sealing coating means that this material can be used in extreme acoustic and climatic conditions.
A ROBUST AND EFFICIENT LINE
Power handling, great bass and acoustic performance remain the common denominators of the Access philosophy, which has marked its users from all over the world for more than the last ten years.
Access DFS® is more than ever part of the Focal Performance range, with robust, reliable technology combining originality, modern appearance and technology!
DFS® : DUAL FIBERGLASS STRUCTURE.
Robust and reliable
DFS® tecnology features robust and reliable cones. Composed with two 90° woven glass fibres and insulated with polyurethane, it resists to extreme acoustic environments and harsh weather conditions.
Acoustic properties
Access DFS® cones have great power handling, and deep bass, common denominators of the philosophy of the Access line which has been having an impact on users for almost 10 years…

DFS, 90° woven glass fibres
Focal 130 AS – Description
The Access Focal 130 AS car audio 2-way component kit is of sufficiently high sensitivity to be directly connected to a car stereo.
It has 3-position tweeter adjustment for optimal listening comfort.
Accessories shipped with the tweeter enable multiple fitting options and finding the best sound stage.
Focal 130 AS – Features
Max Power: 100 Watts
Nom. Power: 50 Watts RMS
Woofer: 5″ (130mm)
DFS® cone (Dual Fiberglass Structure)
High sensitivity (direct connection to car stereo)
High power handling, great bass
Grilles included
Signature Car Sound, your local Authorised Focal Specialist Dealers, Stockists and Installation Centres on the Sunshine Coast