Description
Focal Impulse 4.320 COMPACT 4-CHANNEL DIGITAL AMPLIFIER
Give your head unit a breath of fresh air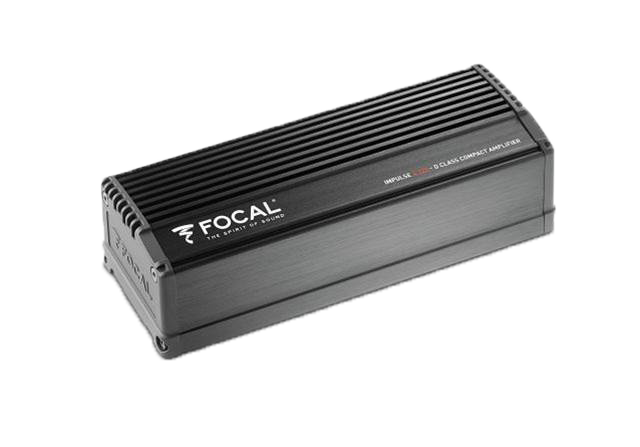 Head unit amplifiers (whether OEM or aftermarket) soon reveal their limits in terms of power and dynamics. At high volume, they soon saturate and ruin the listening pleasure. To compensate for this and to enable you to get the best out of your speaker drivers, the Focal Impulse 4.320 is the ideal solution. It will give your installation a boost without you having to embark on a difficult installation process.
Semi "Plug&Play", Impulse 4.320 is a miniature 4-channel digital amplifier delivering 4 x 55 Watts.
The Focal Impulse 4.320 is the perfect complement for your Focal Integration speaker drivers.
TECHNOLOGY ISSUE FROM FD AMPLIFIERS
The technology used for Focal Impulse 4.320 was inspired by the Performance range's FD amplifiers.
With an efficiency of more than 90%, Class D amplification has numerous advantages: less heat, low power consumption, low distortion at high volumes, compact… With the Impulse 4.320 amplifier, an unbeatable size/power ratio has been achieved. It delivers 4 x 55 or 2 x 160 Watts RMS at 4 Ohms.
Thanks to the adequate power and the fast attack for realistic and more aerated sound, it will completely transform the sound of your front and rear speaker drivers.
VERY EASY TO INSTALL AND PERFECT INTEGRATION
Impulse 4.320 – Cables Measuring only 67/8 x 17/8 x 25/8″ (17.65 x 4.6 x 6.7 cm) Impulse 4.320 can easily be concealed within the dashboard or the centre console.
Equipped with high-level (automatic detection feature) and low-level inputs, it is compatible with all head units. Supplied with all fastenings, an adaptor for the head unit's speaker driver outputs, RCA adaptors for aftermarket head units and power connector, this amp was specially designed to be easy to install. No direct hook up to the vehicle's battery is required.
An optional ISO connector is available for "Plug&Play" connectivity via the head unit's harness.
Note: On certain cars, a harness adapter may be necessary.
EXTREMELY VERSATILE
To ensure compatibility with different head units, this amplifier features a 2-channel or 4-channel input selector switch.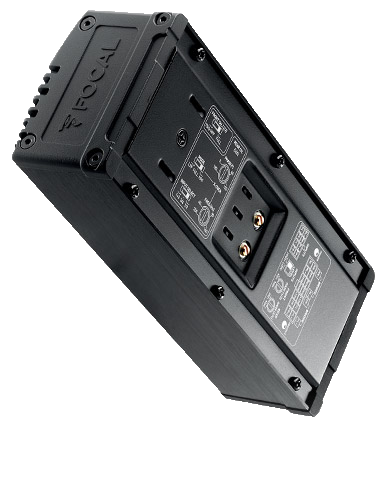 Most of all, the Focal Impulse 4.320 has been designed to power front and rear speaker drivers. However, it can also be used in a 3-channel or 2-channel mode in order to meet all needs for improving small installations and it can also be used for powering the front speaker drivers and a small subwoofer.
Each pair of channels features an active crossover to adapt the sonic response according to the speaker drivers used.
The front channels can be used for wideband speaker drivers or the high-pass filter can be used for frequencies above 75 Hz when only small speaker drivers are used. By avoiding having small speaker drivers reproduce very low frequencies, the sound will have more clarity.
The rear channels are equipped with an active crossover (wideband, high-pass or low-pass) and with progressive phase adjustment for powering a small subwoofer or

wideband speaker drivers of different sizes.
 
WHAT MAKES THE DIFFERENCE
Easy integration within the dashboard
Compatible with all head units
Extremely versatileOptional ISO connector for semi "Plug&Play" set-ups
Far more powerful than a head unit
Signature Car Sound, your local Authorised Focal Dealer, Stockist and Installation Centre