Description
Stinger STK-4
4 Gauge Amplifier Wiring Kit
Workshop grade amplifier wiring kit 4 gauge.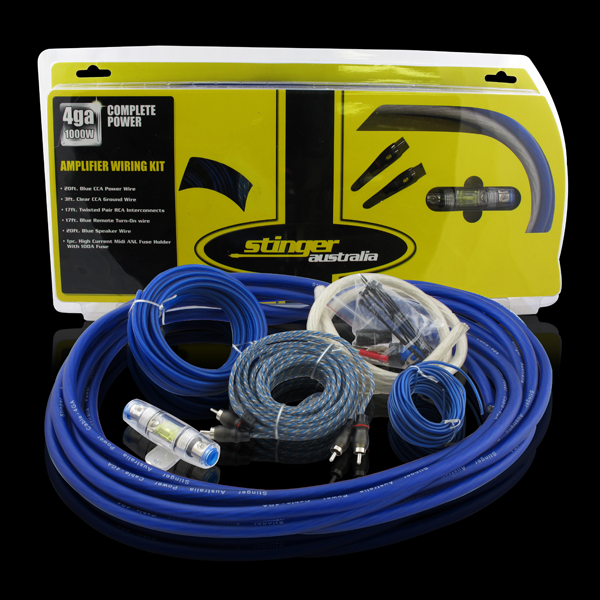 Stinger Australia STK-4 4 Gauge Amplifier Wiring Kit
The Stinger Australia STK4 is a complete power wiring kit that offers exceptional value for money and outstanding performance.
This kit includes everything required for a basic installation of a 2 Channel or mono-block amplifier.
Featuring CCA entry level power cable with twisted pair Stinger Australia RCA interconnect leads plus accessory hardware.
Stinger STK-4 – Includes:
20ft Transparent Blue CCA 4 Gauge Power Cable
3ft Transparent Grey CCS 4 Gauge Power Cable
17ft Twisted Pair RCA
17ft Blue 18 Gauge Remote Cable
20ft Blue 16 Gauge Speaker Cable
1x Midi ANL Fuse Holder
1x 100A Midi ANL Fuse
2x 4GA Ring Terminals
5x 14 – 16GA Spade Terminal
1x 4GA Black Wire Cap
1x BV1 Red Butt Connector
10x Cables Ties
Signature Car Sound are a FULLY AUTHORISED Australian retailer for Stinger Australia
Peace of Mind, Buy Safe Buy Sure Purchase Guarantee & Declaration of Warranty
This product is supplied via Stinger Australia and includes the FULL benefits of the 'Stinger Australian Warranty'.
(Warranty on this product is as per Stinger Australia's Terms and Conditions).
Signature Car Sound your local Stinger Car Stereo Specialists and Installation Centres on the Sunshine Coast Queensland.