Description
Alpine MRV-M1200
Mono V-Power Digital Amplifier
CARRYING ON THE V-POWER'S REPUTATION OF VALUE AND RELIABILITY.
Tens of thousands have relied on Alpine V-Power amplifiers for dependable, quality power.
Now in their fourth generation, Alpine V-Power amplifiers carry on this heritage and prove that playing strong never looked our sounded better.
Yes, it is possible to improve upon a good thing.
RAISING THE BAR
The new Alpine MRV-M1200 V-Power amplifiers is a Class D digital amplifier, resulting in a huge efficiency gain versus their predecessors without draining your battery or your pockets.
Class-D provides continuous clean power to your speakers, operating at 80% efficiency far greater than conventional Class A or B amplifiers.
Translation: Enjoy cleaner bass, even during extreme power demands.
BIG POWER, SMALL PACKAGE
The Alpine V-Power amplifiers are known for their compact size, but don't underestimate their power capacity. Although they have a 40% smaller footprint than their predecessors, they produce the same amount of power as before. Get the power you need, even if you have limited installation space.
ENHANCED SHUT DOWN PERFORMANCE
No shut down!
You get longer time until protection mode kicks in. It is a gradual gain down, no abrupt interruptions in playback.
GREATER HEAT PROTECTION
Greatly improved heat sink capacity for improved shutdown performance.
The Alpine MRV-M1200's heat sink is over 30% larger in volume than that of its predecessor, the MRX-M110.
REMOTE BASS LEVEL ADJUSTMENT
Adjust the subwoofer level without having to access the amplifier itself. Simply use the enclosed Alpine RUX-KNOB bass knob and get full control for remote on-the-fly bass adjustments.
You also have the ability to control up to ten V-Power mono amps from just one Alpine RUX-KNOB controller with simple telephone jack adapters.
The RUX-KNOB is compatible with all Mono and 5-channel V-Power models.
PROVEN POWER
Each V-Power amplifier comes with its very own birth-sheet.
Alpine V-Power amplifiers are tested and documented to show their true actual output.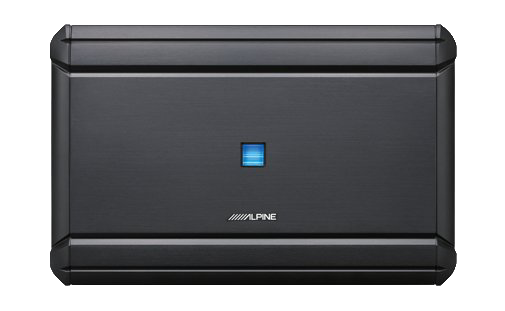 Features and Specifications
SPECIFICATIONS
CEA-2006 Power Ratings
CEA-2006 Power Rating: 600W RMS x 1 (4-ohm, 14.4V at <1% THD+N)
RMS Power Ratings
Per channel into 4 Ohms: 600W RMS x 1 (14.4V at <1% THD+N)
Per channel into 2 Ohms: 1200W RMS x 1 (14.4V at <1% THD+N)
Sound Tuning
Crossover Frequency (LPF): 50 – 400 Hz, -24dB/oct.
EQ (Equalizer): 0 to +12dB, fc=50Hz
Dimensions
Foot Print (WxHxD) mm: 342 x 55 x 219 mm
Foot Print (WxHxD) in: 13-1/2" x 2-1/4" x 8-5/8"
General
Power Requirements: 14.4 V.DC (11-16V allowable)
Input Sensitivity (RCA Input): 0.15 – 4.0 V
Input Sensitivity (Speaker Level Input): 0.4 – 10 V
Input Impedance: >10k ohms
Frequency Response (+0, -3dB: 1W into 4 Ohms) for Subwoofer: 7 -400 Hz
THD+N (10W into 4 Ohms): ?0.02 %
THD+N (10W into 2 Ohms): ?0.03 %
THD+N (Rated Power into 4 Ohms): ?0.2 %
THD+N (Rated Power into 2 Ohms): ?0.3 %
Damping Factor (10W into 4 Ohms at 100Hz): >750
Signal to Noise (1W into 4 Ohms): >85 dB
Signal to Noise (Rated Power into 4 Ohms): >105 dB
Preamp Output: 4.0V Max.
Remote Level: -20 to 0 dB
Weight: 1.8 kg
FEATURES
Install
Terminal Layout: Two-Sided
Screw Mount / Wire Cover: Integrated Wire and Mounting Screw Terminals
General
Amplifier Type: Class-D (Digital)
Channel Design: 1 Channel (Mono)
Power Supply Design: DC-DC PWM Power Supply
Power Supply: MOSFET
Pre-Amp Stage: Discrete
Final Outputs: Power MOSFET
Crossover: Variable Lowpass Filter
Gain Control: Continuously Adjustable Gain Control
Bass EQ: Bass EQ Function
Bass Control: Remote Bass Control (RUX-KNOB) Ready
Remote Turn On: Remote Sensing Function (for RCA Input & Speaker Input)
Low-impedance Possibility:
Current Protection: Over-Current, Over-Voltage, Under-Voltage and Thermal Protection
Board Circuitry: S.T.A.R. Circuit
RCA Output: Non-Fading Pre-Amp Output (4 Volts)
Speaker-Level Inputs: 4-channel Speaker Level Inputs
Power Indicator: Top Mounted Blue LED Power Indicator
Thermal Control: Multi-stage Power Limits
Signature Car Sound, your local Authorised Premium Alpine Dealers, Stockists and Installation centres on the Sunshine Coast