Description
Alpine SPR-68
Type-R 6×8″ Coaxial Speaker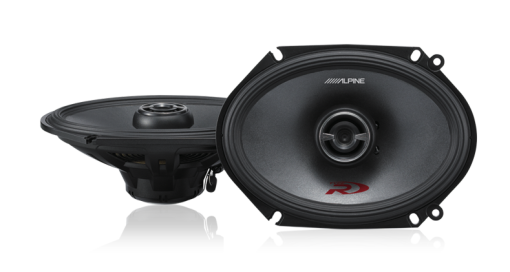 Alpine SPR-68 Coaxial Type-R speakers deliver solid performance, superior linearity, efficiency, and great bass response.
Type-R are without compromise the perfect balance of power and control.
Alpine's SPR-68 6×8″ Coaxial Type-R performance speakers are compact and light thanks to a smaller neodynium magnet and a strong yet light HD polymer frame allowing for easier installation in a wider range of vehicles. Even the crossover is 75% smaller than its predecessors.
The new Alpine SPR-68 Coaxial Type-R speakers are also much more efficient, makeing them the perfect match for built-in head unit power, the Alpine KTP-445 Power Pack, or a high powered amplifier like the MRX or PDX series.
The Alpine SPR-68 Coaxial Type-R speakers have taken a huge leap forward with High-Amplitude Multi-Roll (HAMR) technology, adapted from Alpine's popular Type-R subwoofers, which provides clean, high-impact bass performance.
The patented linear drive motor design uses a neodymium magnet and square-wire voice coil to provide linear motion over an extremely wide excursion range.
The wave guide optimises the acoustic impedance for smooth response and enhanced vocal clarity, both on and off axis.
The ring tweeter with EQ ring and copper cap enhances both detail and output, while the swivel mount allows the sound to be focused for the best in-car performance.
Impressively Powerful Bass
Using some of the same technologies as the Type-R subwoofers, such as HAMR Surround for extremely long cone excursion while maintaining maximum control, these speakers deliver deep, muscular bass that gives your sound a powerful punch.
Superb Sound Quality
Type-R Speakers employ many high quality parts and advanced designs, including a multilayer cone that is both light and strong, and a Linear Drive Magnet and Dual Gap Voice Coil structure that ensures maximum linearity for optimum sound quality.
Compact for Easy Installation
Thanks to a powerful, compact neodymium magnet, small network and slim basket, the Type-R speakers are much more compact than you would expect, allowing installation in the doors of a wide range of vehicles.
Wave Guide Focuses the Sound
Alpine has developed a Wave Guide for the cone to further improve sound quality. Mounted over the centre caps, it prevents phase distortion of the sound waves from the diaphragm, and focuses the sound for optimum clarity. (SPR-60C/SPR-50C only)
Swivel Tweeter
Both component and coaxial Type-R speakers feature a Ring tweeter that swivels to improve off-axis response in less-than-ideal locations. You can aim it by hand for best imaging and staging at your listening position.
Compact Network Design
The crossover network is 75% smaller than previous types, for easier installation in door panels. It provides four levels of tweeter adjustment so you can achieve best balance between tweeter and woofer.
Alpine SPR-68 Features
Tweeter
Tweeter Type: 1" (2.5cm) Ring Radiator Tweeter

Voice Coil Type: Large Aluminum Voice Coil

Magnet Material: Neodymium Magnet

Swivel Application: Swivel Application
Woofer
Cone Material: Hybrid Multi Layer Cone

Motor Technology: Linear Drive Technology

Surround: HAMR Surround

Voice Coil Type: Large Aluminum Voice Coil

Voice Coil Wire: 

Cooling: Optimized Air-Flow Design

Magnet: Ultra High Density Neodymium Magnet

Mounting: Shallow Mounting Design
Alpine SPR-68 Specifications
General
Peak Power Handling: 300W

RMS Power Handling: 100W

Nominal Impedance: 4ohms

Frequency Response: 63Hz – 29kHz

64mm Mounting Depth

Neodymium Magnet

HD Polymer Frame

5×7″ Mounting Diameter

Sensitivity: 89dB (1W/1m)
Dimensions
Woofer Mounting Diameter (mm): 128mm x 184mm

Woofer Mounting Diameter (in): 5-1/16" x 7-1/4"

Woofer Mounting Depth (mm): 64mm

Woofer Mounting Depth (in): 2-9/16"
Signature Car Sound, your local Premium Alpine Car Stereo Specialists and Installation Centers on the Sunshine Coast.