Description
FLAX CONE  6.5" & 3" / 3-WAY COMPONENT SPEAKER KIT
The 4 speakers are equipped with the new flax cone that provide a neutral sound without coloration, more dynamique and natural reproduction. The 165 mm (6"1/2) offer very low deep basses. The 80 mm (3") compact midrange is easy to install. This kit benefits from a new design: the baskets are in Black Mat Aluminium engraved with Focal's logo and ally modernism and tradition.
Processed Aluminum/Magnesium inverted dome tweeter for smoothness and definition without directivity. The tweeter is equipped with the new poron suspension for long life.
The speakers are completed by an audiophile crossover that offer adjustable level for tweeter and medium.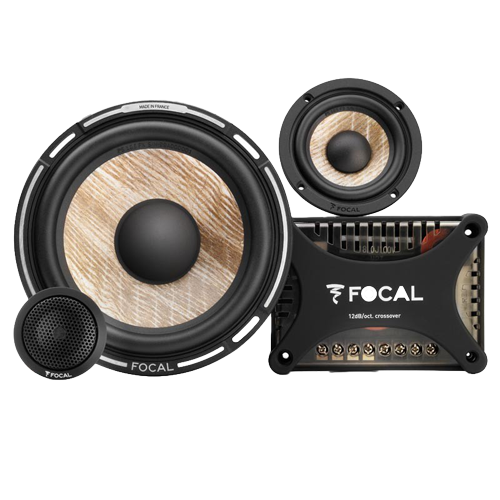 WHAT MAKES THE DIFFERENCE?
Made in France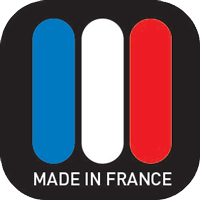 Focal has been designing and manufacturing loudspeakers for the home, speaker drivers for cars and studio monitors for recording studios for over 30 years, and more recently headphones. Based in Saint-Étienne, France, Focal is a world leader in the industry thanks to our technologies and constant innovation. This philosophy adds long-term value to Focal loudspeakers, because you won't find these technologies anywhere else.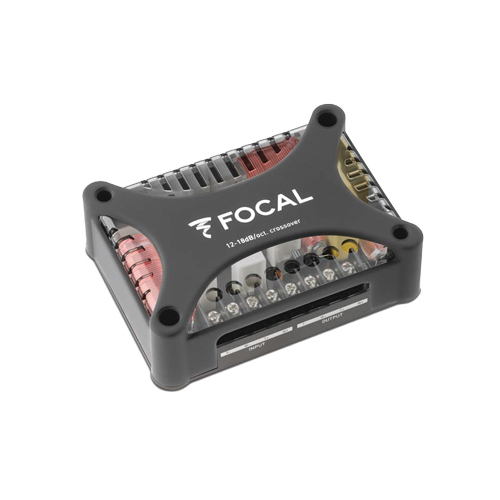 Focal PS165F3 – Features
High power handling
Very low deep bass
Compact midrange
Detailed sound stage
Unique and patented FLAX cone (N°1350116)
A new sound for a new 100% Focal signature
Made in France
New Design
FLAX SANDWICH CONE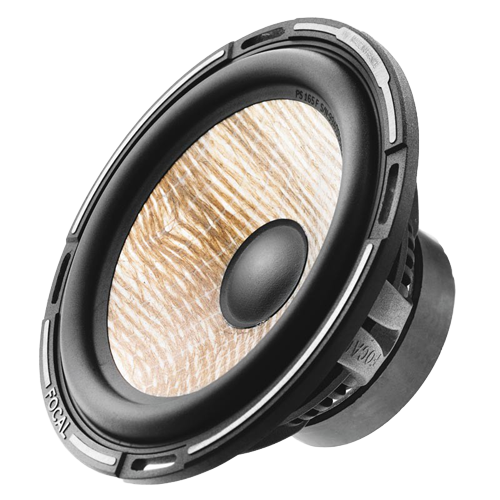 Made in France but affordable, Flax cones are oriented towards acoustic performance, high-tech and give an original design to the brand's speaker drivers!
After more than five years of research and development, engineers at Focal reveal in 2013 a new cone made of high-quality flax fibers. F cone are characterised by their natural sound, with low coloration, their richness of reproduction in the midrange register and their tighter bass.
THE UNIQUE QUALITIES OF FLAX
F cones are made of high-quality flax fibers core enclosed by two thin layers of glass fiber. They satisfy the key criteria of a high performance diaphragm : high internal damping, high velocity of sound and high flexural rigidity.
Rigidity
All these criteria cannot be met by a mono-material cone. Sandwich technology greatly influences the neutrality of the sound produced by the cone, something, which has always been Focal's hallmark. The expertise gained from the sandwich technology of the Utopia and K2 Power ranges enabled Focal to develop a revolutionary flax-fiber cone conciliating the 3 criteria.

Lightness
Flax is twice as light as fiberglass, because the fiber is hollow. It also has very low elasticity which makes it ideal to increase the flexural rigidity of a sandwich structure. Moreover, it can be obtained in non-woven bundles of considerable diameter and it can therefore produce the thickness required for a sandwich.
Internal damping
Composite materials have properties suitable for applications where both rigidity and low mass are required. However, their disadvantage is that they lack damping, which leads to very poor control of vibrations. Recent developments in this field combining composites and natural fibers have brought unexpected opportunities. Flax fiber has an excellent internal damping of the same order of magnitude
as the glass or Kevlar fibers or aluminum.
MADE IN FRANCE AND AFFORDABLE
Flax cones are designed and manufactured in France, from french flax fiber.  France is the main cultivator in Europe of fiber flax, principally in Flanders, Picardy, Normandy and the Pas-de-Calais region. French flax is considered the best in the world.
Synthetic fibers or foams originating from petrochemical resources are subject to inflation linked to the sharp rise in crude oil prices. Organic or ecological textiles, like flax, are thus becoming more and more pricecompetitive.
Because the "W" or "K2" sandwich have to be manufactured by hand, their range of application remains limited for reasons of cost. The industrial process developed to manufacture the "F" cones bring it within reach of very price competitive product ranges
FOCAL DSA 500 RT & FOCAL PS165FX HAVE BOTH WON AN EISA AWARD 2013-2014!
Focal has once again been honoured in Europe!
After having won two EISA Awards for the PS165 in 2011 and for the Spirit One headphones in 2012, this year Focal has won two EISA Awards 2013-2014 for its new products: the Focal PS 165 FX, a two-way component kit, and the Focal DSA 500 RT, an active subwoofer.
The Focal PS 165 FX represents all the achievements of the use of ecotextile cone technology integrated into an affordable but high-end product. New revolutionary Flax membranes conciliate cutting-edge technology, acoustic performance and design. F cone are characterised by their natural sound, with low coloration, their richness of reproduction in the midrange register and their tighter bass.
Beyond Flax technology and based on the same benchmarks for innovation and cutting-edge technologies, and after it was given a CES Innovation award in January 2013, the Focal DSA 500 RT amplified subwoofer with built-in DSP won the EISA Award for the best integrable product for optimising the refined performance of a sound system.
EUROPEAN IMAGING & SOUND ASSOCIATION AND THE "EISA AWARDS"
Unique association of 50 multimedia magazines from 19 European countries, EISA (European Imaging & Sound Association) is internationally known for the "EISA Awards".
EISA started in 1982 when the editors-in-chief from five European photo magazines came together to select "The Camera of the Year" for the first time.
Since then, new categories have appeared and there are now 6 : Audio, Home Theater, Video, Photography, In-Car Electronics and Mobile Devices.
PS165F3 KIT VOTED PRODUCT OF THE YEAR
The Focal PS 165 F3 Flax kit has been voted Product of the Year 2015 by the Chinese Car Audio distributor Excellence Group Asia.
This Car Audio kit has been rewarded in the « Import Brand for Car Audio Equipment » category.
These awards are intended to designate the best products from foreign brands distributed in China.