Description
Stinger SK4201
4000 Series 0GA Power Wiring Kit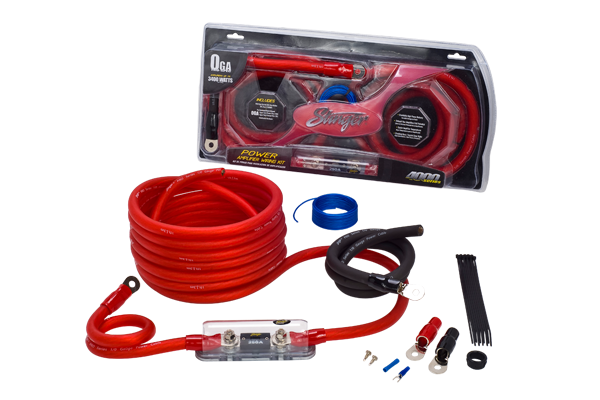 Stinger 4000 Series Power Wiring Kit
All of the Stinger power and speaker wire is made of true-spec tinned oxygen-free copper to ensure maximum power transfer. This attention to detail makes the entire Stinger 4000 series range the perfect choice for more sophisticated car audio systems.
Tremendous power capabilities, superior noise rejection, and exceptional signal integrity are all reasons why the Stinger 4000 series delivers unmatched performance and reliability with killer styling that looks great in any install.
Stinger 4000 series wiring kits are no exception, setting the standard for top-notch connectivity.
Stinger power signal kits combine their exceptional 4000 series interconnect with the power essentials for a quality installation.
Designed specifically for car audio systems up to 3400 watts or 250 amps made from 100% oxygen-free copper for a pure uninterrupted transfer of power TRU-SPEC cables/wires meet or exceed the industry standard of copper required for the gauge size tinned conductors for corrosion resistance ANL-style fuse holder (spd5201) for maximum power delivery and safety matte finish hyper-twist wire construction provides excellent flexibility pre-terminated power connections provide reliable performance kit
Stinger SK4201 – Specifications
0 Gauge Hyper Twist Power Cable (5 Meters)
0 Gauge Hyper Twist Earth Cable (.9 Meter)
ANL Fuse Holder & 250 Amp Fuse
Amplifier Trigger Wire (5 Meters)
Installation Accessories Included
Signature Car Sound, your local Premium Stinger Car Stereo Specialists and InstallationCentres on the Sunshine Coast